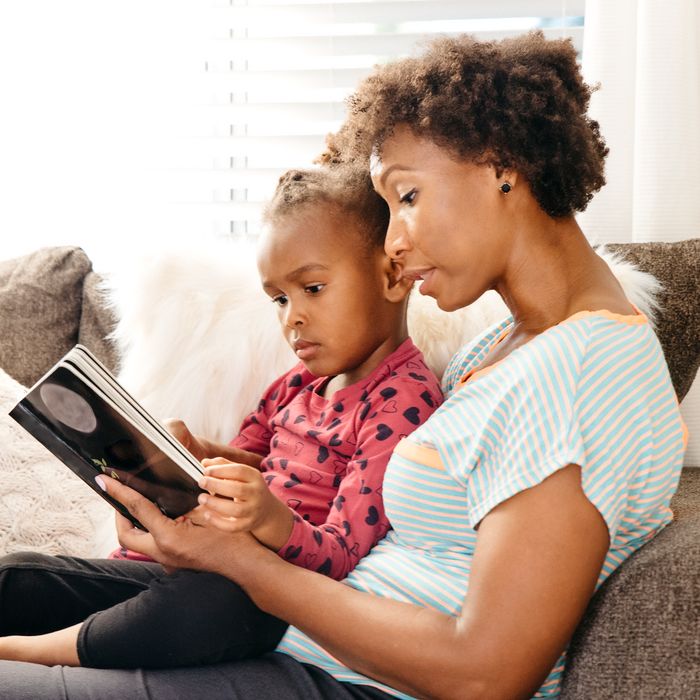 Photo: KOLOstock/Getty Images
Four children's books is the norm for bedtime with my 4-and-a-half-year-old daughter, though that is subject to the night's choreography. Did we make it to Aquaphor and head scarves at a decent hour? Did she bathe the night before — can we skip it tonight? While she usually chooses the night's selection, I pride myself on being able to make a children's book suggestion that she'll appreciate. This is a parenting skill I'm finding especially essential during the uncertain times and stay-at-home orders of the coronavirus pandemic.
I remember being read to so vividly. Children's books were absolutely my love language, which has made my approach to this aspect of parenthood — the nurturer, the teacher — so much sweeter. At the end of a long day, we have carved out a place and time for storytelling. These books act as punctuation: What's the final thought, final feeling before I turn out the lights? A sentimental perspective, maybe, but I can't help but take pride in growing her library of children's books, feeding her curiosity. Especially now.
The following are some especially notable children's books, for the kid in your life who won't stop asking questions, who should probably have taken a nap today, who you are spending so much time indoors with lately.
This is the perfect story-time opening act, because it both encourages audience participation — specifically, yelling — and delivers a wholly unique set of affirmations that set the tone for the day to come.
Reading this story is like stepping into a dream, every time. Namely, the New York of our dreams.
A gorgeous ode to the simple pleasures of life for young Lola: time spent with Mom, a fresh batch of books to read, a scoop of cappuccino foam.
It's impossible not to be immediately swept away into this admittedly heart-wrenching story of a little girl who has to learn how to feel beautiful in her dark skin.
All of the classic romantic fairy-tale accoutrements: a royal ball, a breathless dance, a true love's kiss — and none of the heteropatriarchy.
A hilarious lesson in irony and in excess.
I try not to end each reading with a pointed warning along the lines of "And that's why we don't leave the sink running while we brush our teeth!" But it's hard.
These are trying times — not just for us, our kids are going through it too. Yes, fewer bills, but more emotions than they can name or consistently handle. This gentle guide is a necessary reset.
An upgrade to the timeless legend so sharp and clever, you'll definitely appreciate it more than the kid does.
A frank, uncomplicated exploration of gender identity in language kids understand, featuring a truly dazzling cast of characters.
Time is a tricky concept for young kids. This book offers experiences, rather than explanations, to explain all of the different ways one minute can feel.
A meditative and kaleidoscopic love letter to exploration, discovery, and literature.
An impeccably crafted anthem to kindness.
Sometimes you gotta take it all the way back.
A no-holds-barred look at an athlete who left an indelible mark on the world of tennis.
Teaching body confidence, radical kindness, and acceptance, this book is also about the importance of taking class outside, whenever possible.
It's hard not to love this simple, tongue-in-cheek retelling of Olivia's day, especially since she reads as Peppa Pig's more tolerable American cousin.
This book is like slipping into the jazz-club wing of the children's museum.
Yes, who knew? This book is exactly as childishly decadent as you want it to be. I have my French minor to thank for not continually tripping over the Arc de Triomphe on page two.
It's so much easier to answer those probing questions with textual backup, and this book is a great starting point for even the youngest inquisitive minds.
If you buy something through our links, New York may earn an affiliate commission.