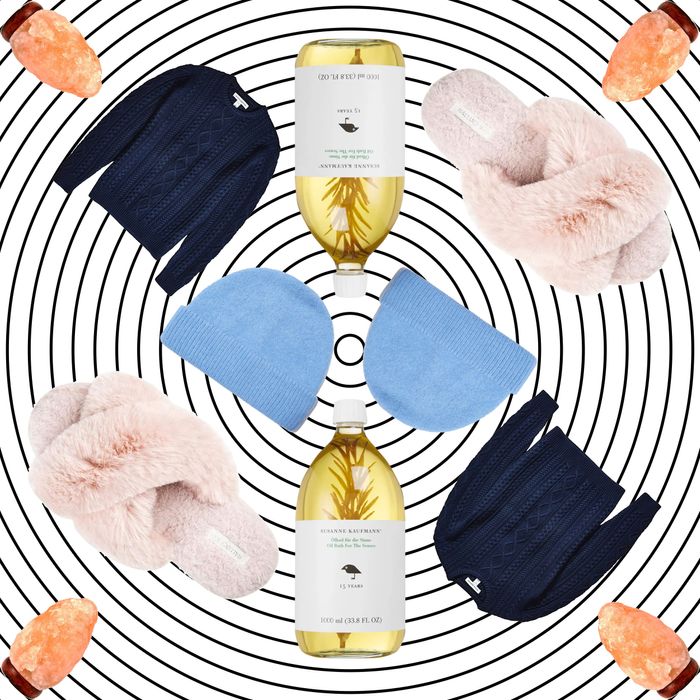 Holiday gift shopping feels especially meaningful this year with experts encouraging everyone to stay home instead of travel. If you're not able to see loved ones in person, you can show them you care with a thoughtful present (and perhaps a Zoom or FaceTime gathering). Not sure what to buy? We curated some of our favorite Christmas gifts (and Hanukkah gifts, and nondenominational winter-solstice gifts) for everyone on your list. Whether you're looking for ideas for mom, dad, the foodie, beauty lover, or man in your life, we have you covered. Scroll on for some of favorites (including stocking stuffers!) and remember: This is the last week to ship in time for Christmas so don't delay.
What to Give Mom
Yes, you'd love to see her but if that's not possible, a thoughtful present coupled with a long FaceTime session is a solid backup plan. Did she pick up indoor gardening during the pandemic? Or maybe she's gotten into baking? Perhaps she just wants something fancy and pretty. Whatever it may be, here are are few highlights while the full list is here.
For the Mom Who Loves Cashmere
You can mix and match this set, which comes in red, camel, gray, and black, to ensure she stays cozy from head to toe.
For the Mom Who Always Has Cold Feet
These colorful fluffy slippers will be especially nice on a chilly winter morning.
For the Mom Who Loves Warm Socks
Not only are these made with ultrathick yarn, they also feature little rubber grips on the bottom so she won't slip on hardwood floors.
For the Mom Who Wants a Warm Coat
Reviewers praise how warm and stylish this puffer is. One note: It runs large so you can layer up, but if you worry it'll overwhelm your frame, size down.
For the Mom Who Loves Baths
An incredibly indulgent gift of the kind you know she won't buy for herself.
For the Mom Who Likes to Sleep In
For the Artsy Mom
With slits in the center and on the side, this shawl can be worn in a multitude of ways so she can get creative with it.
For the Mom Who Loves Routine
If your mom enjoys crossing and checking things off her to-do list, she'll appreciate a solid skincare routine that includes a double-cleanse. This kit contains Tatcha's face wash, their oil cleanser, and moisturizer.
For Your Dad Who Says He Doesn't Want Anything
While no two dads are alike, they do have one thing in common: They claim they don't need you to spend any money on them. But even if they protest, a thoughtful present goes a long way this year. Whether he's looking for a cool gadget, a soft cashmere sweater, or a proper pour-over coffee kettle, there's something that'll get a grunt of approval. Need more ideas? The full list is here.
A true coffee snob invests in a kettle with a built-in thermometer to create the perfect pour-over.
He'll love how warm and cozy this plush robe feels against his skin.
Thank goodness for the new wave of affordable cashmere. Get him a sweater in this light-blue shade — it looks good on every skin tone.
This deep orange scarf is a nice way to add some color into his wardrobe.
Because his feet deserve to feel like they're walking on clouds.
If he's a baker, get him this fancy vanilla paste that's beloved by chefs, fancy pastry people, and regular folks who just make a lot of cookies. It'll leave these lovely black vanilla bean specks plus it gets bonus points for being ethically sourced.
If he spends all his time in front of the grill, get him a set he'll be proud to show off.
What to Give Literally Any Man in Your Life
Whether you're looking for the perfect gift for someone you've only been dating a short time or for over a decade, or seeking the ideal present for your dad who claims he doesn't want anything, we got you covered. From a cozy beanie to a fancy tie to a high-quality speaker from Amazon, there's something he'll love. And if you need more ideas, here's the full list.
For the Man Who Hates Pants
These classic sweats are great for the active guy. And when paired with the right sneaker and a T-shirt, they'll still look pulled-together.
For the Man With a Cold Head
Everyone needs a good beanie. This one is made with alpaca, which is warm and soft without being itchy. Plus, the animal is considered a "gentle" grazer, meaning it's kinder on the environment.
For the Man in Your Bed
He might not buy fancy underwear for himself, but he'll appreciate having someone else buy it for him.
For the Man Who Takes His Cocktails Seriously
This set comes with a shaker, jigger glass, strainer, and bar spoon, so he can whip up the perfect old-fashioned or martini.
For the Aspiring Photographer
Not only do you get a camera, but it's bundled with film, a travel case, and more, so he can start shooting right away.
For the Man Who'd Like to Be Slightly More Stylish
These are great for a guy who wants to add just a hint of streetwear pizzazz to his outfit but, you know, not too much.
If You're Looking for Cozy Gifts
You don't need us to tell you that people are into nesting and comfort this year. The overwhelmingness of everything might also mean you've left your holiday gift buying until the last minute — which is very understandable. Head over to our panic-relieving guide to cuddly, fuzzy, soft, and comforting gifts that will get there in the nick of time, thanks to Amazon Prime. Or just scroll down below to shop our favorites.
An oversized update on a fisherman-style knit, this roll neck sweater has some excellent chunk to it, but still looks reliably chic. Perfect for a very indoors holiday season.
Help them upgrade their usual sweatpants-and-tee routine with this glam floral wrap, edged in velvet, and ideal for lounging with a hot toddy in hand. The NYE Zoom crew won't know what hit 'em.
This cute long-sleeve and short set is perfect for a warm-weather Christmas (even a grumpy teen might appreciate it). Plus, it comes in a zillion shades and has hundreds of five-star reviews.
Whether they're wearing it skiing or just to look extremely cute at home, this long-sleeve union suit is a timeless classic that's long overdue for a comeback.
A shaggy fleece with rustic outdoor vibes that would also look great layered over a button-down for adventures on the city streets.
Fishermen sweaters had a real moment last year thanks to Chris Evans's Knives Out number, but they're truly a timeless choice for anyone in your life. This navy version is a nice update on the classic cream.
If You're Looking for Stocking Stuffers
Little gifts might be, well, little, but they can have a big impact. Consider stocking stuffers — a great catch-all category for small, relatively inexpensive gifts that that tick the "this made me think of you" box. They're a bit random, sometimes cute, sometimes practical, and they'll make the life of the receiver just a bit better or more delightful in the days to come. Here are some of our favorites or click over to our full list.
An analog sweater shaver is a must for anyone trying to keep their knits free of pills, pet hair, and lint. This wood-handled version looks nice and is slim enough to slide in a pocket or a purse for touch-ups on the go — the soft scraping motion is also kind of addictive.
These wavy, reusable bags roll up small enough to pack into a stocking — which means they fit perfectly in pockets for a walk to the local wine shop, too.
There are lots of ways to get a hit of crisp seasonal flavor without having to succumb to public scrutiny (though for the record, you do you!). This blend of aromatic black tea, spices, and dried apple is a more sophisticated way to scratch the cozy beverage craving.
Soothing sips are the name of the game with Golde's powdered drink blends, delivered here in three antioxidant varieties that deliver glow-boosting nutrients in easily transportable, single-serving sachets.
These colorful hydrocolloid stickers curb the urge to pop zits and are the ideal gift for skin pickers of any age. Plus, the cute case is refillable.
Journaling is low-pressure creative outlet and one way to cope with the craziness this year. This one has a series of writing prompts based around the phases of the moon.
The Best Beauty Gifts
Everyone has that one friend who is fluent in face acids, knows about Sephora sales before everyone else, and still hasn't recovered from the Purito sunscreen scandal. Whether you're shopping for that person or you are that person, head over to our guide of the best beauty gifts of 2020, from holographic eye masks to the lip balm loved by BTS to a nail polish named after Michelle Obama. Or, just shop our favorites below.
These hydrating, holographic eye masks are the perfect last-minute stocking stuffer. Give them now, and watch them pop up in selfies long after the holidays have gone.
Photo: hey dewy
For the friend who wants to take an obsession with dewy skin to the next level.
The best, most luxurious hair-ties, all wrapped up and ready to go.
Two of 2020's biggest stars, handwash and hand cream, team up in this very special ensemble.
For the person who started a business during the pandemic and doesn't have time to waste on a lengthy skin-care routine.
What to Give Your Employees
Giving your employees a gift is tricky, especially this year. How much do you spend? Does everyone get the same thing? And how do you keep it professional? Given the Covid-19 pandemic, most people are working remotely and prior gift ideas like movie passes and spa gift cards don't make sense. Ask a Boss' Alison Green has some tips on what's appropriate but if you want a few solid ideas, keep scrolling.
For the employee who has an aromatherapy mister at her desk
Pink Himalayan salt is supposed to be known for its therapeutic, stress-relieving, and air-purifying properties. Plus they're really cool-looking and would look nice on your wellness-loving employee's desk.
For the employee whose phone is always dying
For the remote employee who misses the office coffee
With no communal office coffee pot around, this single-serve coffee maker will keep your remote employee stocked with coffee, without requiring them to brew up an entire pot.
For the employee whose prefers things to be neat and tidy
This mini vacuum picks up crumbs, dirt, and lint, and can even be used to suction dirt out of a keyboard. Plus it comes in various colors, including, yes, millennial pink.
For the employee who's always late to work
This smart alarm clock will wake you up gently but effectively with gradually increasing light, mimicking a sunrise in your bedroom — and without the jarring sound of a traditional beeping alarm.
For the employee who runs the office book club
This account of the massive fraud perpetrated by Elizabeth Holmes and Theranos is riveting — and the ultimate tale of office dysfunction.
For the employee who has everything else
Everyone needs a portable charger. This high-speed, pocket-sized one holds a charge for seven days, so your employee can easily recharge her devices while she's on the go. It can charge an iPhone almost seven times before it needs to be recharged.
For the new employee you don't know yet
When you really don't know an employee yet, and don't have a sense of what kind of gift they'd truly appreciate, a gift card with a wide range of applications is a good choice. ("Wide range of applications" means: don't get the person a gift card to, say, a wine store, since it might turn out they don't drink. Online shopping meccas like Amazon are a safer choice.)