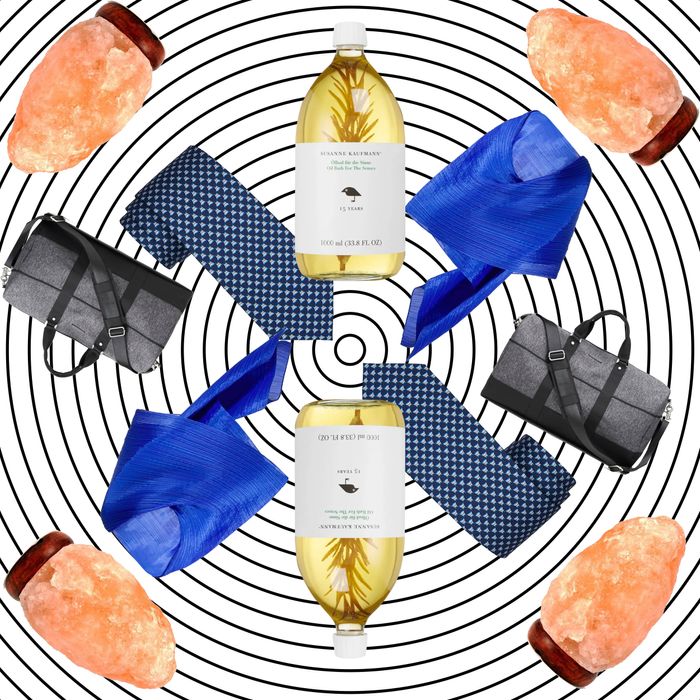 Photo-Illustration: by The Cut; Photos: Courtesy of the Retailers
Holiday gift shopping feels especially meaningful this year with experts encouraging everyone to stay home instead of travel. If you're not able to see loved ones in person, you can show them you care with a thoughtful gift (and perhaps a Zoom or FaceTime gathering). Not sure what to buy? We curated some of our favorite Christmas gifts (and Hanukkah gifts, and nondenominational winter-solstice gifts) for your mom, dad, the man in your life, the stoner (or CBD-curious person) in your life, and your work colleagues. Check back as we'll be updating it regularly with more suggestions for everyone else our list.
What to Give Mom
Yes, you'd love to see her but if that's not possible, a thoughtful present coupled with a long FaceTime session is a solid backup plan. Did she pick up indoor gardening during the pandemic? Or maybe she's gotten into baking? Perhaps she just wants something fancy and pretty. Whatever it may be, here are are few highlights while the full list is here.
For the Mom Who Always Has Cold Feet
These colorful fluffy slippers will be especially nice on a chilly winter morning.
For the Mom Who Loves Baths
An incredibly indulgent gift of the kind you know she won't buy for herself.
For the Mom Who Likes to Sleep In
For the Gardener Mom
She can hang this in the kitchen for a hint of summer even in January.
For the Artsy Mom
With slits in the center and on the side, this shawl can be worn in a multitude of ways so she can get creative with it.
For the Mom Who Loves Routine
If your mom enjoys crossing things off her to-do list, she'll appreciate a three-step skincare routine. This kit contains Tatcha's face wash, dewy moisturizer, and eye cream.
For the Mom Who's Always on a Zoom Work Call
An elegant silk blouse is always a good idea.
For Your Dad Who Says He Doesn't Want Anything
While no two dads are alike, they do have one thing in common: They claim they don't need you to spend any money on them. But even if they protest, a thoughtful present goes a long way this year. Whether he's looking for a cool gadget, a soft cashmere sweater, or a proper pour-over coffee kettle, there's something that'll get a grunt of approval. Need more ideas? The full list is here.
A true coffee snob invests in a kettle with a built-in thermometer to create the perfect pour-over.
Thank goodness for the new wave of affordable cashmere. Get him a sweater in this light-blue shade — it looks good on every skin tone.
He'll love how warm and cozy this flannel robe feels against his skin.
A handy way to stream shows or FaceTime with you.
If his iPad is from circa 2013, consider chipping in with the siblings for the latest and greatest model.
Order him some pastrami from his favorite deli, plus its candle, scented to smell just like a chocolate egg cream.
If he spends all his time in front of the grill, get him a set he'll be proud to show off.
What to Give Literally Any Man in Your Life
Whether you're looking for the perfect gift for someone you've only been dating a short time or for over a decade, or seeking the ideal present for your dad who claims he doesn't want anything, we got you covered. From a cozy beanie to a fancy tie to a high-quality speaker from Amazon, there's something he'll love. And if you need more ideas, here's the full list.
For the Man Who Hates Pants
These classic sweats are great for the active guy. And when paired with the right sneaker and a T-shirt, they'll still look pulled-together.
For the Man With a Cold Head
Everyone needs a good ribbed beanie. This one is made from supersoft material that's more durable and pills less than a lot of the cashmere out there. If this color isn't his thing, there's six others to choose from.
For the Man in Your Bed
He might not buy fancy underwear for himself, but he'll appreciate having someone else buy it for him.
For the Man Still Going to the Office
Yes, this tie has hippos. But the beauty of Ferragamo ties is that the whimsical designs are placed so tidily into geometric patterns that from a distance it just looks like an amazing, smart tie.
For the Man With a Lot of Stuff
Whether he's going on a road trip or just to the gym, this bag will carry all of his stuff and look stylish.
For the Man Who Loves Being Cozy
Wool-lined slippers are peak cozy, especially if you can run to the bodega in them.
For the Man Who Loves Music
These retro-inspired Marshall speakers deliver high-quality sound, can be carried from room to room, and are so durable that they're water-resistant.
For the Very Fancy Man
In a sea of boring sneakers and dress shoes, get him a cooler option. You could band together with a group and buy this for a peacock you all love.
If You Need CBD and Weed Gift Ideas
Given the roller coaster that was 2020, you probably have had at least one CBD or weed gummy to take the edge off. Or if you haven't, you're curious about trying it for sleep, stress relief, or overall relaxation. Whether you want to buy something cannabis-related as a present or looking for the right product for your own use, we have a handy explainer here. And if you just want the highlights, scroll down to shop a few favorites.
For the Gummy-Curious
Edibles have a bad reputation for being unpredictable and tasting terrible. But gummies have come a long way in the last few years, and now most taste like they came out of a Haribo factory. Wyld's raspberry CBD gummies are one of the more delicious options, and a good place to start if you want something that'll chill you out. If you live in California, Nevada, Oregon, or Colorado, they have a THC version that people love.
For the Workout Enthusiast
Made with a blend of beeswax, eucalyptus, lavender, and CBD oil, this balm feels especially soothing when rubbed on sore muscles (or on the temples if you have a headache). The blend of herbal oils masks the smell of hemp — a nice touch, since not everyone loves that scent. Those who live in California or Nevada can buy formulations with other THC concentrations that offer stronger relief.
For the Person Who Loves a Long, Relaxing Bath
Not everyone is comfortable with edibles or other forms of consuming CBD, but most people love a nice, hot bath. These bath bombs are extremely relaxing and feature a mix of chamomile, lavender, and frankincense.
For the Person Who Wants to Do Good and Feel Good
Social equity in cannabis and CBD has a long way to go — people who are Black or Latinx are still far more likely to be incarcerated for minor possession and less likely to have a stake in the industry. One small step toward equity: making sure your money goes to BIPOC-owned brands. This brand is Black-owned and features an array of tinctures, including the Balance Daily drops, which are great for stress relief. You can place a few drops under your tongue and let them absorb (they'll hit within 15 minutes) or mix them with a smoothie (they'll hit within an hour or so).
For the Person Who Wants to Spice Things Up
Don't write off CBD sex oil as a scam: Foria is a legit brand that offers both THC- and CBD-infused lubricants and suppositories. Fans of this brand say it's extremely effective in the bedroom. And if you have bad cramps, try their suppositories — they offer relief fairly quickly.
What to Give Your Employees
Giving your employees a gift is tricky, especially this year. How much do you spend? Does everyone get the same thing? And how do you keep it professional? Given the Covid-19 pandemic, most people are working remotely and prior gift ideas like movie passes and spa gift cards don't make sense. Ask a Boss' Alison Green has some tips on what's appropriate but if you want a few solid ideas, keep scrolling.
For the employee who has an aromatherapy mister at her desk
Pink Himalayan salt is supposed to be known for its therapeutic, stress-relieving, and air-purifying properties. Plus they're really cool-looking and would look nice on your wellness-loving employee's desk.
For the employee whose phone is always dying
This bamboo charging station can charge multiple phones and tablets all at once.
For the remote employee who misses the office coffee
With no communal office coffee pot around, this single-serve coffee maker will keep your remote employee stocked with coffee, without requiring them to brew up an entire pot.
For the employee who's always drinking tea
This flask functions as a tea infuser, hot beverage thermos, fruit water infuser, and more. It's got a stainless steel filter to brew both hot and cold tea, with a removable sleeve for insulation.
For the employee whose prefers things to be neat and tidy
This mini vacuum picks up crumbs, dirt, and lint, and can even be used to suction dirt out of a keyboard. Plus it comes in various colors, including, yes, millennial pink.
For the employee who runs the office book club
This account of the massive fraud perpetrated by Elizabeth Holmes and Theranos is riveting — and the ultimate tale of office dysfunction.
For the employee who has everything else
Everyone needs a portable charger. This high-speed, pocket-sized one holds a charge for seven days, so your employee can easily recharge her devices while she's on the go. It can charge an iPhone almost seven times before it needs to be recharged.
For the new employee you don't know yet
When you really don't know an employee yet, and don't have a sense of what kind of gift they'd truly appreciate, a gift card with a wide range of applications is a good choice. ("Wide range of applications" means: don't get the person a gift card to, say, a wine store, since it might turn out they don't drink. Online shopping meccas like Amazon are a safer choice.)