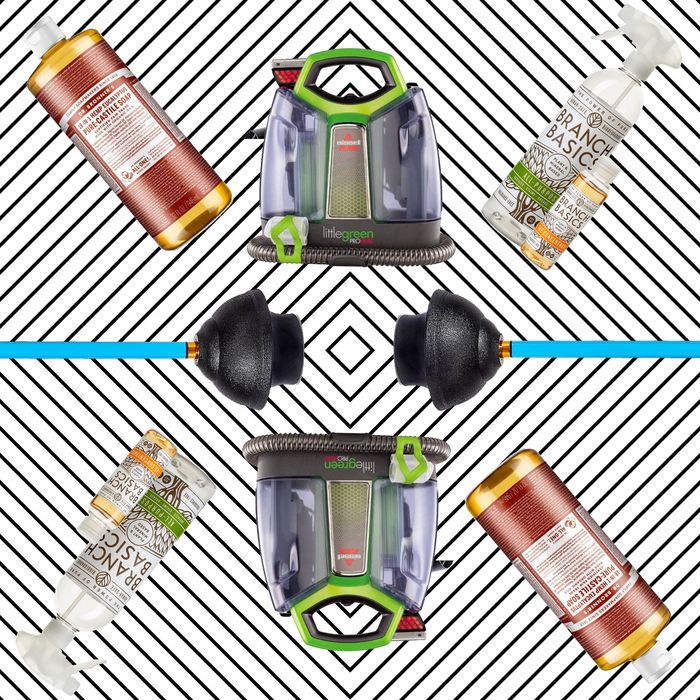 Photo-Illustration: by The Cut; Photos: Retailers
For more of the Cut's favorite fashion, beauty, and home finds, sign up for the weekly Cut Shop Newsletter.
When it comes to self-care, beauty products get all the attention. But there's something particularly life-affirming about polishing stains off a kitchen countertop the morning after testing out a new (and overly complicated) recipe. What good is glowing skin if you can't see it reflected in the sparkling handle of your toilet handle? Celebs get it. They're the arbiters of self-care simply because they can afford it, so it's no surprise that the pandemic inspired the likes of Drew Barrymore, Kris Jenner, Jessica Alba, and Courteney Cox to get their hands dirty — at least in theory. Remember, you may not be able to afford a mansion, but you can clean your space like you paid someone to do it.
The best nontoxic cleaning products
The one that does it all
If you don't want to overcomplicate your clean, join the throngs of people who swear by Dr. Bronner's for every inch of their home (and body). This soap can be used in 18 ways — from floor cleaner to fruit wash, laundry detergent, and shampoo. Dr. Bronner's has a long list of ingredients it avoids, opting instead for vegan, 90 percent non-GMO, organic ingredients to get everything done.
The one for cathartic spring cleaning
Leave your home awash with the air of someone who rejoices in the rain on the regular with Drew Barrymore and Grove Collaborative's recently launched Fresh Horizons line. If you're already a fan of the Grove's eco-friendly products, you'll be pleased to know that these use the same base formulas with new scents and designs by Barrymore. The kit includes 15 products that are free of single-use plastic and in line with the company's sustainability goals.
The one for big families
In the market for the best household cleaning products on a budget? We can safely bet that a company founded by famous rich person Kris Jenner would come to mind. The formulas are made without harsh chemicals and boast "life-changing scents" at relatively low cost. A bottle of the brand's universal cleaner costs $7, or 25 cents per fluid ounce (compared to Mrs. Meyer's Everyday Cleaner at $5, or 31 cents per fluid ounce).
The color-coded one
If you're the kind of person who needs the scent of bleach burning in your nostrils to feel like you've truly cleaned your home, you may not feel satisfied with AspenClean, but rest assured that this stuff works. Each organic, plant-based cleaning product is designed to work with special microfiber cloths, which makes it incredibly easy to organize both your cleaning closet and plan of attack. (The brand's laundry detergent makes a good the Laundress alternative.)
The star of Mom's Facebook group
You've probably seen Jessica Alba's Honest Company lining shelves in the baby and beauty aisles at Target. The now-ubiquitous brand, which was created after Alba's first pregnancy led her to choose (and ultimately create) safer products for the whole family, has a household-essentials capsule you don't want to miss. This set comes with glass, multi-surface, and bathroom cleaners exclusively made of naturally derived ingredients.
The one that's kind to everyone
Koala Eco uses cruelty-free, plant-based ingredients (chiefly a slew of essential oils from Australia) in its natural cleaning products. They're all made in the U.S. and safe for pets, babies, and pregnant people.
The one to gift the cleanest friend in the group
Photo:
Yes, the fact that Courteney Cox played certified clean freak Monica Geller on Friends is tricking you into thinking that Homecourt is an absolute household necessity — but it definitely is nice to have. The products leave your hands and kitchen smelling like a rich person's (our rec is the Cece fragrance, which is Cox's signature sweet-and-spicy scent), and they come in kits ideal for giving someone you love who happens to be obsessed with cleaning.
The one to try before you buy
You can walk into Sephora and ask for a sample, but most cleaning companies don't offer trial sizes of their products. It's a big commitment to switch your entire home-cleaning regimen to a new system, but Branch Basics makes it less intimidating with its $5 trial kit — if you don't like the highly concentrated, nontoxic solution (we think you will), you can at least repurpose the bottle.
The best cleaning products for bathrooms
The one that cleans and sanitizes
You may want gentle products everywhere else in your home, but your toilet calls for something stronger. Method makes an antibacterial cleaner that smells like it's working but doesn't give off noxious fumes that make you want to break out your face mask.
The one to sensationalize your shits
Everyone poops, but not everyone has a pretty acrylic plunger to clean up after a No. 2.
The one that's coming for your hard water
OxiClean (formerly Kaboom) is a favorite among cleaning professionals, and this spray works now so you don't have to later. It's a preventative measure that's made to stop stains, calcium deposits, and general scum before they begin to form.
The best cleaning products for kitchens
The classic scrubber
Scrambled-egg mess, dingy plates, dirty veggies — they're no match for the gentle but effective scrubbing power of a traditional tawashi brush. Tawashi translates to "scrubber" in Japanese, and these bristled brushes have been used for centuries. They last for years, and you can buy them on Amazon. Or find artisanal brushes at various DTC retailers (KonMari, Fable, and Takada to name a few).
The one for deep kitchen cleans
Bar Keepers Friend, as the name suggests, has been a longtime companion bars and kitchens. The grimiest, most cursed grease buildup and stains on stainless steel are no match for this powerful product. There's a whole suite of Bar Keepers formulas to choose from, but this liquid is gentler on tiles and good enough for the average home cook.
The one for sticky floors
It's not fun to mop, but this floor cleaner has the most satisfying squirt ejector. You'll have to refrain from breaking out into the greatest Annie sequence that precisely no one will witness. Plus it dries down superfast to avoid slips that were definitely not in the original choreography.
The one to replace that hand soap
In case you missed it, hand soap isn't so humble anymore. If you're exploring alternatives to Aesop's Resurrection, Hawthorne formulated a hand wash with perfumers using similar notes (bergamot and citrus) and equally minimal packaging.
The best cleaning products for deep cleaning
The one for TikTok-level cleaning
Want it to look like a full-on cleaning crew made its way through your space? Bissell's little miracle worker sucks deep stains out of carpet and upholstery — toddler finger paint and pet pee included.
The one for corners and crevices
This isn't Scrub Daddy's quintessential sponge, but it's nonetheless viral and just as necessary to a deep-cleaning arsenal. The Damp Duster is a magnet for dust, and unlike with a traditional duster, you just have to run it under the sink to clean it off before reusing it.
The one for clean freaks
If you want a deep clean that would make your mom proud, this is it. Glorious continuous-mist mechanism aside, this cleaner breaks down the nastiest of nasties almost instantly — in the bathroom, in the kitchen, and on your floors.