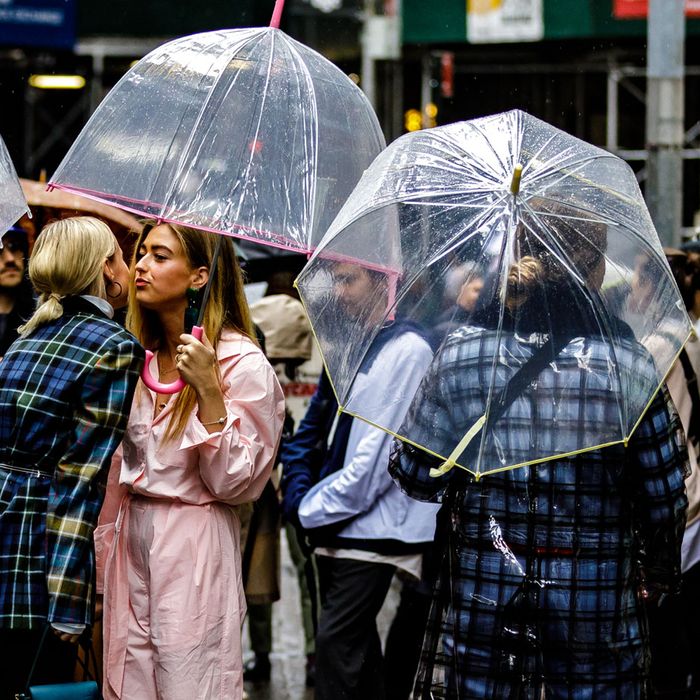 It matches everything.
Photo: Paul Jeong
The one thing that everyone needs on a rainy day is a good umbrella. It's not an accessory people necessarily put thought into — usually you'll just grab whatever is handy. But choose wisely and it'll feel like a deliberate part of your outfit.
This New York Fashion Week, we've seen one particular umbrella everywhere (especially at Rodarte, where publicists handed them out at the gates of the outdoor runway show). The clear bubble umbrella is officially the accessory of the week. And it makes sense — it encroaches the least on someone's outfit. It doesn't clash with the color scheme, and it allows onlookers to see the street-style outfit in its purest form. It's the equivalent of no-makeup makeup
But it's also a practical choice. Many of the ones we've seen at Fashion Week are "bubble umbrellas," which are more wind-resistant and slope downwards to protect you more from the rain. Given that there's lots of rain on the forecast for this week, expect to see plenty more of them.
Shop Our Favorites
Photo: Courtesy of the Retailer
Photo: Courtesy of the Retailer
If you buy something through our links, New York may earn an affiliate commission.