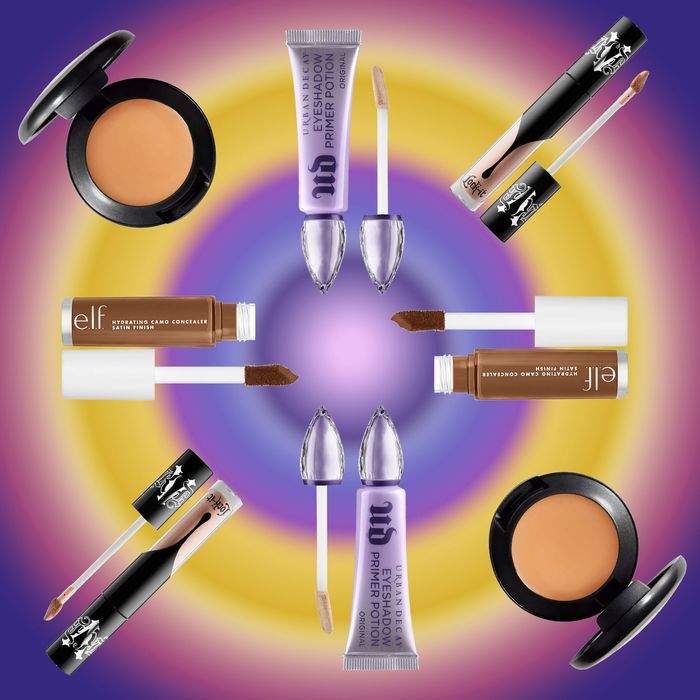 Photo-Illustration: by The Cut; Photos: Retailers
There are thousands of acne concealers on the market, but too many of them lack pigment or staying power. Lucky for you, we've been testing acne concealers since the days of our first pimples in middle school. Plus, after speaking with a few experts, we have their favorites, too.
How do you cover a pimple properly?
For makeup artist Allan Avendaño, the first step is prepping the skin. "I usually like to bring down redness with an ice roller or face-cooling globes," he says. If your face is still too red, Avendaño recommends a color corrector. Then, depending on the type of blemish, he uses two types of concealers: "If it's flat, you can cover with a more emollient concealer that feels and looks like skin but covers any blemishes without feeling cakey. If it's raised, use a more dense and drier concealer because it tends to stay put and has a matte finish, so it doesn't amplify the raised texture."
Is there ever a time where it's better not to cover acne with makeup?
Is there a time when you really should let that bad boy breathe? Dr. Jeannette Graf, a board-certified dermatologist and assistant clinical professor of dermatology at Mount Sinai School of Medicine, explains that if the acne in question is open or weeping, applying concealer may make it worse. "It can further clog pores and make your skin more irritated," she says. "If you're using certain acne medications, such as topical retinoids, sometimes it's important to avoid using makeup in the affected areas as it can cause further irritation."
The Best Concealers for Acne
The Surprise
Reddit agrees: Use an eyeshadow primer — not a concealer — as the first step to covering your pimple. Urban Decay's Primer Potion is so popular on the Reddit beauty boards that it even has an acronym: UDPP. Dot a tiny bit on the blemish and let it set to hide inflammation and redness and make concealer stick better.
The Spot Treatment
Once former deauty director Kathleen Hou got a little older and could afford something more expensive than tinted Clearasil, she found this, and it served her well for nearly all of high school. There are 22 shades (though they don't offer as many darker shades as we would like), and the thin-but-tacky texture is really effective at covering up everything from mosquito bites to extra-bratty zits. Tip: If you're going to wear it all day, set it with a bit of powder so that it doesn't become oily.
The Cruelty-Free Vegan Option
This comes in 21 shades, ranging from deep to very fair. Like all Kat Von D products, it's vegan and cruelty-free. The formula is thick and pigmented, but easy to blend. Kat tested it herself to make sure it covers tattoos. One warning: It can look a little thick, so use it sparingly.
The Dual-Shaded One
Makeup artists know that to really cover a zit, you need more than one color. That's why this two-shade compact, which contains a color corrector and concealer, is so useful. We've watched professional makeup artists masterly blend the two sides with a brush until they create a custom shade so perfect that it can disguise even the largest cystic pimples. It has a dry texture that molds to the skin, making it particularly great for oily skin types. Learning how to create the best shade for your own skin requires some trial and error, but once you master it, your cover-up will stay put.
If You're Feeling Fancy
How do you cover a zit that, as Mindy Kaling once said, "ha[s] roots that seemed to extend into [your] brain"? You need a truly sticky concealer like this one, a heavy paste that feels like spackle — in a good way. Use only the tiniest, tiniest pinprick, even if you're trying to hide acne scars or a massive pimple. It comes in 15 colors, and you can even get a shade custom-made for you. To me, this is perfect.
If You Want to Hide Tattoos
A husband-wife duo — one a dermatologist, the other a makeup artist — teamed up to create the company Dermablend. Since then, it's become a favorite on movie sets, where makeup artists use it to conceal actors' tattoos. The coverage is so strong that it can cover an entire body — so don't worry, it can handle a pimple as well. It's one of the highest rated concealers on Ulta.
The Waterproof One
The texture of this is somewhere between a paste and a liquid, so a few pats with a finger or a brush make it disappear into the skin. It's highly pigmented, so it can work to cover smaller blemishes, dark eye-circles, and — with the help of a color corrector — bigger zits.
The Workhorse
Another concealer that promises to stay in place and really does. A multi-purpose concealer, you can use this for under-eye circles, redness, and lighter blemishes. It comes in nine shades and purportedly lasts for 15 hours.
The Color-Correcting One
While not technically a concealer, this color-correcting cream works wonders on the skin and creates a base that you could wear without any concealer. After going viral on TikTok, it seemed as if everyone had their hands on the light-green cream and quickly learned a little goes a long way with this product.
The Drugstore Favorite
This drugstore concealer is one of Avendaño's favorites and is creamy, waterproof, and fade resistant for all-day coverage. It comes in 25 shades and features an extra-large applicator tip for easy use.
The One Everyone Loves
One of Avendaño's favorite concealers, and one that is applauded all over TikTok as being "that concealer," comes in 30 luxurious shades for the ultimate coverage. It's oil free and gives the skin a soft-matte finish.
The Classic
The Shape Tape concealer has gone through phases of being in everyone's makeup bag to being on the back burner, but there's no denying that it's full coverage is good for concealing acne. With 35 shades, its a perfect concealer for everyone and is made to be creaseproof for long wear. Plus it comes in a travel size, so you can test it out before spending the $31.
The TikTok-Approved One
Another viral concealer known for its hydrating qualities and affordable price, this one offers great coverage that makes concealing acne pretty easy, but pro tip: Use a brush instead of fingers to blend it in and avoid creasing.
The One That Does it All
If you're someone who prefers makeup that can do it all, this complexion stick from Merit will be your best friend. Both a foundation and a concealer, the creamy stick is medium coverage for a natural look but buildable for full-coverage, especially since it contains daffodil extract to diminish the look of dark spots and pigmentation.
The One That's Good for Your Skin
This full-coverage makeup from Image Skincare is Graf's favorite product for covering up acne, especially since it includes plant stem cells, antioxidants, and conditioning botanicals that she explains are "great for those with sensitive and inflamed skin, while it keeps you looking radiant throughout the day."
Our experts: