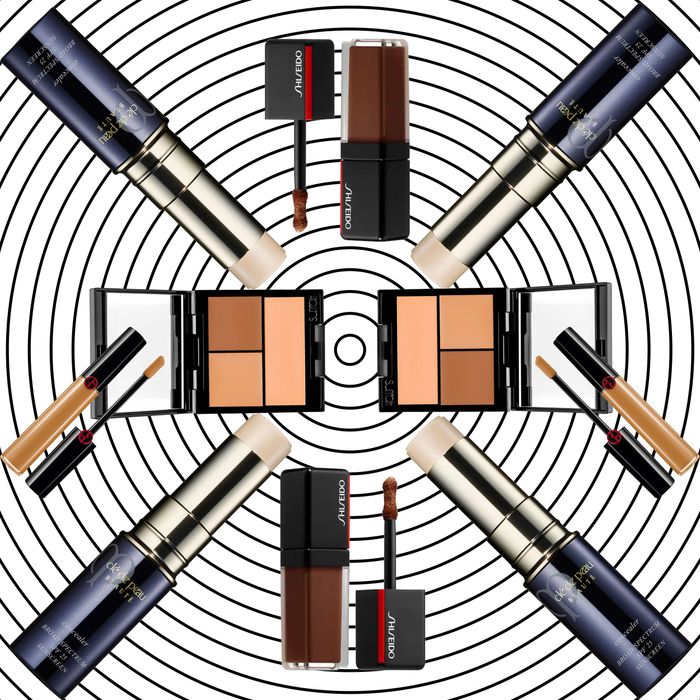 Photo: Courtesy of the Retailers
Finding the right concealer can be confusing, but it doesn't have to be. If you know what you want to conceal (pimples? redness?), and what form you would like that concealer to take (a luscious cream? something more solid, like a stick?), you're halfway there. What's left is how much coverage you want and how you'd like to apply it. Read on for 12 of the best concealers that, pardon the pun, cover all the bases.
The Best Budget Concealer
Points to Maybelline for creating this luxuriously rich liquid, which would certainly pass for a prestige brand in a blind test. It dries down to a matte finish that oily types will especially appreciate, but it's also waterproof, so swimmers will love it, too! Available in 12 shades.
The One for the Mixologist
Makeup artist Troy Surratt created this compact with three pans because our faces are rarely one single tone. It comes in six different shade trios, each with a lighter shade to conceal and brighten, a darker shade for deeper discoloration, and a finishing powder at the bottom that helps refract light. Of course, you can mix them all to hit the exact color you need. Surratt suggests warming them up with your fingers for easier blending. Just don't be thrown by the slightly tacky texture — it better adheres to skin.
The One for Naked Fans
Urban Decay's Naked eye shadow palettes are beloved because they exist in or near neutral territory, while still definitely being makeup. The same could be said of this concealer, which comes in an impressive 25 shades. Its texture is light and even feels a little cool going on, but its pigment levels are serious and it really covers — just in a nude-y kind of way.
The One That Won't Move
The vehicle in which one prefer one's concealer to be contained is another personal preference. Wand dabbers might not understand pencil drawers, who might balk at dipping their finger in a pot. Benefit's beloved Boi-ing concealer usually comes in a pan, but the brand now also has a wand version, a rich, satiny texture that provides full, long lasting coverage. Even better, unlike its predecessor's six shades, this one comes in 12.
The Fashion-y One
This has the word "fabric" in its name, and it really does feel like luxurious fabric on skin — kind of like silk, sort of like cashmere, but mostly like a new pair of Wolford tights. And just like those tights, this concealer (which comes in 20 shades) glides on smoothly, then settles in to a matte but not overly dry finish.
The Vegan One
This rich liquid diminishes dark spots and under-eye circles, but it's also a formidable opponent for red areas, like broken capillaries. The applicator sponge doles out the product in measured clicks, meaning you'll never wind up with too much, and it makes reaching tricky spots, like the outer corners of your nostrils, much easier. The formula comes in 16 shades, is vegan, and free of parabens, mica, alcohol, and even gluten.
The One That Follows Your Lead
This new concealer promises to do a lot of things. It offers to protect complexions from getting too sweaty or oily; it claims to adapt to skin's tone, condition, and texture (don't they all?); and it even contains something called Smart Correcting Powder, which is supposed to enhance your skin's surface texture and tone. That's a lot to believe of a concealer, and I'm not sure I do, but I love it nonetheless. It covers well without feeling heavy, and I even sub it in for times when I don't feel like wearing foundation all over my face, because it smooths out like a dream. Available in 16 shades.
The One for the Photo Shoot
Fans rely on this long-standing favorite when they need to be camera-ready. The 16 shades of thick cream, all based in pink or peach, do an impressive job at covering the blue, purple, and red tones that are the culprits of under-eye circles. That said, IMHO, its name is a misnomer because it works equally well on upper eyelids, where skin can also need some evening out.
The Wrinkle Smoother
Spackle isn't exactly the most flattering word to describe a concealer, but that's what comes to mind when I watched how this solid balm blurs fine lines while it covers flaws. That's thanks to an optical diffusion powder in its formula, which comes in 16 shades. Blending it does takes a little practice, but the end result is worth the extra dabbing.
The Classic
There's a reason why this one is a favorite among beauty editors, makeup artists, and celebs like Kate Bosworth and KKW. Its lipstick-like applicator (and, frankly, nearly lipstick-like consistency) make it easy to use, easy to blend, and easy to conceal. With only six shades, it's long overdue for a shade extension, but something tells me they're working on it …
The One That's Also an Acne Treatment
Sure, the tip of this pen covers annoying zits very well (in ten shades), but it also works at obliterating those zits with salicylic acid, which also helps prevent future breakouts. Also in this formula are mushroom stem and licorice extract to quell the redness that usually comes with pimples.
The One That's Easily Buildable
Rihanna reigns with the most shades for a concealer (50). This wand- applied formula has a softness to it that makes blending super-easy, as well as buildable, should more coverage be required. One layer evens things out, but two or three will really cover you when serious concealment is required.
If you buy something through our links, New York may earn an affiliate commission.