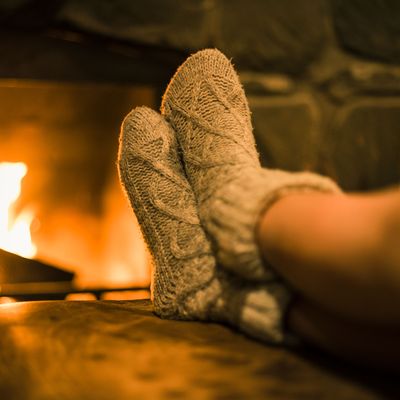 Photo: Johner Images/Getty Images/Johner RF
You don't need us to tell you that people are into nesting and comfort this year. The overwhelmingness of everything might also mean you've left your holiday gift buying until the last minute — which is very understandable. So here's our panic-relieving guide to cuddly, fuzzy, soft, and comforting gifts that will get there in the nick of time, thanks to Amazon Prime (it should go without saying that you probably deserve at least one thing off this list, too).
The Cuddliest Clothing and Robes
This holiday-red State Cashmere set is a bit of a splurge, but it's actually a great price for a 100 percent cashmere duo. Sourced sustainably from farmers in inner Mongolia, it's a responsibly luxe option for your favorite person — and reviewers rave about the softness of the ribbed knit.
Available in size S-XL
An oversized update on a fisherman-style knit, this roll neck sweater has some excellent chunk to it, but still looks reliably chic. Perfect for a very indoors holiday season.
Available in size S-XL
Help them upgrade their usual sweatpants-and-tee routine with this glam floral wrap, edged in velvet, and ideal for lounging with a hot toddy in hand. The NYE Zoom crew won't know what hit 'em.
Fishermen sweaters had a real moment last year thanks to Chris Evans's Knives Out number, but they're truly a timeless choice for anyone in your life. This navy version is a nice update on the classic cream.
Available in size XS to XXL
This modal-blend robe has a super-soft drape and an elegant, timeless shape they can relax in for years to come, in three of-the-moment neutral shades.
In a wide array of colors, these menswear-inspired PJs are an instant upgrade to their regular reading-in-bed routine. (It doesn't hurt that they're a dead ringer for a certain very popular, pricier pajama brand.)
Okay, hear us out — the non-femme people in your life are not being offered enough glamorous pajama sets. This roomy set in tonal stripes will help them bring a little more drama to streaming The Queen's Gambit.
Available in size L to XXL
This cute long-sleeve and short set is perfect for a warm-weather Christmas (even a grumpy teen might appreciate it). Plus, it comes in a zillion shades and has hundreds of five-star reviews.
Available in size S to XL
Low-key and moveable enough for at-home yoga but still cute enough for a coffee outing, this set can be mixed or matched with the rest of their closet, too.
Available in size S to XXL
Whether they're wearing it skiing or just to look extremely cute at home, this long-sleeve union suit is a timeless classic that's long overdue for a comeback.
Available in size S to 4X
This unisex beanie in slouchy cashmere jersey is a perfect neutral crowd pleaser for your boss/cousin/sister's boyfriend.
Give them this shaggy colorblock fleece hoodie, and watch them wear it every single time you Zoom with them for the rest of the winter. (Just act fast — selection is limited!)
Available in size S to XXL
This cozy, tented mock neck is roomy enough for couch life, but looks put together enough for in-person meet-ups when they eventually return.
Available in sizes S to XL
A shaggy fleece with rustic outdoor vibes that would also look great layered over a button-down for adventures on the city streets.
Available in size S to XXL
These cashmere-blend pants are only $40, with nice details like a cute slit near the ankles. Reviewers rave about how soft they are, with one adding that they're super-comfortable to wear mid-pregnancy — good intel if you've got anyone pregnant on your gift list.
Available in sizes XS to L.
This soft and stretchy robe from Eberjey is the epitome of coziness. Details like the wide belt and pockets will make you want to live in this all year long.
Ultra-Soft Slippers and Socks
These Ugg slippers are perfect for walking along cold wood floors in the winter, and the shearling lining will keep your toes warm in even the most frigid of temperatures. "These slippers are always the perfect temperature for my feet," one reviewer wrote. "I love them."
Available in sizes 5 to 12.
Most slippers have a leather or cloth sole that'll instantly get ruined outside. These have grippy rubber bottoms that won't slip around hardwood or linoleum and are lined with genuine shearling for maximum coziness and warmth.
Available in sizes 7 to 18.
Sometimes you want the best of both worlds. Fuzzy socks are super cozy and hug your feet, but slide around on the floor. Slippers also keep your feet warm, but can slip off or cause you to stumble. These Ugg slippers aim to solve those problems, with a fuzzy shearling upper and a leather sole to prevent you from sliding around. Reviewers say you should size up, but the comfort and coziness are well worth this purchase.
Available in sizes 5 to 12.
In cozy microsuede with a soft memory foam lining and a sturdy rubber sole, these slippers are the best of both indoor and outdoor worlds.
Furry and confetti colored, these socks were practically designed for standing over a tin of leftover Christmas cookies after everyone else has gone to bed.
Wool with a little bit of stretch, these thick socks are knitted in a technical pattern designed to be extra-warm and hold up over time. They also just look pretty cool.
Home Goods Made for Cocooning
Bouclé made a major comeback this year — the nubbly-textured fabric, once relegated to eighties interiors, gained a new following for it's soft and satisfying texture. These creamy wool throw pillow covers are a great way to dip a toe into the trend.
Comfortably weighted, made from plush faux fur, and in a mood-lifting shade of wine-red (though it comes in four other hues), this throw blanket is a triple threat.
Designed to look good slouchy, this rough-edged sham is the kind of low-effort, high-impact design choice everyone you know needs to upgrade their nap situation next year.
If you buy something through our links, New York may earn an affiliate commission.