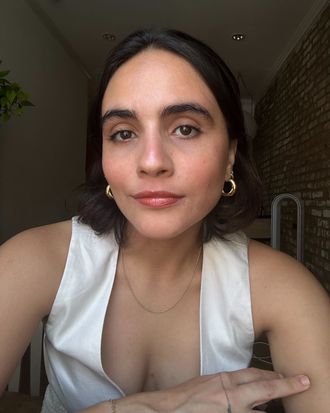 If you have dry skin, you know that powdered makeup products can be your skin's worst enemy. Even when you have moisturized religiously, they seem to simply emphasize any creases or peeled skin.
Luckily, cream blushes exist that don't peel or crease on dry skin (or any skin, as a matter of fact). I'm happy to report I've found the best ones out there. And after testing so many cream blushes prior and during my days as a shopping editor, the ones below are the ones you'll always find in my makeup bag.
The Best Cream Blush Overall
Does it really come as a surprise that I've crowned this the best cream blush overall? No, it doesn't. Hailed the best blush on TikTok and beyond, Rare Beauty's blush really is that celebrity beauty product. A little goes a long way, since it's highly pigmented and you can easily blend it with your fingers or a blush. I like to blend mine with the brand's blush brush.
While I love Rare Beauty's cream blush, Merit's Flush Balm is my go-to for traveling or when I'm on the go. The packaging is ideal to just throw in your weekender bag or tote and apply when you need a quick fix. It's extremely buildable, so two strokes are enough for a light flush, but any more than that works great for a more pigmented look.
As you can tell by the shade selection in this roundup, I love coral and orangey shades of blush for my skin tone. They are my ultimate favorites. Turns out celebrities do know how to create cream blushes. However, while I love the shade offerings of the Cheek Freak Blush Balm and how easy it is to apply with your fingers, I highly dislike the packaging. The blush always separates from the container. So, if you don't mind a bit of a mess, then you can add this to your cart.
As somebody with extremely dry skin, I say Tower 28 products can do no wrong. From its SOS Daily Rescue spray to its lip gloss and, yes, its blush, the brand really knows how to cater to the eczema community. When I have a flare-up and I cover the redness with concealer and then proceed to add blush (I don't know why I do that either, but I do), the formula really makes my skin feel dewy and bright without making it look like I have a flare-up.
And if you're more of a bronzer type of person, our shopping writer, Chinea Rodriguez, highly recommends its bronzer too.
Is it really a cream-blush roundup if you don't include Glossier's Cloud Paint? When I asked around for cream blush recommendations to try out for this roundup, so many people mentioned how they still use one of the brand's best sellers. Ditto. Glossier's hype might have died down over the years, but the Cloud Paint cream blush still is as good as ever. Similar to Rare Beauty's blush, you don't need much product to liven up your face. Plus, I've noticed while pairing it with different tinted moisturizers and lightweight foundations, it doesn't move around.
While a lot of people love this more as a lip tint, I love the balmy texture as a blush. As somebody who is used to wearing products with thick formulas on my face, I appreciate how it feels like it's actually hydrating my face too while giving me a natural, lightweight flush.
Ilia knows how to craft a multi-use product. I've raved before about the brand's C Beyond Triple Serum, and the Multi Stick is just as good. After testing most of the 11 shades, I still gravitate toward Dreamer the most. It works well when you want a subtle pink all-around glow, since it can be used as a blush, lip tint, and even eye shadow.
Turns out multi-sticks make for the best cream blushes on the market. Westman Atelier is a brand that has perfected this combo. And while I haven't personally reviewed it (yet!), when I asked around about what products people have been rebuying lately, it came up multiple times. Najwa Jamal, a fact-checker at New York Magazine, said it's the one product she's been religiously using all summer long, and her makeup looked great, so I'm excited to try it (and you should too!).