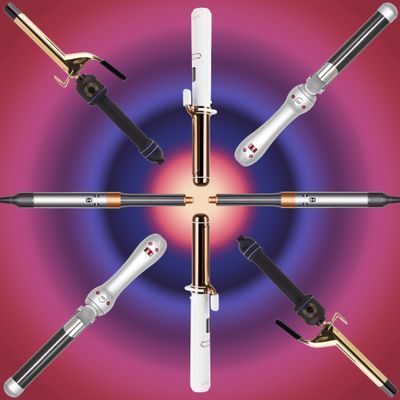 Photo-Illustration: by The Cut; Photos: Retailers
For more of the Cut's favorite fashion, beauty, and home finds, sign up for the weekly Cut Shop Newsletter.
There are many ways to get the bouncy blowouts, springy curls, or glossy waves that you want. You can try one of many heatless TikTok hacks that include leggings, socks, and bathrobes, or you can put them back in the drawer and grab a curling iron. To help you pick one for your hair type and styling needs, we reached out to hair-care experts Nick Stenson, Annagjid "Kee" Taylor, Sarah Potempa, Devin Graciano, and Mia Santiago.
FAQs
What's the best temperature for styling?
It varies depending on your hair type. The pros suggest starting with a lower temperature. Graciano recommends 280 degrees as a good starting point. If your hair can handle a little more heat, Stenson and Taylor recommend temperatures of 350 to 390 degrees Fahrenheit. "If you have thicker, more coarse hair, you may have to bump up the setting," Taylor explains. "I wouldn't recommend going above 450 degrees, though, because it will damage your strands and natural curl pattern."
If you're still not sure, Potempa recommends testing a low temp in a section of your hair to see how well the curls perform and then try increasing the temperature from there. Just don't forget to use a heat protectant to prevent any damage.
How can I make curls last?
Keeping your curls from falling flat is all about technique, hairspray, and a good tool. Potempa recommends getting as close to the root as possible and curling at a 90-degree angle.
Once your curls are fresh off the curling iron, it is best to leave them for a minute before any styling. "Once the curls have set, don't brush or shake them out. Instead, do this after the hair has cooled down completely," Graciano explains. "Once the hair loses its warmth, the curls will stay."
What barrel size should I buy?
For short hair, Potempa recommends a .75-inch barrel, but a 1.25-inch is great for the blowout look.
What type of curling iron is best?
It's all about your skill level and time commitment. There are many different types of curling irons, including wands (which come in all sorts of shapes, from the traditional round to canonical to bubble barrels), wands with clamps (including the Marcel curling wand), and nifty multi-stylers that are essentially blow-dryers, hair straighteners, and curling irons in one. If you're a beginner, Santiago recommends a standard curing wand that has interchangeable barrels. That way, you can familiarize yourself with the dynamics of twirling your precious hair around a blazing-hot rod before adding a clamp, which allows for more advanced styling methods.
.

Best Curling Irons
The Most Versatile Option
If you'd rather not have a cabinet full of curling tools of various sizes, T3's Switch base is your best bet. A favorite of Stenson's for its versatility, the base can easily switch between barrels, which you can buy together or separately. Other perks to the T3 styling tools, Stenson explains, are the automatic shutoff after an hour, heat control, and the glassy results.
Pros: Three interchangeable barrels ranging from 0.5 to 1.25 inches, nine temperature settings, heat-resistant glove, swivel cord | Cons: Pricey, takes time to cool down
The Smart Option
We can't underscore the importance of tools that just work (unless singed hair is your thing). Graciano recommends T3's Curl ID smart iron, which takes the guesswork out of choosing the right temperature thanks to personalized heat settings for your hair texture. While the brand makes wands all the way down to a half-inch, this larger 1.25-inch barrel is great for creating bouncy curls or everyday waves.
Pros: Heats up fast, ceramic barrel leaves hair glossy, versatile size | Cons: The digital interface can be finicky and is not intuitive enough to understand without first reading the manual
The Best for Color-Treated Hair
If you're regularly dyeing your hair and touching up your roots, the last thing you want to do is damage it with excessive heat — and with this tool, you don't have to. Graciano counts it as one of her favorites because there's a setting just for color-treated hair, "which helps to preserve hair color retention." She explains, "In addition to this, it has a stainless-steel barrel and ceramic heating to have a better distribution of heat."
Pros: Unique "color-treated heat" setting, safety tip to prevent finger burns, heats up fast | Cons: The temperature is by hair type and does not display the Fahrenheit degrees
The One for Easy Styling
All of Beachwaver's styling tools are rotating, which cuts your styling time in half. So the real challenge is choosing the right one for you. For looser waves or a faux-blowout look, Potempa recommends the 1.25-inch barrel. She recommends the Pro series for a high range of heat and a longer barrel for easier styling. If you're a beginner, the Beachwaver B1 is the best option with more simplified features, Potempa says.
Pro: Rotates in either direction, ergonomic handle, longer rod length (6.5 inches), swivel cord, ceramic iron leaves hair shiny | Cons: Pricey, no interchangeable heads
The TikTok-Favorite Option
The pricey Dyson Airwrap falls somewhere between a curling iron and a blow-dryer, but it's a favorite for producing professional looks with lower heat and, subsequently, less damage. Despite its reputation for needing a million tutorials before getting started, Santiago attests the Airwrap is "phenomenal" and a great option for beginners and advanced hair aficionados alike. There is a learning curve since the tool comes with six attachments as well as the option for long or short barrels depending on the length of your hair. It works across hair textures and types, and the only problem you'll have with the tool is that it isn't exactly travel-friendly. (See the enormous, albeit highly organized, storage box.)
Pro: Six attachments that can take you from wet to dry, two barrels that rotate in either direction, uses a lower heat temperature to prevent damage, luxe-feeling materials, storage case included, makes a great gift | Cons: Not as intuitive as other hot tools, very expensive
The Beginner-Friendly Option
Our senior shopping editor, Bianca Nieves, has just started her curling-iron ventures. Now that she has short hair, she wanted one that would allow her to shape her natural waves and curls, and this interchangeable option from DryBar was heaven-sent. Nieves raves on how she can just pick a barrel depending on how lazy she is to actually style her hair. Her favorite option? The one-inch barrel wand, since it's the easiest to style the front of her hair (a.k.a. the only part she puts more effort into).
Pro: Three attachments, including a curling iron, an iron with a clamp, and a waver (the only in this list to include one) | Cons: Some reviewers say they've received faulty tools that shut off during use
The Pro-Friendly Option
On the flip side, Santiago — a celebrity hairstylist who often works on editorial shoots — says most pros would likely gravitate toward a "Marcel" curling iron. These irons, named after a French inventor and stylist, feature two tongs, a handle, and a rotating barrel that gives the user greater control. While it all sounds very complex, Santiago notes that the hot tool is really just a clamp iron without the springboard. "[This] allows me to have fluid movement and helps keep the hair from creasing while curling," says Santiago. She adds that you can create different wave patterns with seamless transitions and that there's a size for all lengths and curl patterns.
Pro: Affordable and reliable styling tool for using the traditional Marcel technique | Cons: Requires advanced hair-styling practice
The Best Curling Kit
Another favorite from Santiago is Amika's aptly named "Chameleon," which includes five interchangeable wand heads. She recommends it specifically for beginners since it has one base with easy-to-swap barrels that can help newbies explore different styles without having to master various techniques; hence, it's more a "kit" than a single tool. The barrels are made of lightweight titanium that can get super-hot (hello, smooth, long-lasting curls), and all have a rubberized edge to help avoid finger burns. The set also includes a three-fingered glove to further prevent things from getting too spicy.
Pro: Five interchangeable barrels, titanium heats up fast, easier to clip in compared to other tools | Cons: Pricey, reviewers would prefer a five-fingered glove as opposed to three
The Precision Styler
Professional hairstylist Roger Marquez used this curling iron on Bianca's hair recently and raved about how he has been using it for the last ten years. Marquez admits that for beginners it might be tricky since the device doesn't have tension, but that's exactly why he loves it. The Hot Tools curling iron instead allows you to have better control and precision of the wand, allowing you to customize your curls no matter the size of the barrel.
Pro: Affordable and reliable styling tool for using the traditional Marcel technique | Cons: Requires advanced hair styling practice
The Best Cordless Option
Having to deal with a short or heavy (or heavy and short) cord is enough to leave the styling to another day, and it's precisely why Taylor favors this tool. Not only is it cordless and rechargeable, but it's also easy to use. With a 1.25-inch titanium barrel and heat settings up to 450 degrees, Taylor prefers it for adding volume and texture. "You can play around with the wand to get your favorite style for any hair type." She explains, "The wand is also versatile, so you can create any look from tight curls to loose beach waves."
Pros: Compact, travel-friendly, cordless | Cons: The battery lasts 45 minutes, which may not be enough time for those with thick or long hair
Our experts: