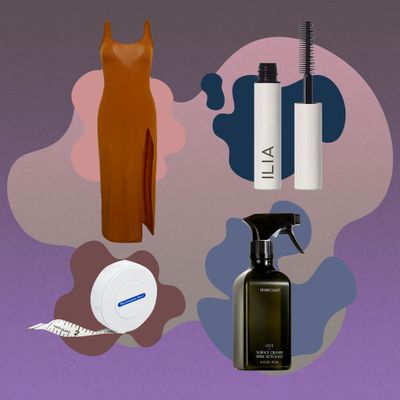 Photo-Illustration: by The Cut; Photos: Retailers
There are 365 days in a year, but it only takes one click of the "Buy Now" button to purchase an item that makes the days left (and beyond) 100 percent better. These are those products for the Cut editors: The small, medium, and big (and TikTok-influenced) purchases that made a huge difference in our lives we highly recommend you consider, as 2022 comes to an end and all the possibilities of 2023 are right around the corner.
As a writer who receives and tests a lot of beauty products, I started to crave organization for all of my babies (because, yes, that is how I refer to my hundreds of serums and moisturizers). I needed something that was sturdy and also a bit glam to add to my room — a bookshelf that would double as a beauty shelf. Behold, my new beauty shelf. It was the chicest addition to my home this year, since all of my babies are on display, and it has made testing them out a lot easier. Whether you're like me and have tons of beauty products or have tons of books, this shelf is a worthy purchase and it's under $200, which is beyond a steal. I'm already debating buying another one next year for the product overflow. My fragrances need a new home too. —Asia Milia Ware, junior style and beauty writer
Sometimes the items we love most are the least glamorous, like this mini dehumidifier. Not only has this little gadget made my small, New York City–size bathroom far less damp and kept my fears of mold growing at bay, but I've grown deeply attached to it. It's actually minuscule and fits anywhere, and it's frankly very cute. If Wall-E was designed to be a moisture-busting little guy, he'd be this dehumidifier. There is nothing more luxurious to me than stepping out of the shower and immediately turning this gadget on. —Danya Issawi, fashion news writer
It is very hard for me to remember what all happened in 2022 — too much plot — let alone what I bought, but one purchase that does excite me more than it should is my net bag from Graf Lantz. Fisherman totes are good for going to the beach — you can't bring home sand when your bag is made of holes — and for looking French while carrying produce, but they are bad for those of us who struggle with organization. You have to wrangle your smaller items into smaller bags or you lose your favorite lip balm. But the genius of the Ami Market Tote is that it folds into its own attached pouch, which becomes a pocket when the bag is unfurled for use. Central beef solved. I do not know how this company found me, but I'm glad that it did. The tote comes in fun colors such as slime green and mustard, and it costs only $19. No regrets! —Claire Lampen, writer
I picked up a travel size of Ilia Beauty Mascara this spring because (a) I was traveling for a wedding and (b) the regular-size tubes inevitably dry out before I finish them. It's the perfect basic mascara: It noticeably enhances my eyelashes without looking too done up or clumpy, and takes up little to no room in my going-out bag for reapplying on the go. —Danielle Cohen, blogger
Ali Slagle's debut cookbook fully changed the way I think about making food. It's filled with great recipes, but it also breaks down so many cooking methods that you can easily master and then experiment with on your own. Such as: Did you know you can toast rice with oil and pretty much any spice before cooking it? Or make pesto out of any greens, nuts, and garlic? It has wildly improved my ability to throw together a meal with whatever leftovers are sitting around, and I've never felt so comfortable or confident in the kitchen. —D.C.
My former roommate bought this colorful shower curtain from Quiet Town because she'd heard about it from someone else (who probably heard about it from someone else), so I decided to hop on the train and copy her, too. It really transforms your bathroom into a more cheerful place. (I have it in green; she has it in pink.) —Emilia Petrarca, senior fashion news writer
If you want to include something more $$$: I live in a small studio apartment where having a TV on the wall would really kill the vibe, so I splurged on a projector this year, and I'm absolutely never going back. Not only do I feel like I have a home theater, but the best thing about this Samsung one is that you can place it anywhere and it adjusts the picture on the wall. (Or ceiling, if you want!) —E.P.
Is it ridiculous? A little. Has it changed my life? Absolutely! I first learned about the Almond Cow three years ago from a sustainability influencer (yes, I'm embarrassing) and immediately wanted it, but couldn't justify the price tag for a device that technically only does one thing. However, since receiving it, it has truly done so much for me, a lactose-intolerant girlie. I don't remember the last time I purchased oat milk, almond milk, or any other milk. It's easy enough to clean and use that I genuinely make my own plant milk at home every week. And not only does it reduce the amount of difficult-to-recycle packaging in my life, but it's great in situations where I pull up a recipe and realize I'm out of milk at the moment I need to use it — j'adore!! —Katja Vujic, social media editor
Partly also in debt to the Almond Cow for this, but I've gotten big into making my own beverages this year, and keeping my matcha and my coffee in these airtight canisters has really improved how long both stay fresh and flavorful. I also love pressing the button to release the pressure — it's so satisfying. And twisting it to take all the air out really adds to the ritual of it all. —K.V.
I've decided pill organizers are not just for the elderly. Months ago, I set up subscriptions to all my vitamins in an effort to make sure I took them every morning. It failed miserably. So I used the points I accumulated on my Love Wellness rewards account to buy this vitamin organizer, and it's now been more than two months of me taking my vitamins literally every morning. I think I've missed, like, four days in all that time. I also love that it's two weeks' worth, so I only have to refill it twice a month, and it makes it so much easier to take my vitamins with me when I travel. —K.V.
When I first moved to New York, I was convinced that in order to be perceived as cool and fashionable, I was going to need to limit my wardrobe to neutrals. I got rid of all my floral dress and colorful sweaters, and two or three years in, my closet was … deeply boring. I've spent the last year and a half trying to embrace my inner child via clothing choices, while staying mostly graduated from the floral-dress phase of my life. This year in particular, I really made an effort to introduce more fun and color into my wardrobe, and these shoes were the perfect early-summer splurge. They add delight to every outfit, and they cater to both my obsession with platform shoes that emphasize my height and my desire to dress like the camp counselor I never got to be. I lived in them from May to August. —K.V.
The TikTok girls influenced me to buy something I never thought in a million years I would have, but after having all the videos pop up on my For You page of people spewing the benefits of walking, I was properly convinced to find a way to get some more steps in. Because my work schedule is so hectic, a thin treadmill that I can walk on while emailing and watching Housewives is all I was looking for, and I found with the Treadly. It's thin, folds under my bed — and I hate to admit it, but the girls were right about the benefits of walking more! —Lindsay Peoples, editor-in-chief
The Homecourt Surface spray in Cece — the Courteney Cox home brand — smells so good. I clean my home every night now. —Allison Davis, features writer
In last year's edition, Andrew recommended the Odora Pet Hair Remover. Since then, I've moved in with a roommate who has three cats. I love those guys, but, damn, do they shed. Luckily, Andrew was right: This thing is great for keeping rugs and furniture clear — I also use it on my bedspread. Be sure to roll it forward and backward. It won't work if you only drag it in one direction. Super-simple and sustainable. Unfortunately, it doesn't work so well on clothing. For that, a (cat-owning) friend turned me onto Muji's Cleaning System Carpet Cleaner. It's basically a giant lint roller, so you can take care of your entire outfit, including your coat, with one sheet. Plus the company sells very convenient refills. —Rachel Bashein, managing editor
If you're an avid online shopper like I am (that's a nice way of putting it), your apartment is probably starting to feel like a UPS. The best way to avoid returns is to read all the measurements and actually see how stuff might fit on your body. You can also compare the measurements with things you already own. My handy soft tape measure saved me many trips back to the post office this year. —E.P.
The best thing I bought this year was definitely the Cloud Sleep Dress from Parade. It's a bit sheer, but so, so, so comfy. I love it because I tend to sweat a lot at night, and this dress is breathable and keeps me at a nice, regular temp. It also has a really long slit, which is perfect for me because I tend to sleep with a pillow between my legs (which is good for my back). Plus, the bold can wear it out as a dress. —Olivia Truffaut-Wong, night blogger
For more from the Cut Shop team, follow us on Instagram and Twitter, where we share our best new finds, favorite styling tricks, and more.