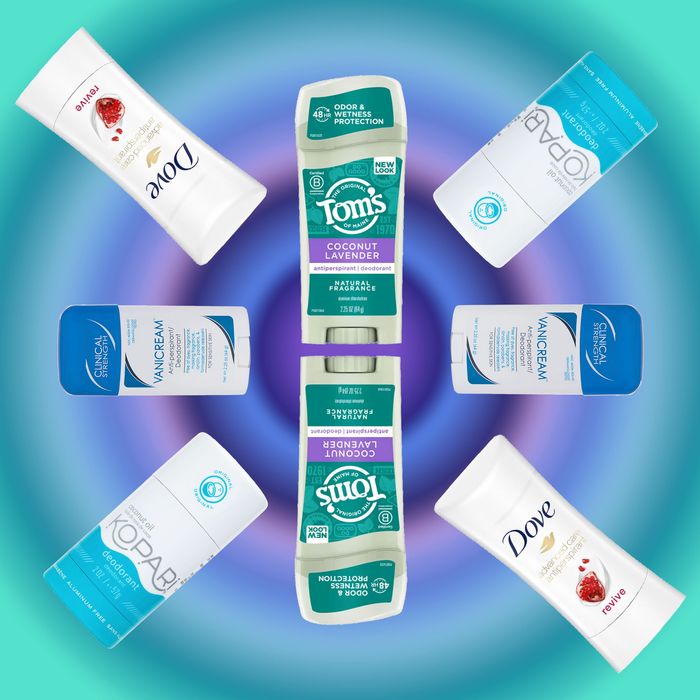 Photo: by The Cut; Photos: Retailers
For more of the Cut's favorite fashion, beauty, and home finds, sign up for the weekly Cut Shop Newsletter.
"If it ain't broke, don't fix it" is an adage people generally stick to where their deodorant (or antiperspirant) is concerned. Despite being in a happy, long-standing relationship with my deodorant, I wanted to annoy my partner, dermatologist, eczema, and underarm pH balance by testing 11 options in three months. My pits were primed! I turned up the heat, wore wool sweaters, and tested six natural deodorants, then five antiperspirants — each for three to four days with at least one day of underarm rest in between.
What I learned: I can sweat — a good amount. I can also smell like cheese left in a Ziploc bag in a car parked under peak UV sun. My eczema was not under control, and new isn't always better, because I wound up reverting to my original deodorant at the end of the odious journey. But before you find out what deodorant that is, Marisa Garshick, M.D., a board-certified dermatologist in New York, answered some questions I had while sifting through the competition.
What is the difference between an antiperspirant and a deodorant?
Dr. Garshick explains that antiperspirants refer to products designed to block the release of sweat, while deodorants are designed to mask odor and may also work to absorb excess moisture. If you've ever wondered whether a product can be everything under your armpits all at once, the answer is yes. "Products may exist as only a deodorant, only as an antiperspirant, or as a combination of both," says Dr. Garshick.
Is there any harm in blocking your pores or using an antiperspirant with aluminum in it?
"There is no harm in using antiperspirants or blocking your pores," says Dr. Garshick. In fact, especially for those who sweat a lot, she says reducing the amount of sweat may help prevent skin irritation. Dr. Garshick notes that there have been potential concerns surrounding aluminum in association with Alzheimer's disease or cancer, but no conclusive evidence has been found linking them. "Importantly, the only ingredients currently approved by the FDA to be included as an antiperspirant are aluminum based," says Dr. Garshick. "So this is especially important to look for when looking for an antiperspirant."
Does the term "natural" actually mean anything?
No. Much like "clean" beauty, Dr. Garshick says there is no standard definition, so it can be hard to interpret. She says natural deodorants incorporate things that can be found in the environment, such as plant-based ingredients, essential oils, and fragrances, and they tend to avoid synthetic and artificial ingredients to help mask odor. That sounds lovely, but Dr. Garshick underscores that "'natural' does not necessarily mean more effective."
Can antiperspirants cause underarms to darken?
Neither antiperspirants nor deodorants are directly responsible for the darkening of underarms, says Dr. Garshick. "Rather, some may cause skin irritation, which can lead to a rash, which may appear as red, itchy, or flaky skin that heals with hyperpigmentation." She says that while this may be more noticeable in those with darker skin, it can happen to all skin types and is referred to as post-inflammatory hyperpigmentation.
Determining the best antiperspirants and deodorants
If you've ever reached for the "clinical strength" packaging or wondered if you have hyperhidrosis, you'll probably want to talk to a derm and look elsewhere for your new go-to stick. Still, to give you an idea of what you could be in for if you aren't good at reapplying, each product below is rated on a scale of no cheese smell; slight cheese smell; cheesy; Époisses de Bourgogne — a cheese so foul and so dank that it's been referred to as "France's Fromage Fatale" and is said to be banned from the Paris Metro. Bon appétit!
The Antiperspirants
Type: Antiperspirant | Rating: No cheese smell | The Good: Dry underarms for up to 48 hours on the cheap | The Bad: Can leave a white cast and clump up | Key Ingredient(s): aluminum zirconium
For those who are unbothered at the prospect of having aluminum in their deodorant, any OG Dove stick is standard. I'd used this for years before switching because it doesn't leave stains on my underarms, is nonirritating (no baking soda), and gets the job done so well, it's scary. You smell like nothing but a light wash of generic florals and fruit. Don't take it from just me: This stick has a 4.7 out of 5-star rating on Target, which is hard to get when it comes to deodorant. If you're wondering, yes, I did test its 48-hour claim, and it's good for it. Pro tip: If you apply antiperspirant at night, it's most effective; more of those sweet, sweet aluminum particles can plug up the open sweat holes.
Type: Antiperspirant | Rating: No cheese smell | The Good: No white marks, effective | The Bad: Easy to over-click the deodorant and have way too much gel | Key Ingredient(s): aluminum zirconium
I rekindled an old flame in Secret Outlast, as I used a previous powder version as my preferred late-aughts deodorant. I am not a gel-deodorant person but opted for the newer formula when I realized the powder included talc. (As an Aquarius, it's my duty to be suspicious of the beauty industry's dubious regulation history.) This gel does not leave any nasty, sticky residue, and is so effective I started imagining it as a kind of glue plugging up my armpit. That sounds regrettable to some, but if you sweat a lot, it's almost a literal security blanket. Just get ready to scrub 'til the cows come home every time you shower.
Type: Antiperspirant | Rating: No cheese smell | The Good: Company is Certified B Corp, with ingredients that are supposed to be less irritating on skin | The Bad: Another high-scrub situation to remove, some aren't a fan of the smell | Key Ingredient(s): aluminum zirconium
The thing with Tom's of Maine is despite all the clear demarcations that this is indeed an antiperspirant, it doesn't feel like you're wearing one. Not that it isn't effective — it is! But this company is a Certified B Corp, the ingredients are all sustainably sourced, and the packaging is giving high-key Eau De Portland Parfum. Still, the active ingredient is aluminum, so it works just like the others — but for a few more bucks, you get some natural antimicrobial stank fighters, like olive leaf, to maintain your granola image.
Type: Antiperspirant | Rating: Slight cheese smell | The Good: Effective antiperspirant that's formulated for sensitive skin | The Bad: Slightly more expensive than others, some may want fragrance | Key Ingredient(s): Five ingredients that are seen as allergy-friendly
She's not the cutest, but she's the one your derm would likely recommend if you've complained about rashes on your underarms. Apart from the inclusion of aluminum (which, as we discussed, is only bad depending on who you ask), this would be seen on Gwyneth Paltrow's shelf, it's so "clean." There's no baking soda, fragrance, parabens, gluten, talc, lanolin, or even botanical extracts (a "natural" ingredient that can be irritating). This works just fine on me but might be a little light for sweatier people.
The Deodorants
Type: Deodorant | Rating: Slight cheese smell | The Good: Deodorant lasts longer, with less reapplication needed throughout the day | The Bad: Formula can be irritating to some, may leave a white cast on clothing | Key Ingredient(s): capric triglyceride (a derivative of coconut oil), tapioca starch (the basis of boba, here used as an aluminum alternative), ozokerite (a type of wax), sodium bicarbonate
Surprise, surprise. Native deodorant was the most efficient at keeping me from smelling like rancid cold cuts and stopping that overwhelming feeling of armpit humidity you're probably familiar with if you use "natural" deodorant. But, and sorry to burst anyone's bubble, this caused me to break out in an itchy-as-hell rash. I'm sensitive to a lot of ingredients, and the squeaky wheel in this formula is the inclusion of baking soda, the fourth ingredient on the list. If you've used baking-soda deodorant without issue, this may be your best bet. But for those who are more sensitive, try a patch test first or Native's Sensitive formula.
Type: Deodorant | Rating: Slight cheese smell | The Good: Effective and you can stretch the reapplication window, gentle on sensitive skin, nourishing ingredients | The Bad: Reapplication is necessary | Key Ingredient(s): butylene glycol (a type of alcohol with humectant properties), glycerin, propanediol, grape water 
After all of the testing, this is my OG deodorant that I'm sticking with. While you have to reapply a bit more than Native, Caudalíe's Vinofresh is more gentle on sensitive skin; not a single rash has been found. The gel has a luxe, ribbony feel that absorbs quickly, and the fragrance (a serene blend of eucalyptus and citrus) is the best-smelling of the bunch. It keeps you dry, doesn't exacerbate dark pits (in fact, it nursed mine back to life), and is capital-C Clean if you care about that sort of thing; there are no sulfates, phthalates, parabens, talc, aluminum, or baking soda.
Type: Deodorant | Rating: Slight cheese smell | The Good: Silky applicator, no residue on skin or clothing, you can stretch the reapplication window | The Bad: The very first ingredient is a common allergen, requires reapplication | Key Ingredient(s): propylene glycol, water, sodium stearate (a thickening agent that makes soap bars bars), propanediol (a humectant and emollient)
Meet the deodorant with perhaps the smoothest, silkiest application you'll ever know. As a deodorizer it's about as effective as Caudalie, and is aluminum- and baking soda-free. One pitfall is that it contains a popular allergen: propylene glycol, which earned the American Contact Dermatitis Society's honorable distinction of Allergen of the Year in 2018. On the plus side, it has one of the most pleasant scents; a mix of sage and coconut oil that gives it a not-too-tropical fragrance for broader appeal.
Type: Deodorant | Rating: Cheesy| The Good: Luxe fragrances, hydrating formula, no white cast, effective if frequently reapplied | The Bad: Must be frequently reapplied, expensive, the very first ingredient is a common allergen | Key Ingredient(s): propylene glycol, glycerin
If Caudalíe's Vinofresh deodorant sounds appealing to you, Corpus's might too. And it's not just because they have a similar "I am a weekend ceramicist specializing in organic vessels" aesthetic. The brand makes deodorant with beautiful, layered fragrances and a velvety glide. It says "no" to many of the same things as Caudalíe, but contains the same Über common allergen (propylene glycol) as Kopari. It also needs to be applied more frequently; if you swipe every two hours, it's decent. If you don't, you may fall into an uncomfortably damp, somewhat noxious armpit abyss.
Type: Deodorant | Rating: Cheesy | The Good: Ergonomic packaging, formulated to brighten discoloration and smooth bumps | The Bad: May irritate sensitive skin, doesn't deodorize as well as sticks | Key Ingredient(s): mandelic acid, aloe barbadensis leaf extract
As the name suggests, Kosas' serum-like deodorant relies on a blend of AHAs (alpha-hydroxy acids) as its primary selling point. These chemical exfoliators are supposed to even out underarm skin tone and texture and regulate underarm pH, which helps reduce odor-causing bacteria. It's all very science-y skin-care stuff, and not exactly what I look for to simply stop the scent of salami emanating from underarms. Still, it has a nice clean smell and a cooling effect, which would be welcome on hot summer days.
Type: Deodorant | Rating: Époisses de Bourgogne | The Good: Smells good, formulated to brighten discoloration and smooth bumps | The Bad: Leaves a residue, doesn't deodorize as well as sticks | Key Ingredient(s): mandelic acid, potassium hydroxide (to help balance pH), witch hazel, a grip of essential oils
Nécessaire's deodorant is another that relies on a blend of AHAs to improve underarm tone, texture, and odor-causing bacteria. But I'm not convinced the last ever actually happened to me. I love everything Nécessaire has come out with, but I sta-a-ank if I applied this too late after showering, or, I don't know, drank water that day? The gel applicator left too much residue on my underarms to ever fully dry or make me want to reapply, and I spent most days holding my arms out to get some ventilation through sweaters in desperate need of dry cleaning. Nearly 500 five-star reviews on Nordstrom had the exact opposite experience, so God bless, and to each their own armpit pH.