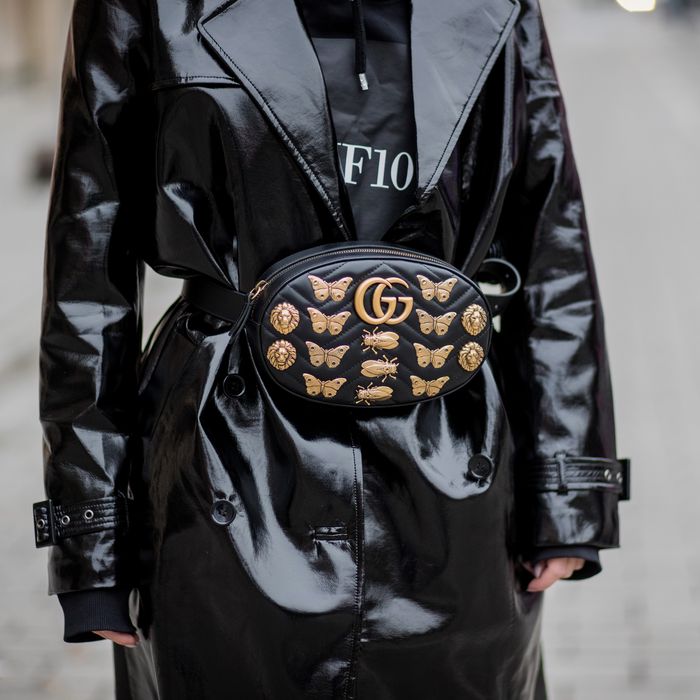 Wear them with your
Matrix
-y coat.
Photo: Christian Vierig/Getty Images
The humble fanny pack has made its glorious return. Street-style stars are wearing them, celebrities are wearing them, and yes, dads on vacation are still wearing them. It's the golden age of bum bags — except now they're called sophisticated names like "belt bags" and worn slung over the shoulder (a.k.a. improperly!). With them, your lip balm, phone, or wallet is never more than a zip or a Velcro away. If you're going to get in on this trend while it lasts, here are the prettiest, flashiest, most functional, best designer fanny packs.
The pleating is similar to the one the Italian brand makes.
Maybe you appreciate a sculptural twist with your clothes; maybe you are a bit quirky. Either way, this is the fanny pack for you.
For the Sophisticated Shopper
This spacious black leather fanny pack would look perfect belted over an oversize suit.
Whatever you think of the streetwear provocateur, he does know his way around a trendy nylon accessory.
Not over millennial pink? Perennial French girl Isabel Marant has got you covered.
Tiny bags are in. Fanny packs are in. Ergo this bag is in.
If you work out, or just want to look like it.
The Camp-Counselor Option
Pairs well with menswear-style khakis and logo tees.
Soft olive leather and the gold buckle let you enjoy the practicality of the pack without sacrificing a feminine lewk.
The nylon Prada backpack for 2018.
If You Go to a Lot of Raves
Chains fit for Burning Man. Meet you on the playa!
Look, we get it — you want something by Virgil Abloh before he goes to Louis Vuitton.
If you want to look like a true street-style star, this is the bag to get. What can you keep in it? Clout.
If You Just Love Accessories
Do your part to bring back the charm bracelet while you're at it.
We've got color, we've got quilted leather, we've got Miu Miu — all in one little bag.
If you buy something through our links, New York may earn an affiliate commission.