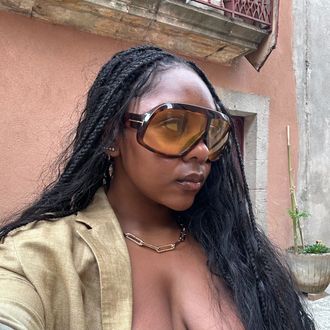 Even though the lack of sunshine has not made it feel like summer in New York lately, I always think it's the best time to shop for sunglasses; they're the accessory that does the talking before you open your mouth. If you know me, you know that I never leave the house without my trusty sunscreen or my sunglasses. Not only does a good pair of sunnies protect me from the sun, they're the perfect accessory to complete an outfit. You should never underestimate the power that a statement pair of sunglasses can bring to your basic dress or shorts-and-tee ensemble.
However, I started racking up a bit of a hefty bill from the intense splurges since my favorite sunglasses are designer (sorry not sorry!), until I discovered a bit of a secret: shopping previous seasons on discount retail sites.
From Saks Off 5th to Nordstrom Rack, I've expanded my designer-sunglasses collection, scoring some of my most favorite pairs to date for a fraction of the cost. Whether it's my red-tinted Celine sunnies that pair perfectly with my favorite red lipstick or my oversize Tom Ford shades that I reach for about three times a week, my sunglasses collection owes me nothing.
Which led me to ask, Am I the only one obsessed with finding a discounted gem? Turns out I'm not. According to a Saks Off 5th rep, the focus in eyewear right now is indeed designer brands. "Balenciaga in particular is having a moment, and customers are holding tried and true to Saint Laurent and Gucci. They have a loyal following — after you buy your first pair, you come back for more," they told us last year. And I can relate. Is Balenciaga still having a moment? Maybe for some people since the price tags have been marked down so much.
So now that I've let you in on the secret, scroll on to shop some of my favorite designer buys for way less.
Okay, while it's not a discount retailer, it is having a major sale right now — which makes it the perfect time to snag sunglasses that were just full price a few weeks ago and will be back to full price (or worse, out of stock) when the sale ends in a few days. Another hack: You need to have a Ssense account to have access to the Private Sale where all the good discounts are.
If you want to look like you're from the future, these MCQ shades will do just that. The oversize frames and iridescent lenses are the final touch to any outfit.
Finding a shape that fits your face is key. A black pair of sunglasses is essential to everyone's collection.
With a wide selection of designers and styles, you can never go wrong with finding a good pair here.
Planning your Barbie movie-date look early? It wouldn't be complete without a pink pair of shades. While round sunglasses can be overbearing for some facial shapes, these are just enough.
If you love oversize shades, you need these. From the way they fit my face to the way they elevate any outfit I put on, they're my go-to. The best part is the sleek T logo on the sides.
Tinted sunglasses aren't for everyone. This summer, try some clear shades instead. Aviator glasses are timeless and classic, so they're the perfect frame to try out.
Nordstrom Rack's inventory is known to sell out quickly. Take note to snag shades the second you see them. Otherwise, they'll be the ones that got away.
More round sunnies! This bold red is the only accessory you need for vacation. Also, Beyoncé loves a round sunny. Exactly.
Classic cat-eye shades? If you're still into Balenciaga, these are a great option to wear year-round.
As Saks said, shapes are having a moment, and these oval sunnies add a bit more fun to your look than traditional round shades.
Consider this your Net-a-Porter outlet. Same great, trendy finds with an even lovelier price tag.
Because who doesn't want crystal-adorned sunnies for their metallic summer moments?
Saint Laurent frames are classics. They instantly elevate any basics, from a white tank to denim shorts.
When you think of TJMaxx, you may think of running your Saturday-morning errands. However, it has a Runway capsule on its website full of designer specials, including sunglasses.
Embellishments and recognizable brand motifs are another top seller, Saks Off 5th tells us. If you're not a logo lover but still covet a signature brand style, nothing says "Gucci" more than this option.
Chloé always has fun with the shapes of their sunnies. These are no different. They're a statement pair with details that are just enough.
A tortoise-print pair of shades are an essential part of a sunglasses collection.
This has become my hidden gem over the past year. I order from the site about once a month. It is constantly restocking season designer shades for half the price. You might not see a markdown, but a quick search will show you how its selects are priced higher everywhere else. It's been my secret sauce for buying accessories that I may just want for one season.
These Prada shades have become an "It"-girl must-have, and they come in every single color, so there's a pair for everyone (even if you don't consider yourself an "It" girl).
If tortoise shades and aviators had a baby, it would look like this. These blend those styles for the best of both worlds.
Bottega either has timeless shades or the coolest pair that feel like a keepsake. These are both.
You can never go wrong with a pair of aviators. They are a summer essential. They complement most face shapes and pair well with just about everything. These come in this monochrome shade and neutral colors.
An OG for sunglass finds, and occasionally it has a few pairs on sale, too.
If you need a pair of shades that complement all of your '90s-resurgence outfits, then look no further than these.
If you love logos, check out the massive "Miu Miu" on the arms of these sleek black shades.