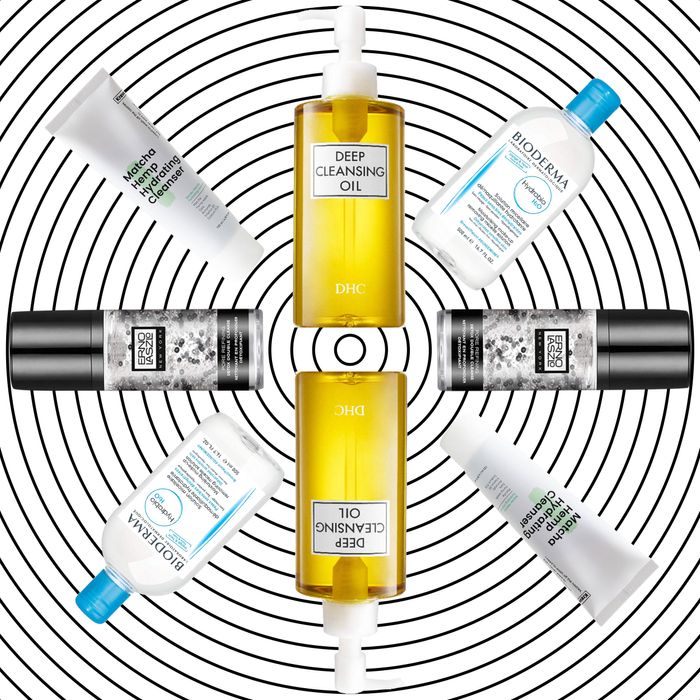 Photo-Illustration: by The Cut; Photos: Retailers
Every Tuesday on the Cut, we ask one radiant, smooth-faced person the following question: "Why is your skin so good?" And over and over again, we hear the same answer. It's a procedure so nice you do it twice — the double-cleanse. As the name suggests, double cleansing calls for washing your face twice, with two different cleansers. The first cleanser lifts off any surface dirt and make-up, and the second one deep-cleans the grime hanging out under your make-up.
The process is a hallmark of Korean skin care. Traditionally, it calls for an oil cleanser before moving on to a gel or milk cleanser, the combination of which is meant to keep your skin clean but not parched and dry. Out of our 71 Why Is Your Skin So Good contributors, 36 of them double cleanse. That's nearly half! Here's a round-up of the products they use, along with their advice for lathering, rinsing, repeating, and then doing it all again.
The Affordable Double Cleanse
After removing her makeup, Rahim continues the cleansing process with this, especially if she's traveling. She praises it for its affordability, gentleness, and convenience. "I like knowing that if I'm traveling, I can just run into any CVS and grab some and not feel like I'm breaking the bank."
The Light and Refreshing Double Cleanse
Erica Smith, the Cut's beauty writer, says, "I love [micellar waters] because they allow me to get away with cleansing without having to wash my face in a sink with actual water and an actual cleanser. They're also the epitome of refreshing."
She follows up with this gel cleanser. "I like that this leaves your skin feeling the right amount of smooth and clean, without that stripped feeling but without feeling congested or clogged either."
The Best Double Cleanse If You Wear More Makeup
Rockette Jackie Aitken loves how soft cleansing oils leave her skin. "I have been using oils to remove my makeup for years now. I found that makeup wipes were too harsh on my skin and around my eyes. This oil gently soaks up all of your makeup, including waterproof makeup and all the eyelash glue from our fake lashes. I even use this oil to remove my light daytime makeup (mascara)."
To fully remove the rest of her stage makeup and any other crud from the day, she uses this non-drying cleanser.
The Double Cleanse for French and K-Beauty Lovers
Communications manager Vanessa Remoquillo is used to constant travel. Numerous flights and jet lag are part of the package with her tech job, but a double cleanse is non-negotiable. "I may not always be aware which timezone I am in, but I will remember to do two-step cleansing," she says. "Bioderma Hydrabio H2O Micellar Water is my first step to remove sweat, dust, sunscreen, and makeup, if I'm wearing any."
Remoquillo moves on to Krave Beauty's cleanser for her second cleanse. "It's an absolute joy to use because it leaves my skin feeling supple, plump, and nourished. It isn't harsh and doesn't strip my skin of moisture, which, after a dehydrating long-haul flight, is absolutely important," she explains. "I like to build up some foam in my hands before transferring the cleanser onto my face to reduce the friction on my skin. I also give myself a gentle massage to de-puff and stimulate better circulation."
The Double Cleanse With a French Accent
Prada's social media manager Candace Marie starts by rubbing this oil onto the dry parts of her face and marveling at how bright, better, and softer it feels after washing it off.
"I found this face wash at a drugstore in Paris during Paris Fashion Week," says Marie of her second cleanser. "It's beyond amazing at helping me manage my adult acne, which can tend to get out of control when I'm stressed out or during my monthly cycle. I use it twice a day, once in the morning and once at night."
If you buy something through our links, New York may earn an affiliate commission.