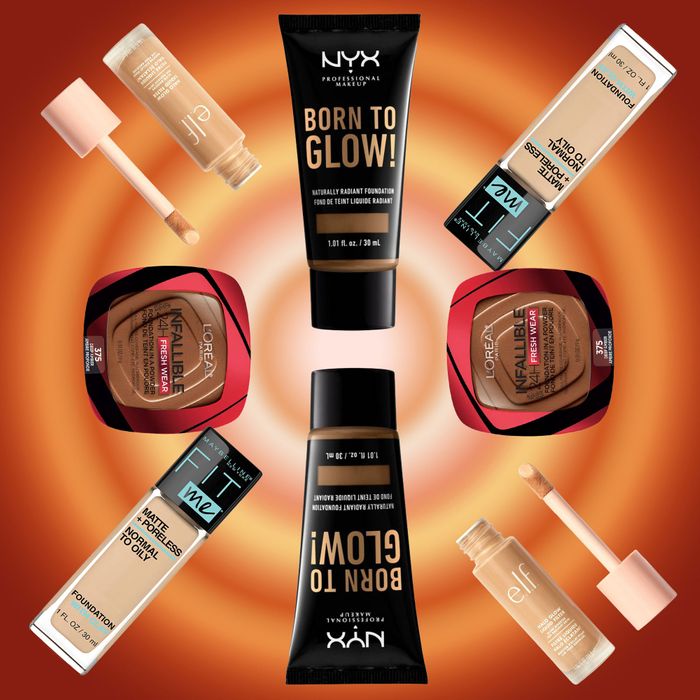 Photo-Illustration: by The Cut; Photos: Retailers
For more of the Cut's favorite fashion, beauty, and home finds, sign up for the weekly Cut Shop Newsletter.
Drugstore foundation is usually one's first foray into beauty. Flipping open an indigo CoverGirl compact and dabbing your face for the whole class to watch and actually learn something? The best drugstore foundations of today would make the dollar-store artist of your youth proud. They're often effective dupes for luxury formulas and will have you questioning your loyalty to certain brands after one wear. Still, finding a reliable foundation in the same place you get your birth control is a lot to ask of your brain. Ahead are some tips, followed by expert-backed picks worth trying out.
FAQs
How do you pick a good drugstore foundation?
As you would when shopping for any complexion product, you'll want to consider the formula in its consistency and how it'll wear on your skin. There are powders (generally good for oily and combination skin), liquids (all skin types welcome), creams (often great for mature skin), and runnier formulas that are helpful to those with dry skin who need something lightweight and non-cakey.
You'll also need to determine what kind of coverage you want. Jess Elbaum, a New York City– and Los Angeles–based celebrity hairstylist and makeup artist, says this is often dictated by the formula itself. "In general, liquid offers the most range," says Elbaum. You can build up from light to full coverage and expect a luminescent finish. Powder foundations will often get you fuller coverage and a matte finish but can settle into fine lines and dry skin. Creams and mousses lay it on thick (but, hopefully, breathable) and offer midrange coverage. They can be great for filling creases in the skin, so you'll spot them in a lot of foundations that are geared toward mature skin. Finally, the lightest coverage usually comes from skin tints, oils, and serums for a natural look.
How do you find the best drugstore foundation dupes?
If you're willing to sleuth, Jenny Patinkin, celebrity makeup artist and founder of Jenny Patinkin, has a pro tip. "A lot of the big drugstore brands own a catalogue of designer brands, so they often 'cascade' their formulations," says Patinkin. This means they produce one big batch of makeup with the same base. She notes some of that gets bottled for luxury distribution and the rest gets bottled for drugstore products. The trick is knowing what drugstore brands also own luxury brands — and working backward from your favorite expensive formulas.
The Overall Best Drugstore Foundation
Finish: Matte | Coverage: Buildable medium to full | Shades: 40
There's a midsize city's worth of people who have given this foundation five flawless stars on Amazon. It has by far the best rating of foundations on this list. And if you're a fan of lightweight foundations that are matte, help control oil, and have an overall blurring effect on the skin, consider your search done. The closest high-end comparison would be Estée Lauder's Double Wear or the Make Up For Ever HD Skin Undetectable Longwear foundations (which are often compared to each other). This Maybelline formula is lightweight and oil-free, so it doesn't break on the skin or settle into pores. The best part is, Maybelline offers a Fenty-inspired shade range with 40 diverse options.
The Best Dewy Foundation
Finish: Natural radiant | Coverage: Buildable medium | Shades: 24
If your skin is on the dry side, you may not want to go in with a matte foundation — the dewy version of Maybelline Fit Me is a good alternative. It's buildable and just as easy to blend as the matte formula, but with a little extra glow. Even though it has only 24 shades, which is significantly less than the matte formula, you can't beat the under-$10 price tag.
The Best Giorgio Armani Luminous Silk Dupe
Finish: Luminous | Coverage: Buildable medium | Shades: 15
Giorgio Armani's Luminous Silk really is that foundation, and we have a perfect dupe that's less than half the cost. According to Patinkin, the L'Oréal True Match Lumi is very similar in that it glides onto the skin and leaves a radiant (non-glittery) finish. The foundation has excellent wear and doesn't transfer as much as other drugstore options, but the shade range isn't as inclusive as it ought to be. There are plenty of fair tones and a wide selection of medium tones, but there's a steep deep-to-dark drop-off.
The Best for Acne-Prone Skin
Finish: Soft matte | Coverage: Buildable medium | Shades: 16
Sometimes, the best way to cover up acne is to actually let it breathe a little, and this medium-coverage foundation from Almay will help keep you and your skin happy. The formula is lightweight with a natural skinlike finish and has salicylic acid in it to keep fighting breakouts long after your morning routine.
The Best Satin Finish Foundation
Finish: Semi-matte | Coverage: Buildable medium | Shades: 40
The audacity of this formula to be $3 and actually perform. Both Patinkin and Elbaum called out e.l.f.'s foundations as great options for everyone, but the satin-finish formula stands out. It glides onto the skin, has good staying power for the price, and is buildable to full coverage despite being lightweight. The downsides are that the foundation can oxidize to an ashy or orangey color, the shade range in medium and dark tones is limited, and you have to move fast when applying since it dries down quickly.
The Best It Cosmetics CC Cream Dupe
Finish: Natural | Coverage: Buildable medium | Shades: 16
This is the first of our wink-nudge foundations. Patinkin tells us that the Maybelline Dream Flawless Coverage is "a lot like" the It Cosmetics CC Cream (ahem, they're both owned by L'Oréal). She says it gives light-to-full coverage and does a great job of evening out skin tone and concealing acne. It leaves the same natural finish and performs just as well as its pricier counterpart, but there's one major drawback: the shade range. When both formulas were new, It Cosmetics offered 12 and Maybelline offered 16 tones. Now, It Cosmetics has 22 shades, while Maybelline hasn't moved an inch. Try less.
The Best Charlotte Tilbury Dupe
Finish: Radiant | Coverage: Sheer | Shades: 12
We're not going to parade around the drugstore aisles like TikTok hasn't influenced at least one of our purchases, but this has to be the most fun one. You're not always going to want a glow-y, starburst-like luminescence emanating from your skin, but sometimes you do, and this e.l.f. Halo Glow will send you to the stars. Speaking of, it's a decent match for Charlotte Tilbury's Hollywood Flawless Filter.
The Best for Dry Skin
Finish: Natural radiant | Coverage: Buildable medium | Shades: 12
A foundation that melts into the skin is a pretty tall order in the realm of drugstore makeup, but Elbaum (and thousands of happy reviewers) swear by its creamy yet silky texture. The foundation gets you medium coverage and leaves a luminous finish. Those with dry skin are particularly fond of this foundation since it doesn't tend to cling to flakes. It does, however, oxidize — and can turn especially orange on those with fairer skin. The shade range is wider if you shop on Amazon, but there's no indication of undertones across the pigments, so expect a bit of trial and error when looking for a good match.
The Best for Mature Skin
Finish: Natural radiant | Coverage: Buildable medium | Shades: 15
When finding foundation for mature skin, which has put in the work and deserves nothing but the crème de la crème, you really need to look for options with some skin care baked into the pie. L'Oréal's serum foundation includes vitamin B (an antioxidant with well-aging benefits), glycerin, and SPF 50. It feels like you're wearing nothing on the skin and casts a glow-y sheen across that looks plump and not at all clammy. It also comes in 30 shades, and there's a primer to match if you want an extra-smooth look.
The Best Full-Coverage Foundation
Finish: Natural matte | Coverage: Buildable medium to full | Shades: 24
If you want a pristine base upon which to make your face art, Milani's foundation says it right in the name. It truly conceals (which will save you even more money) and blurs the skin out to an even finish. The Milani is highly pigmented and sweatproof, which means that it'll look flawless longer, but it may be too drying on some skin types. If redness is what you're looking to conceal, this won't be an issue, but if you're adding dry, textured, or acne-prone skin into the mix, the full-coverage formula may eventually settle into the problem patches.
The Best Light-Coverage Foundation
Finish: Dewy | Coverage: Light | Shades: 11
We will put anything referred to as "skin milk" on our faces, thank you. This is another TikTok favorite for simply letting your skin be itself — a refreshing concept in the foundation category. The application is easy, since the formula doesn't dry before you can blend it over your face. It has a nice, light coconut scent and leaves a natural-looking glow to the skin that really delivers on the your-skin-but-better aim of minimalist beauty routines.
The Best Foundation Stick
Finish: Natural | Coverage: Buildable medium | Shades: 8
These highly-pigmented sticks come in eight nuanced shades, from a warm Bronzed Glow to a rich Chocolate Dipped brown. It's buildable, and while you can use it to contour, you can easily use it to diffuse over the skin as an allover foundation. There's a handy brush on one end and the actual foundation stick on the other.
The Best Long-wear Powder
Finish: Matte | Coverage: Full | Shades: 20
If you've walked the aisles of drugstore beauty, there's no escaping L'Oréal's Infallible line, but the most impressive of the bunch has to be this creamy powder. These formulations aren't as popular as they once were, but once you get past the notion of tugging a bit more on your face than you'd like, this powder delivers. It needs at minimum a double-cleanse to get off your skin, comes in 20 shades, and has the capacity for full coverage when applied with a heavier hand.
The Best Serumlike Formula
Finish: Natural radiant | Coverage: Buildable medium | Shades: 24
This foundation, first of all, has the widest shade range on this list, with 45 options. Second, it's beloved by reviewers, who say its watery, serumlike formula does wonders when mixed into other products. Of course, you can wear it as a stand-alone for light-to-medium coverage, but it really shines when it's used to thin out clumpy, too-mattifying, or too-clingy foundations that are past their return date.
Our experts: