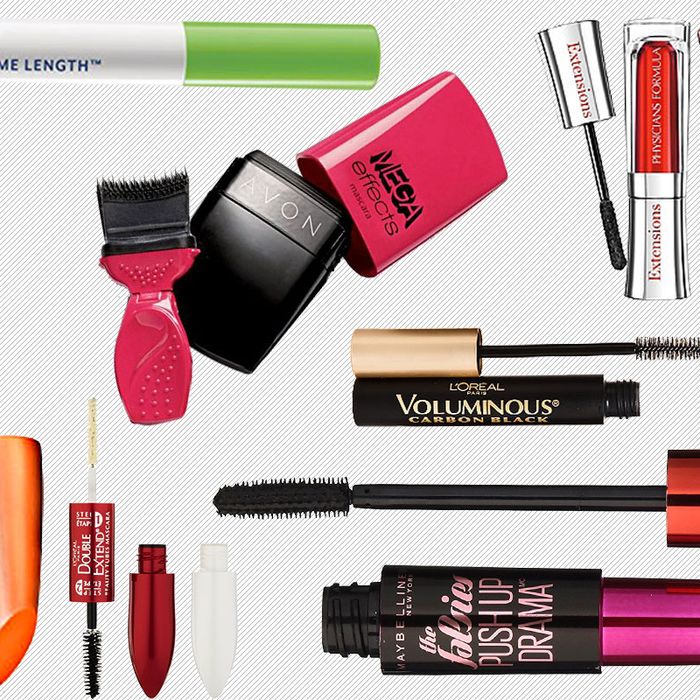 Photo: Courtesy of the Retailers
While it's tempting to splurge on a fancy mascara, any makeup artist will tell you that a drugstore version will get the job done. Case in point: These 20 Cut-tested options. We found ones that lengthen, lift, and thicken lashes, cost just a few dollars, and work for lashes of all types. Read on for the list.
The Absolutely Smudge-Proof One
If every mascara you've ever tried has smudged — drugstore or luxury alike — then this is for you. It's a wax-free formula that won't break down over time to give you raccoon eyes and removes easily with water. Plus, it delivers smooth, elongated lashes that hold curl and lift.
The Nourishing One
At one end is a base coat infused with nourishing agents to strengthen and protect. At the other, a top coat that covers lashes in inky black pigment. Comb both wands from root to tip, and your lashes will look long and defined. The formula doesn't clump, smudge, or flake, and it washes off with warm water — no makeup remover necessary.
This mascara's genius lies in the cup-shaped bristles, which scoop and saturate every lash in a creamy black formula. Cut writer Aimee Leabon says, "My lashes looked visibly longer and thicker, and the formula even darkened my blonde roots — an impressive payoff. The formula has a wet consistency that made layering consecutive, clump-free coats a cinch. Ideal for creating buildable volume that won't smudge or flake."
This mascara is ideal for those who love the look of false lashes but lack the patience for them. The kit comes with two tubes. One contains a lash-boosting mascara and the other contains cotton fibers that attach to natural lashes adding length and fullness. After curling (don't skip this step — it makes lashes pop), apply two coats of mascara before wiggling the fiber-laden wand from root to tip. Finish with another coat of mascara to seal and set.
Spidery lashes may work on the runway, but in real life, they just look sloppy. This clever, hypoallergenic mascara works to define and separate with each stroke, thanks to the wand's ultrafine bristles. Made from flexible rubber, they glide from root to tip without catching, combing though lashes to prevent clumping.
This serum-mascara hybrid covers each lash with an opaque pigment to add depth and drama, making lashes appear longer and more defined. A cocktail of vitamins B5, C, and E defends against damage, prevents breakage, and conditions.
The rich formula is one of the darkest we've found, akin to a professional lash tint. It transformed sparse lashes into a voluptuous set. Fortified with pro-vitamin B5 and ceramides, it also conditions lashes with each application. The brush is on the larger side, but left just the right amount of mascara and separated lashes for a fanned-out effect.
The French Waterproof One
This mascara is on the pricier side for a drugstore find, but like many French drugstore buys, it's a great value. If you like Chanel Inimitable, you'll like this. It really does a great job of defining each individual lash so that they fan out, rather than splay out in a big clump. It lengthens beautifully, and it's waterproof too.
This mascara is loved by sweaty spin class instructor Emma Lovewell of Peloton. She says, "As a fitness professional and former professional dancer, I've been using this mascara for years, and love it! I've tried all the fancy brands, and I keep coming back to this one. It's definitely very waterproof, as I use it when I teach class, and it never runs."
Photo: Courtesy of Maybelline
One of the best-reviewed mascaras on Amazon with over 1,000 close-to-five-star reviews. If you found Maybelline Great Lash to be disappointing, don't let this cousin from the same family deter you. The before/after pictures from reviewers will make you think it's almost too good to be true.
This mascara was a surprising addition to the Cut's 2017 Best Beauty list. But it really works! Senior editor Ashley Weatherford called it a "shooting star." She says it makes her lashes look almost too good to be true and is particularly great for curly lash types.
The Least Expensive But Still Effective One
Photo: Courtesy of CoverGirl
Makeup artists talk all the time about finding the "blackest mascara," which to non-professionals sounds sort of like the "most pregnant" — isn't it an either/or situation? But crazy as it sounds, this drugstore mascara looks deeper, darker, and blacker than the others on this list, giving you a sooty, lengthening, Audrey Hepburn–like fringe.
Photo: Courtesy of the Vendor
Another favorite Amazon-reviewed mascaras that people praise for ticking all of the "good mascara" checkboxes — length, volume, and definition, while still feeling soft and non-crunchy.
Reviewers talk about miracles in 90-degree heat and use the word "love" four times, when talking about this mascara.
The Creamy Feeling One
Thirteen hours after applying this on-the-go, our reviewer Jessica Prince Erlich says, "My lashes were still fluttery and separated. It didn't flake or smudge the entire day, surviving a walk through the eye-tearing cold and my son's splash-filled bath time. The quick-building formula is infused with olive oil, which makes it almost feel creamy. The brush contains what Revlon calls 'wavy, velvet-luster bristles,' which are apparently what helps the wand latch onto every lash. Mine were fanned out and volumized all day long."
The Kardashian-ish One
If you admire an intense, Kardashian-like lash look, try this one. It's praised for making your lashes look much darker, longer, and fuller, but still separated and curled. Prince Erlich says, "I applied several coats that went on smoothly with zero clumps. I liked the tapered brush, and the formula didn't get all glopped and cakey on it. The results are definitely dramatic — something I'd pair with a smoky eye for a night out."
The Coconut-Smelling One
Prince Erlich loved this mascara, which also has a subtle coconut smell from the coconut oil in the formula. "I have zero complaints about Maybelline's Total Temptation mascara. My lashes were darker and volumized with an overall plush fullness that allowed me to skip wearing any other eye makeup. Basically, this was enough to give me an eye-opening, rested appearance sans liner or shadow. The formula contains coconut oil, which is perhaps why I was able to go back in for touch-ups later in the day when I wanted to build onto my look. It never got clumpy, flaky, or smudgy. An all-around winner."
The Very, Very Black Mascara
Technically, this mascara is a Japanese drugstore staple but you can buy it on Amazon now too. Japanese beauty products, particularly mascaras, are lauded for their high quality and value. This particular mascara is praised for being incredibly pigmented, dark, smudge-proof, non-clumpy, lengthening, and so durable that it's actually impossible to take off without eye makeup remover. Makeup artists and regular people alike love it.
Additional reporting by Aimee Leabon and Jessica Prince Erlich. This article was originally published May 22, 2018. It has been updated throughout. If you buy something through our links, New York may earn an affiliate commission.