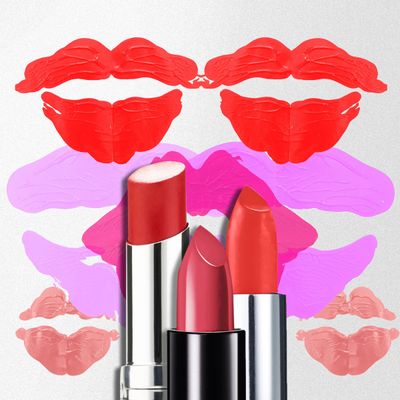 Photo: Photo: Courtesy of Retailers
When gray winter starts to set in, a jolt of color in the form of an opaque matte lipstick starts to feel really appealing. On the other hand, the last thing I want to do is swipe something on my lips that will dry them out even more. Over the past few weeks, I tested out every drugstore matte lipstick I could find, from liquid mattes to traditional ones, to see which feels the best. Here are the results of my research.
The doe foot applicator allows for full and precise coverage, but my lips felt chapped as soon as I swiped this one on. The consistency is lackluster: thick and sticky, though not goopy. I wasn't a huge fan of the shade range, either. I tried a rosy nude that made me feel like a Spice Girl and repeatedly transferred to my teeth.
This chubby pencil had a slanted tip with a smooth application. The texture is definitely matte, but maybe too matte — after an hour I had to dab on lip balm to soothe the excessive dryness. But the color, a pretty pinky nude, was lovely.
The slanted tip of this brush makes this easy to apply precisely. The liquid is thin, with a wet and shiny texture that dries down to a matte finish in seconds. I chose a bold hot pink that felt lightweight the entire day. The formula isn't exactly hydrating, but it didn't completely suck the moisture out of my lips either.
Of all the formulas tested, this was the creamiest with a subtle sheen — the least matte of the bunch. It glided on smoothly but smudged quite a bit and faded dramatically after I ate a granola bar. Over the course of the afternoon I had to reapply several times to keep the color from fading in the center. If you don't mind frequent touch-ups, this vibrant coral-y orange delivers a bold punch of color that reminded me of a long-time favorite, YSL Rouge Pur Couture in Le Orange.
One swipe of this lipstick delivered vibrant, even, pigmented color. The shade range was full of bright, happy colors (no purples or browns here) perfectly designed to brighten up the face. While it didn't last particularly long, the bright color did endure throughout an entire meal.
Rimmel makes some of the best drugstore reds you can buy (Amazon reviewers agree; this has almost 600 four-star reviews). Shade 10 is an almost perfect dupe for M.A.C's Ruby Woo. While the lipstick feels a bit thin on, it is very pigmented and not excessively dry. I wore it to a wedding and it lasted more than six hours with just one touch-up.
This liquid lipstick goes on smooth and shiny and dries down to a matte texture with a lived-in quality. I was able to get a precise application with the brush, and one coat of the neutral rose shade lasted about three hours until dinner. While the color didn't make it through my entire meal, it wore down evenly, eventually fading without leaving an outline around the perimeter of my mouth, which was only moderately dried out.
Essence's lipstick goes on matte with full-coverage pigment that doesn't feel heavy or cakey. It stuck to a few chapped areas, but overall, the quality of this very affordable option impressed me. The dusty rose shade remained intact for several hours (it even survived an encounter with a cheese plate), and when I wanted to remove it, the color wiped off seamlessly.
Aside from the fact that I chose a vibrant purple that was a bit aggressive for a Monday morning, this clickable crayon had no faults. It glided on smoothly without making my lips flake, and when I wanted to adjust the color, I was able to compress my lips to move the product around without any dragging or smudging. It didn't blow my mind, but I have no complaints.
Once you get past the fruity vanilla scent, this lightweight gel formula is a pleasure to wear. I applied it quickly with the brush and it wasn't messy or clumpy, but rather hydrating and almost silky. I chose a bright violet-based pink that didn't budge for several hours, though it did occasionally show up on my teeth. It does contain a slight sheen, so if you want a true matte, you may be disappointed.
One coat of this lipstick provided opaque, full coverage with a smooth application. The light, moist formula goes on with a subtle sheen that dries down to a matte finish. The shade, a flattering bright blue-based red, remained vibrant for four hours, never once transferring to my teeth, smudging at the edges, or bleeding into fine lines.
This article was originally published December 22, 2017. If you buy something through our links, New York may earn an affiliate commission.