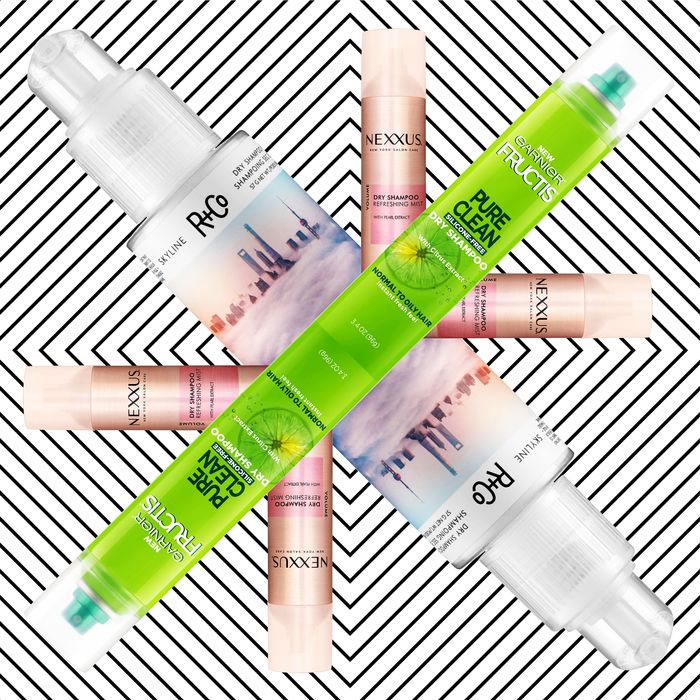 I fall in the too-lazy-to-wash-my-hair camp. I dread combing through post-shower knots and then spending 30 minutes with a blow dryer. When I do wash it (two to three times a week — max), I want the result to last — and last. My dry shampoo technique is simple. I begin to use one on day two — before my hair appears dirty. After years of unscientific testing, I've found this helps eliminate oil before I even see it, thereby extending my style for days.
Up until now I've been loyal to powders, but when my favorite one was discontinued, it was time to start experimenting. I spent the last two months spritzing, blotting, and blending various formulas in between real shampoos to find which dry formulas offered the best scent, biggest volume boost, and of course, succeeded in oil absorption. Here, the eight I tried with varying outcomes.
Not a spray, these blotting papers for your hair are great for quick convenient touch-ups. The oil at my roots transferred to the rice paper sheets with a swift rubbing motion. Unlike wet aerosol sprays, there's no cloud of white, no overpowering scent and no residue, and I didn't have to blend or brush anything afterwards. While I didn't achieve any major volume or lasting style extension, these are perfect for zeroing in on specific spots around the hairline in a pinch.
When it came time to savior a rare salon blowdry, I reached for Garnier's silicone-free formula, which promises to restore a "fresh-washed look" without texture or grit. My roots were beginning to fall flat, and this clear aerosol misted out powerfully without being wet. I aimed it along my part line and worked it into my scalp with my fingers. It's the least expensive dry shampoos that really works.
I needed to use a ton of this spray to absorb any oil at all. By the time my hair looked clean, I could barely run my fingers through it and my roots felt like I had saturated them with a sticky hairspray. My hair was left feeling more grimy than when I started, and I couldn't stop thinking about when my next shampoo would be. I know other people love this shampoo, but it didn't have the best effect on my fine hair.
I sprayed this all over my crown before going to bed and I looked like I was wearing a powdered wig. Even after a serious scalp massage, my hair looked dull with a gray tinge. I went to bed planning to shampoo it out in the morning, but when I woke, the 50 shades of gray had dissipated. My hair looked clean, smelled clean, and felt clean. My husband even complimented the scent — which the brand describes as "water accords and musk reminiscent of the Mediterranean Sea."
I'll be honest: my hair was pretty greasy when I used this, so I'm not sure if I was beyond the help of a dry shampoo or if it just didn't do much. It sprays out mostly clear with a few traces of white powder, so it blends easily. After waiting a minute and massaging it in, my roots were full and volumized, but the texture still felt grimy. I wasn't totally confident about wearing my hair down so I pulled it back into a high ponytail. I'd use this again on first or second day hair to add volume and rely on it less for heavy-duty oil elimination.
Unlike sprays that can be difficult to aim, R & CO's pump applicator made it simple to direct this fine powder precisely where I wanted it without wasting product. The key ingredients are an earth mineral and jojoba seed oil, so the formula is able to soak up sebum without drying out the scalp or dulling down shine. It worked well for combating limp roots right along my hairline. The only downside: the scent is rather strong.
This award-winning aerosol spray adds tons of body as it soaks up oil. It comes out white, but is very lightweight so it disappears as soon as you brush it through. My roots instantly went from limp and oily to bouncy and shiny as if they were freshly washed.
It's surprising that a $7 drugstore dry shampoo could outperform luxury options with quadruple the price tag, but this one proves you don't need to break the bank to get results. My hair was four-day-dirty when I tried this. I was a little nervous when it shot out super white, but after I let the powder set and brushed it through, any sight of white dissolved. My hair was smooth, bouncy even, and soft and clean at the root, like I'd just had a fresh blowout.
If you buy something through our links, New York may earn an affiliate commission.