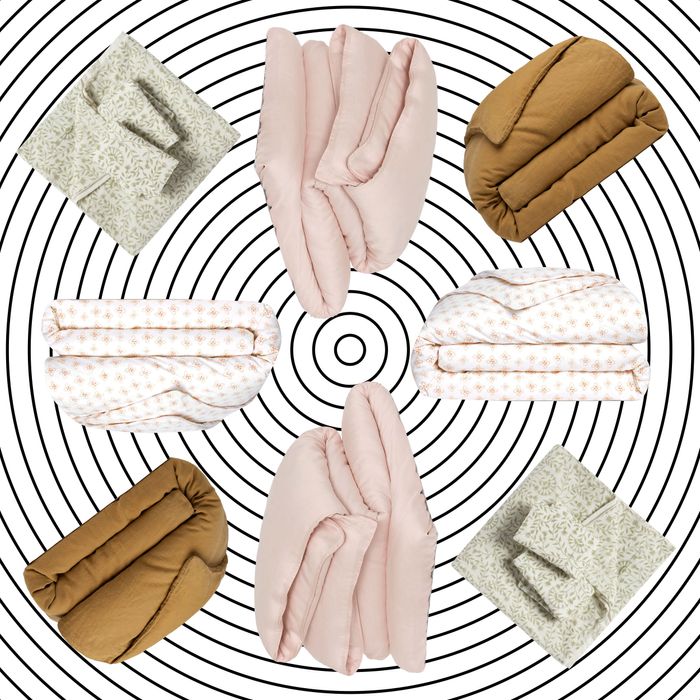 Photo-Illustration: by The Cut; Photos: Retailers
For more of the Cut's favorite fashion, beauty, and home finds, sign up for the weekly Cut Shop Newsletter.
Indulgent. Comforting. Double-stuffed. We aren't just describing the best type of Oreo; we're talking about the best duvets. However you take your top layer — linen that gets softer over time, design over textile, superthin insert, no flat sheet in sight — the options are vast. To help you narrow the search, we spoke to a few experts on what to look out for when finding the icing on top of your sleep situation. Below, our favorite duvet covers, all listed with their queen-size price.
FAQs
When should someone buy a duvet over a comforter?
"The choice between a duvet or a comforter really comes down to personal preference," says Hannah Samlin, a senior buyer for home textiles at Quince. Duvet covers encase duvet inserts (filled with down or a down alternative), while comforters are similar to quilts and meant to stand, or lie, alone. Practically, Ariel Kaye, founder of Parachute, says that opting for a duvet "offers the added convenience of removing it to wash or to switch up the design of a space."
Importantly, Samlin says the "comfy as a cloud" effect can really only be achieved with a duvet. If you want it extra fluffy and can take the heat, double the inserts. For those who have lost their shit one too many times while trying to stuff the bedding genie back into the bottle, you may enjoy the simplicity that a comforter can bring.
What makes a great duvet cover?
"Material is the key foundation for a great duvet cover," says Samlin. "[It] greatly impacts the design, color, and durability of bedding." She says certain companies, such as the one she works for, put an emphasis on sourcing high-quality fibers that are made without the use of harmful chemicals and pesticides. A marker of this kind of focus is an Oeko-Tex certification like the Standard 100.
Then there are the product feel and weight, which come down to the fabric. Kaye explains that linen is antimicrobial, durable, and insulating: "[It] keeps you cool in the summer and warm in the winter." Percale offers that hotel feel, she says, and is crisp, cool, and ideal for hot sleepers. Finally, she notes that brushed cotton would be "best for cool sleepers who are looking for something with a lived-in, soft feel." You'll also find textiles made from eucalyptus and bamboo, which tend to be silkier and cooling.
Last but not least, Samlin called out two elements that set a great duvet cover apart: the hidden corner ties for keeping your insert in place and an elegant closure for keeping things tucked nice and neat.
The Light-As-Air Linen
This cover from Parachute may be at the top of everyone's bedding wish list, and it's all in the details: The Oeko-Tex certification, unique colors, corner ties, pretty buttons, and the fact that it genuinely gets softer with each wash are just some of the reasons you can't get away from it on Instagram. Plus, if "hot" is how you'd describe your nights' and not in the biblical sense, linen should be your M.O. The flax linen not only has an open weave, but the fibers are actually hollow, all of which makes for a lighter, more breathable experience.
Material: European flax | Sizes: Twin/twin XL, full/queen, king/Cal king
The Goldilocks Duvet Cover
Percale tends to be a happy medium for those who don't run particularly hot or cool at night. It's crisp and is generally what people think of when looking for a hotel-like bed. Brooklinen makes a top-rated option; this duvet cover has nearly 6,000 reviews, 80 percent of which have five stars. It's made of 100 percent cotton (percale is often mixed with synthetic materials), is Oeko-Tex certified, and has corner ties and especially large buttons for closing the sheets. We're particularly into this limited-edition print that will give your bed all the charm and cozy of a quilt — and none of the smother.
Material: Long-staple cotton | Sizes: Twin/twin XL, full/queen, king/Cal king
The Luxe Linen Without the Alienating Price Tag
"It's hard not to love our best-selling European Linen Duvet Cover," says Samlin. "The price is amazing for the quality, which makes it more accessible to buy multiple colors and stripes." It's at least half the cost of some other popular linen options, and it doesn't skimp on quality; just ask the over-800 reviewers that have given the product a 4.9-star rating. If that weren't enough, it's woven from European flax, is Oeko-Tex certified, has corner ties, and comes in 19 colors and designs. A major plus if you're into duvet covers for their flexibility. Samlin also loves that the linen is breathable and has a relaxed, lived-in look — a kind of sprezzatura for your bedroom.
Material: European flax | Sizes: Twin, full/queen, king/Cal king
The Best on a Budget
A classic print with a full cover and pillowcase set? For $60? If you are lucky enough to have an extra room, this is the ideal duvet cover for guests. It's made of 100 percent dobby cotton, which is supersoft, with a finessed texture that's reminiscent of linen (sans price tag). While there aren't any corner ties, it does come with those shams as well as oversize buttons to close up the duvet cover.
Material: Dobby cotton | Sizes: Twin, full/queen, king/Cal king
The Amazon Pick
As Kaye mentioned, a brushed option works well for those who want to sink into something supersoft at the end of a long day (ahem, all of us). This set features a microfiber duvet cover and matching shams for about $25. As per usual with Amazon, the price is unbeatable. It has around 60,000 five-star ratings on Amazon with reviewers stating that it's extremely durable, doesn't wrinkle, is Oeko-Tex certified, and includes corner ties along with a button closure. The downside? The material isn't particularly breathable or lightweight, so it's unlikely to work for those who run hot or who live in toasty climates.
Material: Microfiber | Sizes: Twin, full, queen, king, Cal king
The Happy Middle
If you and your partner agree to disagree on the best type of bedding, consider this duvet the mediator. It's a blend with the je ne sais quoi look of linen and the luxe feel of viscose from bamboo. The latter softens the overall fabric, which is especially appealing for the person who likes the idea of linen but finds it too abrasive. There are also a few unique features, such as snap (not tie-off!) corners, deeper colors fit for a moody bedroom, and a zipper closure — which may also save you on a few arguments down the line.
Material: 70 percent viscose from bamboo, 30 percent linen | Sizes: Twin, queen, king
The One That'll Charm the Pants Off You
You can think of Piglet in Bed as Parachute from across the pond. The West Sussex–based company specializes in stonewashed linens with an irresistible charm; there are warm ginghams, ticking stripes, and rich dyes you won't find anywhere else. The duvet covers (and bedsheets) are linen made from European flax, manufactured in Portugal, Oeko-Tex certified, and all but ensure you wake up quite chuffed.
Material: European flax | Sizes: Twin, queen, king/Cal king
The Bathrobe for Your Bed
Nothing counters the chill of cold bathroom tiles quite like being enveloped in a warm, weighty bathrobe. Even better if it's a cozy waffle weave. This gets you that … in bed. Boll & Branch is a luxe bedding company that uses organic cotton to create duvet covers and bedding that look straight out of an Architectural Digest home tour. These will keep you toasty warm and add an understated panache to your bedroom.
Material: Organic cotton | Sizes: Full/queen, king/Cal king
The Slinky One
Hot sleepers, unite. Buffy may be known for its airy duvet inserts, but you won't want to stop there if you're a fan of sleeping in a cloudlike environment. The brand uses Tencel Lyocell, which is said to be more environmentally responsible (the fibers are harvested from sustainable eucalyptus). The material is also supersoft and naturally moisture-wicking, which means you'll have a better chance of not waking up in a pool of sweat.
Material: Tencel Lyocell | Sizes: Twin, full/queen, king/Cal king
Our experts: