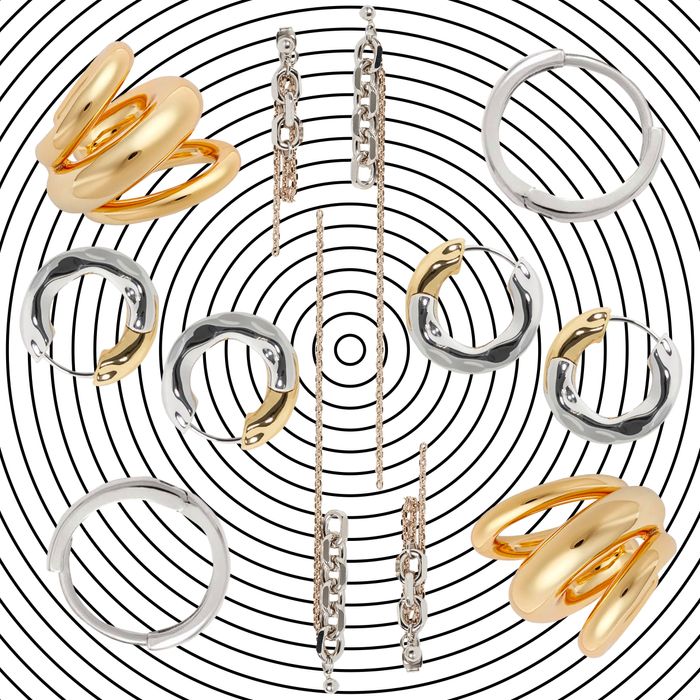 Photo-Illustration: The Cut
While tattoo journeys may be too scary to embark on (even ones that fade), piercings are the next best thing. Enter the term earscaping.
What could that even mean? Studs co-founder Lisa Bubbers explains it as "the art and science of stacking your ear with piercings and earrings" and coined it as a very easy way of saying you want an "Instagram-approved" ear. So, ahead of the holiday season, what better gift to give (we won't judge if it's for yourself) than an earring upgrade?
Thanks to piercing studios such as Studs and New York Adorned, the days of slinking into a tattoo shop to ask for a cartilage piercing only to leave with a thick silver bar for an earring are over. When you book an appointment for a piercing, your piercer is also your stylist. You don't have to go into it knowing what you want. Instead, there are look books to peruse, options to consider, and trends to discuss.
In order to refresh the look, you can consider adding colors, textures, and shapes to the piercings you have. If you have piercings on both ears, maybe mix and match the earrings while playing with similar tones. As Love Adorned piercer Sydney Roda advises, you have to look at your ears "as a canvas."
With that in mind, we've rounded up some earring types you can add to your current rotation to get the cohesive ear just in time for the holiday season.
Chains
Libby Rounds, the piercing manager at Love Adorned, likes adding chains to their ears for movement. Chain earrings are great for any piercing whether a lobe, upper ear, or even inner ear.
Cuffs
A great way to add piercing without actually committing to one is by adding cuffs to the mix. Place them on your ear to replicate a conch or helix piercing or play around with them to emulate multiple piercings at once.
Not-so-basic studs
While studs might feel like the safest option out there, playing around with different styles is another way to enhance your earscape.
Hoops and huggies
When it comes to stacking on an ear, using hoops of various sizes can be a great way to add natural movement. Huggies are perfect for second or third piercings because they sit closer to your lobe. From there, you can stick with a small hoop in your first lobe piercing or try a medium or a large one. The more hoops, the merrier.
The "It" pieces
This is where you add that attention grabber — a colorful hoop, a funky shape, a customized piece. Let your ear have that main-character moment.
For more from the Cut Shop team, follow us on Instagram and Twitter, where we share our best new finds, favorite styling tricks, and more.