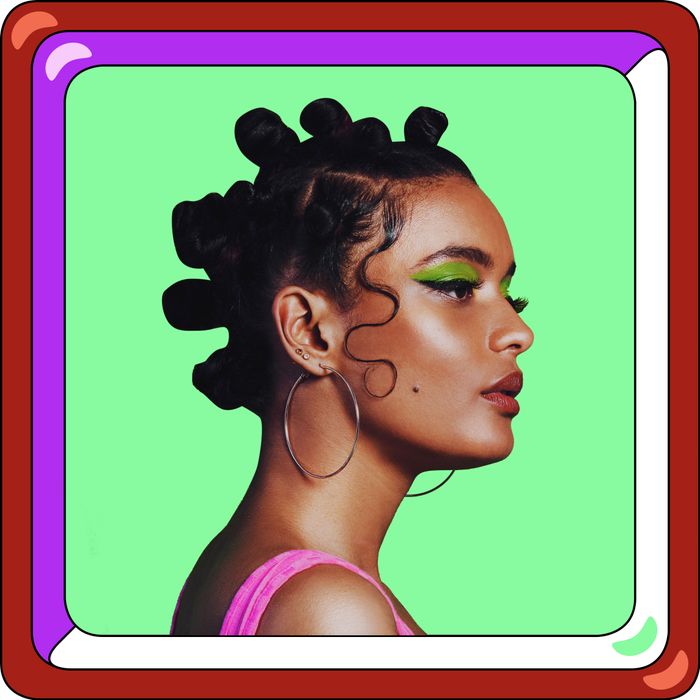 Photo-Illustration: by The Cut; Photos: Getty Images
One of the most beautiful things about Black hair is its range. From coily natural curls to silky weaves to waist-length braids to sleek relaxers, Black hair can do it all. And for Black hair to do it all, there's one product helping to make those dreams possible: edge control.
Whether you like to swoop and style your baby hairs or slick your edges down, finding the right edge control requires time. A shelf in the beauty-supply store can be overwhelming and filled with hundreds of options. In my own personal journey for the right edge control, I didn't know what would work for my hair texture and not leave me with flaky or greasy edges. Discovering that pomade acne was a thing didn't help.
Not every edge control works for everyone because our hair textures can be so different. That uniqueness is also what makes Black beauty so complex and alluring. But everyone can find the right edge control, whether you have soft or kinky curls or wear a lot of protective styles. So grab your best edge brush or toothbrush (the true hack to styling baby hairs) and try some of the very best edge controls.
A Long-Lasting Option
When they say extreme hold, they mean it. Ebin is one of the best edge controls I've tried. This one even lasts me through my intense, sweaty workouts.
The Best Shine
Tracee Ellis Ross recently created more products for Pattern, one being a pomade with a great hold that doesn't leave you with a white residue after a few hours. It also doesn't have an overly greasy finish. To top it off, it has the signature Pattern fragrance.
If You Prefer a Water-Based Option
Water-based edge controls can cause softer hair textures to curl up and have a short-lived wear, but Style Factor has become a beauty-supply-store staple for its ability to firmly lay edges for a sleek look. A little goes a long way. Using too much can leave a white residue, so there's no need to slap a huge amount onto your hair.
The Barely-There Effect
Finding a pomade that didn't leave my edges rock-solid has always been a challenge. Some styles, like high, sleek ponytails, call for that kind of product, but for everyday wear, a smooth and barely-there look is just fine. Urban Hydration's edge control is for those times — a light pomade that leaves the edges sleek while looking like there is barely any product. Its honey-infused extract also provides a shiny finish.
The OG Hair Gel
Eco Styler Gel has been around for ages. It's not quite an edge control, but it's a multipurpose gel that always gets the job done. For as long as I can remember, it's been the unofficial sealant to my baby hairs. I remember Eco Style being on the shelf for tightening up braids as a child. Now I apply it over edge control so that my baby hairs don't have a hard appearance.
The Popular Go-To
Hicks' has been beloved for years by editors, hairstylists, and influencers for its shiny and nonsticky finish while having a firm hold on edges. As someone with combination skin, it doesn't combine well for me and often leaves me a bit greasy, but other reviewers are always amazed at the flawless finish and its lack of residue.
Best for Curls
This paste is made for curls, with a sculpting edge control that gets every swoop and swirl. Because it's lightweight, it doesn't weigh down curls and is great for keeping your edges soft, especially if you want your baby hairs to blend with your curly styles.
Grow and Style Your Edges
The Mane Choice is known for its science-backed products that help grow hair back. This edge control is formulated with vitamins that rejuvenate edges and also have a great hold and shine. In the weeks after I have braids, it's my go-to product to fill in any sparse areas where my baby hairs may have broken due to extreme pulling.
Best for Laying Lace
Remember Tessica Brown, best known on the internet as "Gorilla Glue Girl"? Here's what she actually should've been using. This tackylike gel was originally created to be a holding gel for spiky hair, but it's just as effective for laying the lace on wigs and weaves for a long-lasting hold.
Best for Flyaways
Wax sticks gained their fame with hairstylists because of the sheen they leave on hair, along with the ability to instantly lay down flyaways. Whether you have frizzy edges or just want to catch those stubborn random pieces, this stick is a must-have for your purse at all times.
Best for Dry Hair
Leave it up to Carol's Daughter to formulate a pomade that not only keeps edges in place, but also nourishes and moisturizes the tiny hairs. Infused with shea butter and cocoa butter, this product not only strengthens the hair, but also works to control frizz and leaves a soft and shiny finish.