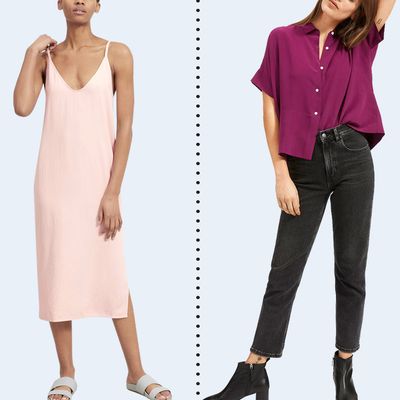 From left, Everlane's Air Cami, Japanese GoWeave Long Slip Dress, and Clean Silk Short-Sleeve Square Shirt are among our seasoned shoppers' favorite pieces.
Photo: Courtesy Retailer
You may have noticed some posts from our friends at the Strategist on the Cut. They'll be dropping in every now and again, sharing their expertise on the basics you don't have time to research and the weird and wonderful things you don't yet know you need.
At the Strategist, we often turn to experts about the best things — or the things they buy — in any given category. Say, mixologists on the best ice-making gear, psychologists on the best toys for kids, or meteorologists on their favorite cold-weather and rain stuff. A lot of these experts are obvious, but some are less so, like the people who've been loyal to a specific brand for so long that they've developed an intimate knowledge of the items worth buying. Here, three "Everlaneologists" — who each have been shopping at Everlane for at least three years (and sometimes many more), and won't go more than a month or two without buying something new — tell us about the products they love and the stuff that leaves them wanting more.
What
was
the
first
Everlane
thing
you
bought?
Robin Reetz, writer
I first read about Everlane on the blog Cup of Jo. This was not long after the brand launched, around 2011 or 2012, when you needed an account to see anything. My first purchase was one of its basic tees; the Box-Cut Tee is probably the closest current iteration of what I bought. I don't have it anymore, but that's because I basically wore it to death.
Mia Leimkuhler, associate editor for audience engagement, Strategist
The first time I heard about Everlane was about four years ago, when I read about its Modern Loafer. I had just started a new job and it looked like a good work shoe so I bought it in burgundy [Editor's note: Everlane no longer makes the loafer in burgundy]. I still have my pair (I think Everlane generally nails the loafer shape), though I now prefer to wear them with thin socks to prevent blisters and recommend using some sort of leather-stretching spray to speed up the breaking-in process.
Elizabeth DuBois, strategic account manager, Justworks
My first order was back in July 2016; I bought two muscle tanks, the Clean Silk Short-Sleeve Square Shirt, and the Tunic Sweatshirt — all of which I still have and wear [Editor's note: Everlane no longer sells the Tunic Sweatshirt]. The silk shirt has held up great. I usually only wear the muscle tanks to bed as I wasn't such a fan of wearing them out and about. I like to French tuck my tees and tanks, and I found the muscle tanks are too long — when I tuck the front in, the back hangs down over my butt and looks weird.
What
are
your
favorite
Everlane
things?
Elizabeth
I'm obsessed with the Japanese GoWeave Long Slip Dress. It's loose-fitting, barely wrinkles, can be dressed up or down, and always stands out — people never guess it's from Everlane. I wear the Authentic Stretch High Rise Skinny Button Fly jeans constantly. They never stretch out (even after consecutive wears), and I love the gray color. I've found it hard to wear other high-rise jeans after wearing these. And the Pima Micro Rib Long Sleeve Crew, a staple I own in black, gray, and white. The fit is great; I wear it on its own in warm weather or as an under layer in colder months.
Robin
The Air Cami, because it's airy, comfortable, and I think has a super-flattering neckline. I've got a smaller frame with a larger bust, but I've seen it on friends with various chest sizes, and although the fit of course varies, it always looks flattering. The Pima Micro Rib Scoop-Neck, which I think has the ideal sleeve length (the sleeves end right above the elbow), a perfect rib, and is supersoft and comfy, too. And the Day Heel — you see a lot of shoes in this silhouette these days, but there's something about Everlane's pair that feels classic without being boring. I'm also a sucker for a good tomato color, so the bright red really speaks to me.
Mia
I agree about the Air Cami — I'm honestly confused why I don't see this on everyone. The '90s Cheeky Straight Jeans (to go with my Air Camis), which fans of sturdier, more rigid denim will love. Strangers have stopped me on the street to ask me where I got my pair. I also like my Cheeky Straight Jeans — they have a similar look to their '90s sister but are made with stretchier denim. And when the temperature drops, I practically live in the Oversized Alpaca Crew sweater. It's lightweight but still really warm, and the slightly fluffy texture reminds me of the angora sweaters my mom used to wear. I'm also a big fan of the Boss Boot (people always think my pair is Acne), the Heel Boot (which to me the definition of a simple, easy-to-wear heeled black boot), and the Day Boot (which I have in white and like wearing with dark florals). Everlane does a good boot.
What
do
you
think
Everlane
does
well?
What
could
it
do
better?
Elizabeth
I'm obsessed with the denim. Everlane's different cuts fit me well and hold their shape way better than other pairs I've worn. I'm constantly washing jeans because I like them to be tight, but I've found I don't need to do this with my Everlane pairs (I also own the Kick Crop Jean and the Summer Jean, which has a slightly looser fit). And anything Japanese GoWeave for sure! The fabric has some weight to it, but it doesn't look heavy, and it's not too stifling on summer days. It also travels so well.
Unlike Mia, I haven't had much luck with Everlane's footwear. The Modern Loafer Mule and Leather Street Shoe both cut up my feet — even after getting my pair of Street Shoes stretched out, they're still not the most comfortable. I also don't think there's anything special about Everlane's underwear — I have two thongs, and they're fine, but far from my favorites.
Robin
I'd say Everlane's tees (again, because of fit and price). I like a good boxy fit, which the brand does well, and especially like their Pima Micro Rib tees. It's nice to find affordable — and flattering and comfortable — options in so many cuts. But silk is probably what Everlane does best. I get compliments and asked "Where's that from?" every single time I wear one of my silk blouses.
I'm also not wowed by Everlane's underwear, though; specifically, its bras. As a large-chested gal, I'd love to see more that cater to different sizes.
Mia
Agree with Robin about the silk. I bought the simple Relaxed Silk Shirt and was so impressed with the cut and quality that I kept buying more silk shirts, including the Clean Silk Notch Shirt (in long- and short-sleeved styles) [Editor's note: The Relaxed Silk Shirt is no longer available, but Everlane sells a very similar Clean Silk Relaxed Shirt.] And now that I've figured out a way to wash silk at home (instead of dry-cleaning), it feels less insane to spend that kind of money on a shirt. I'm also a huge fan of the Japanese GoWeave. In addition to traveling well (I've thrown on the GoWeave slip dress and square-cut shirt after pulling them out of the bottom of a suitcase), the fabric washes easily too. I spilled coffee on a white GoWeave dress and, after rinsing it with cold water and a bit of hand soap, it was totally fine.
And I don't love all of Everlane's footwear: It has yet to make a sandal that has set the world on fire for me (and I don't think I'm alone; I rarely see a lot of Everlane sandals out and about).
What
did
you
last
buy?
What
are
you
getting
next?
Robin
My next purchase will probably be some more Air Camis or the GoWeave Notch Shirtdress — I love the cut, and the fit looks like it would flatter.
Mia
I last bought the Silk Square Muscle Top, which should nicely hide all the ice cream I plan to eat this summer. And, after years of not wearing them, I'm actually considering a return to jean shorts this summer — and the Cheeky Denim Short might just be the pair that makes me do it, given how much I like the fit of the full-length Cheeky jeans.
Elizabeth
One of the last things I bought was the men's Japanese Slim Fit Oxford, for myself. I got an extra small, which is nice and roomy on me. To my own surprise, I also actually got a pair of shoes — the Day Loafer — which I've since worn on a few longer walks (at least 30 minutes) and have yet to get a single blister. I never thought I'd try Everlane's footwear after my earlier bad experiences, but this pair is making me reconsider.
The Strategist is designed to surface the most useful, expert recommendations for things to buy across the vast e-commerce landscape. Some of our latest conquests include the best acne treatments, rolling luggage, pillows for side sleepers, natural anxiety remedies, and bath towels. We update links when possible, but note that deals can expire and all prices are subject to change.