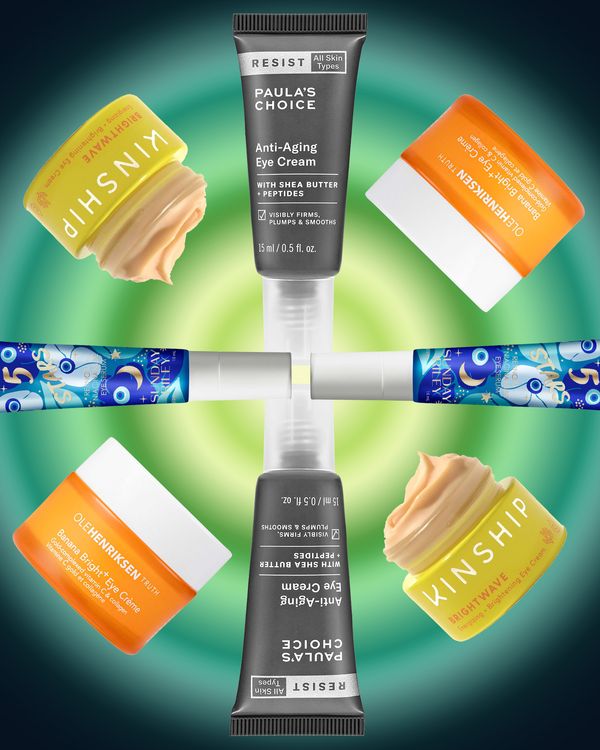 Photo-Illustration: by The Cut; Photos: Retailers
While logging a full night's sleep seems like a reasonable fix to dark under-eye circles, it sadly doesn't work for most of us. Regardless of how well-rested you are, dark circles can also be caused by genetics, pigmentation, allergies, and thinning skin.
Using an eye cream won't banish dark circles, but a select few creams really work, mostly by using high-tech ingredients to constrict blood vessels (which cause dark shadows), diffuse light, and brighten pigmented areas for a noticeable improvement in their appearance.
If it seems too good to be true, we thought so too. However, as with all beauty products, consistency is key. Cut readers may love RoC's Retinol Correxion Eye Cream and Paula's Choice Resist Anti-Aging Eye Gel the most, and Cut staffers may swear by Tata Harper's Illuminating Eye Crème and Dr. Jart+'s Ceramidin™ Eye Cream with niacinamide, but if you purchase them and don't incorporate them accordingly into your beauty routine, you may be spending way more money than you should.
With that caveat in mind, read on for a list of our (and our readers') favorites.
The Best Budget Eye Cream
This well-rounded eye cream powered by retinol has a reputation for successfully tackling recurring eye-related concerns: puffiness, dark circles, and crow's feet. Because of its effectiveness and lower price tag, this anti-aging formula comes highly recommended by both dermatologists and people who want smoother under eyes without spending a small fortune.
The Amazon-Favorite Eye Cream
This is by far the best-reviewed eye cream on Amazon, with close to 31,000 five-star reviews. It contains hyaluronic acid, vitamin E, and three different plant extracts. Reviewers love its affordable price point, and praise its ability to soothe chapped, irritated, and very sensitive skin.
The Internet-Favorite Eye Cream
This is the internet's current favorite eye cream for treating under-eye circles. It has over 2,000 four-star reviews at Sephora, and we've tested it and loved it (and so has Strategist). The secret is a mix of vitamin C, a proven ingredient for hyperpigmentation and brightening, and a "secret pigment" (most likely from the yellow color of the cream) that deflects and lightens the gray and purple tones of dark under-eye circles. Note that it's scented, if you are sensitive to fragrances.
The Best Eye Cream for Sensitive Eyes
If eye creams irritate your eyes and cause you to tear up, try an eye gel. This one feels light but still packs a serious moisturizing punch, thanks to a formula heavy in hyaluronic acid and peptides. It comes with a metallic tip so it feels extra cooling and soothing on impact.
The TikTok-Favorite Eye Cream
This product went viral on TikTok after user @RamenaSaidWow called it easily one of her "top three" eye creams. She posted before and after pictures, showing how her under eyes brightened and became smoother after two weeks of use. Sephora reviewers (nearly 2,000 of them) agree with her and love the unusually nonirritating retinoid formula and the cooling ceramic-tip applicator.
The Eye Cream With Over 26K Reviews
This is kind of a cult favorite, racking up literally thousands of reviews for its natural, hydrating ingredients like rose hip, hibiscus, and rosemary-leaf extract, which make it smell like tea and moisturize your under-eye area. Overall, it feels hydrating, and it brightens and blurs. It's also a good deal: One small pump is enough to moisturize both eyes.
The Best Highlighting Eye Cream
The vitamin C packed into this cream will make your skin brighter and firmer over time, but it's also accompanied by light-reflecting particles that instantly brighten the under-eye area while you wait. In addition to a pretty, highlighted finish, patting on this rich formula treats under eyes to hyaluronic acid for hydration, vitamin E to defend against environmental aggressors, and a complex of plant antioxidants to help fight signs of wear and tear.
The Highly Requested Eye Cream
When kinship's founders reached out to their Gen-Z community, they were surprised to find the top request was a hydrating eye cream for under-eye circles. The brand delivered. With a naturally yellow tint, this eye cream brightens and blurs dark circles and fine lines. Some of the key ingredients are chaga mushroom to hydrate and vitamin C to add radiance. Overall, it feels really moisturizing and cooling under the eye, and you can reapply it periodically for a little pick-me-up.
The Surprisingly Good Eye Cream
When Naomi Osaka set out to create a tinted mineral sunscreen for people of color, she probably didn't think she would end up making one of our favorite eye creams. It's highly underrated. Like the Kinship eye cream, it's deeply hydrating, a little cooling, and super-gentle.
The Best Tinted Eye Cream
Is it a tinted moisturizer? Is it an eye cream? After trying this lightly tinted and unscented formula, we've determined it's both. Dispensed from a cooling metal tip (which provides relief to puffy eyes), the sheer, lightweight consistency helps disguise dark circles and leaves the thin skin in this area significantly smoother. Bonus: It was rated five stars by cosmetics cop Paula Begoun due to its impressive blend of antioxidants and plant extracts. Downside: It won't work very well with with darker skin tones, as it comes in only one shade.
The Best One for Makeup Prep
Charlotte Tilbury's Magic Eye Rescue is basically the equivalent of their cult-favorite Magic Cream for the under-eye area. The dense and moisturizing cream features retinol to help brighten and reduce fine lines over time. However, the immediate effect is a smoother, moisturized under eye, making it the perfect base for concealer.
The Smoothest Eye Cream
This cream from beloved "natural" beauty line Drunk Elephant takes a maximalist approach with not one but five different types of vitamin C, known for its skin-lightening properties. It's a creamy, soothing mixture that blends easily into the thin under-eye skin.
The Supportive Eye Cream
If you're noticing thinness and fine lines around your eyes, ceramides are just what the doctor ordered. Thankfully, Dr. Jart's added an eye cream to its popular Ceramidin line. It's packed with the line's signature blend of five ceramides, plus niacinamide to support your body's natural ceramide supply, so your skin barrier is supported and strengthened over time.
The "Natural" Eye Cream
You know a product is high end when it features diamond dust. While this pricey ingredient has been met with skepticism in the beauty industry, Tata Harper's Illuminating Eye Crème has a luminous golden gleam and plumps parched skin with hyaluronic acid, olive oil, and mango-seed butter.
The Nongreasy Eye Cream
One of the original green-beauty brands, Aveda has produced a sophisticated option for those wanting to treat tired eyes naturally. Elegant in texture and not the slightest bit greasy, it boasts a blend of licorice root (a known skin lightener) and caffeine for reducing darkness and puffy patches.
The Best Eye Cream With Retinol
Retinol is the gold standard of anti-aging ingredients, and this silky serum has plenty of it. The vitamin A derivative works to stimulate collagen production under the eyes, making dark circles less visible. The weightless, gel-like texture absorbs in seconds and provides surprising hydration, thanks to skin-smoothing antioxidants and plant-based ingredients. Bonus: It sits well under makeup.
The Best Eye Cream With Nature's Retinol
This eye cream contains everything but the kitchen sink, in a good way. It's one of the rare creams to contain bakuchiol — a plant-derived retinol, which can help to brighten and tighten dark eye circles. But it's also gentle and cushiony, thanks to a blend of ceramides, niacinamide, and antioxidants. On the skin, you'll have no idea how hard it's working because it just feels like a pleasantly nourishing and thick cream.
The Best Eye Cream for Dry Skin
A little of this really rich formula goes a long way, so apply it sparingly. The ingredient list includes Rosa roxburghii, a flower containing brightening vitamin C to lighten brown spots and fade dark areas. Mica particles diffuse light to mimic a full night's sleep, and the dense texture melts into skin when applied — making it ideal for super-dry types.
The K-Beauty Eye Cream
Korean beauty is know for its effective usage of botanical ingredients. This one from Glow Recipe contains avocado extract and oil, which are chock-full of vitamins C and E. It takes things one step further with an encapsulated form of retinol that's effective and gentle (so it won't give you the "retinol uglies.")
The Japanese-Beauty Eye Cream
Dense in texture, this cream works on two levels — by breaking down melanin pigment (brown spots) and by improving microcirculation to banish blue rings, thanks to a dark-circle-diminishing blend that includes vitamin C. For a blurred effect, a multi-luminizing powder boosts radiance levels.
The Blue-Light-Fighting Eye Cream
This cushiony gel is the eye cream version of the brand's cult Advanced Night Repair serum (the serum you see advertised all over the world in airports and that your fancy relative owns). It glides on seamlessly and works overnight to fade dark circles and repair damage from environmental aggressors. Plus, it allegedly helps fight the damage caused by the blue light given off by our screens and phones.
The Thirst-Quenching Eye Cream
Applying this intensely moisturizing eye cream is like pouring your puffiness a refreshing glass of ice water. The gratification is instant. As soon as you tap on the cooling formula, it floods tired, screen-fatigued eyes with a hit of hydration, and in true K-Beauty form, that invigorating formula is packed with things ready to get your skin looking as dewy and glassy as possible, including nutrient-rich tiger grass that soothes and smoothes and calming comfrey leaf to help with inflammation.
The Very Fancy Eye Cream Loved by Celebrities
This is the most luxurious eye cream in every sense (including price). Reviewers praise how indulgent, smooth, and rich this cream feels, and how it glides over dry eye skin and moisturizes with just a dab. The eye cream also comes with a tiny wand which you can use to massage and de-puff the under-eye area. Unsurprisingly, it's Martha Stewart's longtime favorite.