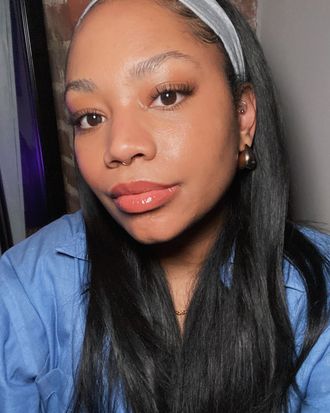 Photo: Chinea Rodriguez/Copyright 2023. All rights reserved.
For more of the Cut's favorite fashion, beauty, and home finds, sign up for the weekly Cut Shop Newsletter.
I have talked in great detail about my eyebrows. Here's the tl;dr, though: Mine are pretty sparse but unruly. Since I don't really tweeze my brows, most of my beauty routine consists of getting them into shape and keeping them that way. I have landed on e.l.f.'s Brow Lift for taming them, but as a dedicated shopping writer, I have tried and tested several brow products over the past few months, and even more in the past few years, in pursuit of a new favorite.
How do I know I've landed on the one? The criteria for a good brow product begins with how good it makes my brows look, duh. Are they fuller? Darker? In place? None of the aforementioned matters if, by the end of the day, my brows look messy. Last, I consider how easy it is to use. My everyday beauty routine doesn't take long, and shaping my brows shouldn't either.
If you too are in search of the best eyebrow gels out there, here are ten products for color, hold, shape, and otherwise faking fuller brows.
If You Want the Best Hold
With a light hand and a clean spoolie, you can use this wax to slick your lashes into place and keep them there all day with no residue and no budging at all. The only downside is the short shelf life.
If You Want a Dupe
My holy-grail brow product and a confirmed dupe for the aforementioned brow wax. This under-$10 product laminates my brows and keeps them still. The texture is thicker than Freeze Brow's, but it feels fine as long as you start with a little product and build up from there.
If You Want Fuller Brows
The cult-favorite brow product is a gel-wax hybrid that adds hold, color (depending on the shade you choose), and texture. By wiggling this back and forth through your brows, you can get a fuller look, then fill in any sparse areas with the brand's Brow Flick.
If You Want Something Affordable
This is the closest you can get to gluing your brows down without actual glue (though I'll note it does smell like glue). I have had many facials during which my eyebrows didn't budge at all when I was wearing this.
If You Want Brows That Don't Move
Like the NYX Brow Glue, this one will keep your brows in place, but it uses a lighter formula. It dries fast, so you have to move quickly. With a little effort, though, you can achieve the coveted laminated-brow look.
If You Want to Put In a Little Extra Effort
Get soap brows without the soap with this product. A light spritz is all you need to activate it, and the extra effort is worth it since the wax keeps your brows in place and lasts a while.
If You Want Just a Little Hold
We get it, not everyone wants their brows slicked into place; sometimes you just want some hold and shaping. This gel will give you a laminated brow without the gluelike, extra-strength hold and texture.
If You Want to Fake Tinted Brows
This has the tiniest brush to easily apply the tinted gel without getting it all over your brows. It's easy to build up the color without overdoing it. You won't get the laminated-brow look, but you can still fake bushier, fuller brows while keeping them in place.
If You Want Volume
Your brows can be as voluminous as your blowout with this top-rated gel. You won't get tons of hold, but the tinted gel and teeny brush will shape and highlight those little brow hairs you didn't even know were there.
If You Want Something Easy
One side of this is a wax stick; the other is a brush to shape and lift brows. Application is extremely easy, and despite being a wax, it doesn't feel super-waxy.