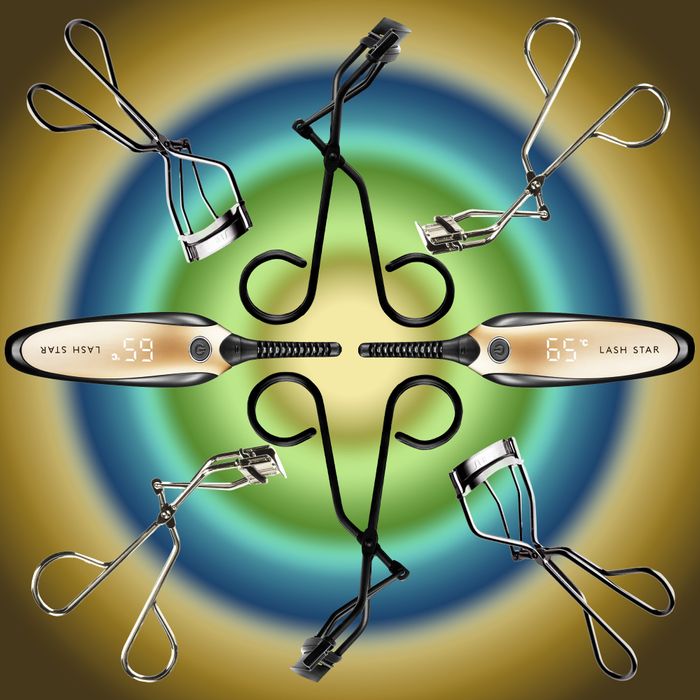 Photo-Illustration: Courtesy of retailer.
For more of the Cut's favorite fashion, beauty, and home finds, sign up for the weekly Cut Shop Newsletter.
Even though it may feel like something you can easily skip, curling your eyelashes is just as important as putting on your shoes (to some of us). Since eyelashes come in different textures and shapes, curling them is the best way to look more awake and open up the eye area, especially for an eye-makeup-heavy look. But if you're using the wrong type of curler, it might not be something that feels worth it. Over the years, our team has tried many, many eyelash curlers, and to make sure you're using the best curler out there for your eyes, we spoke with some beauty experts.
What Makes for a Good Eyelash Curler?
A good eyelash curler has a handle that comfortably fits your fingers and fits well with your eye shape. Makeup artist Quinn Murphy says to make sure all of your lashes fit into the curvature of the device.
What Makes for a Great Eyelash Curler?
A great eyelash curler isn't just comfortable; it ensures that your lashes don't get pinched, and it molds them into a nice swoop. The difference comes down to the eye bed — an inch-long curved strip (often made of silicone) that acts as a resting place for your lashes during the curling process. "It should feel stable and not wobbly when squeezed together. The pads should feel firm but bouncy and easy to use," says Murphy.
Makeup artist Robert Sesnek recommends paying attention to the metal part of the curler that's opposite the eye bed. "Make sure it isn't too sharp or thin," Sesnek says. "Thicker, more solid, and rounded shapes tend to be better and safer for your lashes."
Below, we've included the eyelash curler I've been using for three years straight, the Cut Shop team's picks, and some makeup artists' faves.
The Best Overall Eyelash Curler
Former Beauty Director Kathleen Hou describes this curler as "feeling like a hug." The eye bed is formulated so that it delivers the best curl swoop, one that instantly opens the eye and makes you look more alert. It is so cushiony that it feels like your lashes are resting on their own special pillow (which Murphy calls a "luxurious experience"). Notably, even the handle of the curler is different — it's double-barreled, which is like a fail-safe that prevents you from over-squeezing or crimping your lashes. Don't just take our word for it, though. Sesnek says that this is their absolute favorite. "The curve shape, weight, and performance of this cannot be beat. I can use this on all eye shapes, and it's clamp makes it easy to get all the lashes — my go-to since it debuted."
The One With All the Amazon Rave Reviews
Photo: Retailer
Amazon reviewers are positively ecstatic about this curler. There are close to 9,000 reviews all praising this one as being "the best." Reviewers rate this one close to five stars and praise it for being easy to use and effective, without any pinching.
The Best Eyelash Curler for Newbies
"This is the GOAT for a reason," says Murphy. "It's easy to use, and the shape allows you to get as close as possible to the base of the lashes. It has nice spring and is overall perfect." As a longtime favorite of makeup artists, it gives a pretty, soft swoop to the lashes rather than an unnatural 90-degree angle. It's a perfect starter lash curler if you want to try something comfortable that yields instant results. However, it's better for smaller eye shapes.
The One That's Just As Good As Shu Uemura
This one is loved by makeup artists because its eye bed is slightly wider and less round, so it works better on a variety of eye shapes, which Sesnek notes. "It allows you to get up to the lash line without clamping on the eyelid because of its shape and is great for soft, natural-looking curls," he says. It opens a little wider, which makes it more comfortable to use. Murphy has been recommending this curler for years and notes that the red band is great to see the lashes while you curl them.
The Eyelash Curler You Can Charge by USB
This heated lash curler curls your lashes in place with very gentle heat. If you're worried, don't be — this curler shows you the exact temperature and features four different temps for optimum curl. Plug it into the USB to charge, and it's easier than charging your phone.
The Universally Loved Eyelash Curler
This one has over 1,000 nearly five-star reviews on Sephora praising how well it works on a variety of eye types. Strategist writer Rio Viera-Newton likes it too.
The Best Eyelash Curler for Sensitive Eyes
Tweezerman has an extensive line of affordably priced curlers that work just as well as the pricier ones, according to most internet reviews. On this one, the eyelash pad — the rounded crescent which helps shape lashes — is silicon rather than the more common rubber, making it a good option if you have sensitive eyes. However on stubborn eyelashes, Hou found that this one didn't hold a curl for as long as others.
The Best Drugstore Eyelash Curler
Great eyelash curlers are hard to find at a drugstore price point. This is one of the best-reviewed affordable ones on Amazon, with almost 700 reviews and close to a five-star rating.
The Designer Option
Makeup artists like Beau Nelson swear by this sleek lash curler. It's wrapped on both sides to prevent pinching and pulling and it's a favorite amongst those with rounded and hooded eyes because it curls every single lash.
Another Shu Uemura Backup
If the Shu Uemura is sold out, this eyelash curler is just as good, according to reviewers. It gets close to the lash line without pulling and pinching and keeps lashes curled all day without tons of effort.
The One That Gives Your Lashes a Perm and Works With Extensions
If you've tried eyelash curlers before and have been frustrated at their lack of hold, try a heated one. As scary as they sound, they do hold a curl for longer and are ideal for extensions (mechanical eyelash curlers can damage them). This is one of the highest-ranked ones online, and it's easy to use — it doesn't become unbearably hot. You gently press it against the middle of your lashes to give yourself a lash lift.
The One for Teeny-Tiny Lashes
Photo: Retailer
If you are determined to curl every single lash, try this. Despite its pincer-like shape, it won't snatch your lashes but it will precisely help you curl every single baby lash, even those close to your tear ducts or the edges of your eye. Just don't hold it upside down. The pink curved section should go on the bottom.
The Pretty One
With its shiny rose-gold finish, reviewers say that this lash curler isn't just pretty, but functional. Reviewers with short lashes praise this one for being adept at grabbing and curling every lash without pulling, tugging, or pinching.
The Very Pretty One
This eyelash curler can lift, curl, and comb natural lashes for optimal use. It features a unique comb that helps lengthen the lashes. Murphy loves that its unique handle isn't only pretty but perfect for some extra grip.
The Best One for Round Eyes
Makeup artist Molly Greenwald loves the Pro series from Tweezerman. Although both shapes from the series will work for everyone, she notes that the ProCurl is curvier and more comfortable on rounder eyes.
The Best Eyelash Curler Under $5
According to reviews, no lash is left behind by this trusty drugstore option from Revlon. And for under $5, who doesn't want something that delivers without costing a ton?
The Best Eyelash Curler to Use on the Go
Offering an easier grip, this on-the-go eyelash curler from Japonesque can fit in most of your micro-bags so you'll always be camera ready — the true definition of tiny but mighty.
Our Experts: