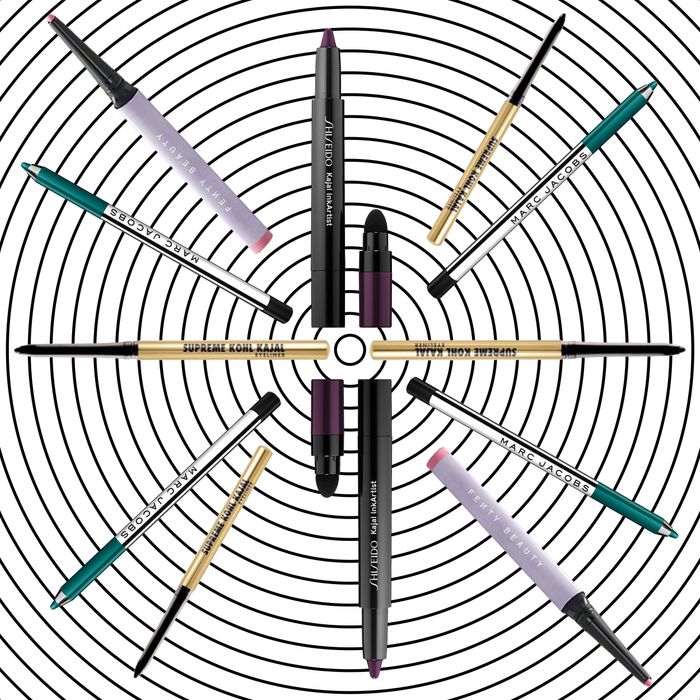 Photo-Illustration: The Cut; Photos: Retailers
Eyes are very sensitive. This is especially true of the eye area we we refer to as the waterline — that thin, wet strip of flesh where the edge of your eyelid hangs out with your eyeball. It isn't particularly fun to touch or think about, unless eyeliner is involved. If you want a better-than-average smoky eye or just want your eyes to look bigger, it helps to line your waterline. You can also try tightlining — lining just the upper waterline to make your lashes look even thicker. But just like your application technique, not all liners are created equally. So before we get into the buttery pigmented goodness, a word from the experts:
What kinds of eyeliners are best for your waterline?
Dr. Shereene Idriss, a board-certified dermatologist and founder of Idriss Dermatology in New York City, says to use products from brands that have conducted extensive safety reviews and to make sure you're gentle when going near your eyes with the pencil — i.e., don't poke yourself or tug excessively. More on the latter point: To avoid tugging, rubbing, and constantly going back and forth over your delicate waterline, you want to look for kohl or kajal eyeliners with creamy formulas and rounded tips that smoothly glide across the waterline before setting in place. The more seamlessly the product is applied, the less irritation it will cause.
How should I safely apply eyeliner?
A medical professional would likely tell you to avoid applying (or worse, rubbing or dragging) anything across your waterline — but since we're here, Dr. Raymond Douglas, a board-certified aesthetic and reconstructive oculoplastic surgeon and head of the orbital-disease center at Cedars Sinai Medical Center in Los Angeles, has some tips. Though he doesn't outright recommend lining your waterline because it can open the door for bacteria, pathogens, and other contaminants to be transferred to the area easily from fingers, tools, or pencils, he does say that washing your hands with gentle antibacterial and antimicrobial wash before touching the eye area can make application safer. He also says that looking for products marked as dermatologist- or opthamologist-approved is important if you do choose to apply product to the waterline.
Dr. Raymond and Dr. Idriss both emphasize the importance of not sharing eyeliner and tossing your product after 12 months at the most. "If you are a more frequent user, say every day, then I would probably even limit it to six months," says Dr. Idriss.
Now that you finished this crash course in ocular safety, here are 17 eyeliners with color-rich formulas, reliable staying power, and soft shapes that work great.
Best Eyeliners for Waterline
The Best Drugstore Tightliner
This is the best-reviewed waterliner on Amazon, with close to 9,000 five-star reviews. It's praised for being smudge-proof, creamy, and very pigmented. If you're looking to line your eyes in white, a trick makeup artists use to make models look more awake, this shade is particularly praised by enthusiastic reviewers.
The One With the Best Glide
These creamy liners are great for waterline lining, tightlining, and general drawing because they consistently keep their precise shape, no sharpener necessary. The vitamin E and aloe-infused formula comes in lush tones like amethyst and terracotta, which founder Priyanka Ganjoo specifically made with South Asian undertones in mind. Dr. Idriss also loves this liner. "It's pretty pigmented so you don't have to continuously trace the liner back and forth to get the color on. This is a positive as that can lead to irritation, especially if you have sensitive eyes. They also confirm on their website that their eyeliner formulas have undergone extensive safety reviews and are safe for their intended uses and specifically safe for use on the waterline."
The One With "Waterline" in the Actual Name
The Reliable One
If your main intentions with lining your waterline are to add drama, intensity, and intrigue, this extremely pigmented liner was designed for just that. It only comes in one color, Blackest Black, and it means it.
The One That Comes in a Bunch of Colors
Leave it to Rihanna to create a smudge-resistant, long-wear liner in shades you've only dreamed of. These pencils not only have an impressive color payoff and a satisfying glide, but they come in multiple finishes (matte! metallic! shimmer! glitter!) and 20 different shades, ranging from electric blue and metallic yellow all the way to the timeless and iconic "Cuz I'm Black."
The One That You Can Also Use on Your Brows
This product's tear-proof formula and wide, not-too-pointy point will put any waterline at ease and probably win over the whole upper third of your face in the process. If you're always short on time and have a lot of other things to line — your upper lashline, your lower lashline, your brows — this Kajal and its built-in smudger can get you an entire eye look in one go.
The Natural One
Real kohl is illegal to sell in the United States. This pencil, created by Kristen Stewart's makeup artist Jillian Dempsey, is the next best thing. It's very pigmented, goes on without tugging, and can be easily smudged at the lash line to create a softer look. It's also "naturally" formulated.
The One That's Good for Tightlining
If you're interested in tightlining your upper waterline to get that "invisible eyeliner" look, this rich eyeliner is a good place to start. It's basically everything you'd except from a gel liner, but in a more convenient pencil form and with a tip that's a wee bit pointier so that it slides against the waterline without skipping on your lashes.
The One to Invite to Zoom Meetings
If you want your eyeballs to look like themselves, only better, try this dual-ended eyeliner. The brightening end instantly neutralizes any redness when applied to the waterline, so you look considerably more alert and awake. Swipe the darker end on your upper lash line to complete a comfortable look your eyes won't mind wearing all day. The formula feels almost silky, which may explain why its creator loves sleeping in her eye makeup so gosh darn much.
The Well-Rounded One
If you just want to jump in and start lining your eyes without overcomplicating everything, Sephora's reliable waterproof liner is a good place to start. It not only comes in a convenient retractable design, it's outfitted with a built-in sharpener and a smudger, and comes in a solid range of easy-to-wear colors like charcoal, chocolate, and plum. You got this.
The Tightliner That's Not a Pencil
Unlike other tightliners, which come in a pencil format, this one is more like an ultra-pigmented eye shadow, but drier and more intense. The old-school "cake" formula makes it the most smudge-proof and transfer-resistant of liners. To use it, dip a flat eyeliner brush into the compact and then gently press it into the roots of your lashline, using small back-and-forth motions. If you do it right, you'll be "wiggling" your way across the lashline.
The One That's a Whole Look
This gel pencil gets you so much color in the tiniest swipe that one go-around is all you need to create a striking eye look. But should you want to channel your inner Mother Makeup and play, this soft formula allows for a solid amount of freestyling on your end before it sets. Do a little smudging then stand back and marvel at what you've created in a matter of minutes.
The One That's Made for Friday Nights
If you're ready to party, this newcomer from Glossier is too. It comes in a wide range of fun colors (an eggplant "Rococo"; a grey-blue "Patina") in a paintlike matte finish that's water- and transferproof. The easy, high-pigment glide makes this pencil well-equipped for on-the-go and last-minute applications. Keep a few in your purse for when your plans change.
The One That's Ergonomic
You may have caught wind of Guide Beauty via Selma Blair, who serves as the brand's chief creative officer and regularly serves up application tips for the line of accessible beauty products. This duo includes a pot of long-wear cream eyeliner and a weighted wand with a precision-tip applicator that helps make wings and tightlines easier for those with tremors or shakiness.
The One That Seriously Stays Put
If raccoon eyes and Kardashian tear-wiping after every yawn are the bane of your existence, consider this gel liner that simply doesn't budge. It glides on smoothly with minimal tugging on your lids, though reviewers note it doesn't give a super-sharp or precise line like some other liners might. The formula is waterproof and transfer resistant though, which drastically cuts down on periodic mirror checks and panicked under-eye dabbing. If you do plan on full-on crying in a confessional though, maybe top your liner off with a good waterproof mascara, just in case.
The One That Sets in a Timely Fashion
One of the worst parts of lining your waterline is the part where one finger is hooked on your lower eyelid post application and your other hand is fanning your eye while you hope with every fiber of your being that the liner is finally set. This velvety pencil gets rid of most of that agony because it sets very quickly, so you don't have to worry about transferring a bunch of eyeliner on your eyeballs.
The One That Hydrates
Choose between dreamy shades of burgundy, olive, navy, and more with these highly pigmented pencils that glide on seamlessly. The formula is packed with chamomile extract, vitamin E, and panthenol, which is a hydrating vitamin derived from plants, so it's made with your sensitive eye area in mind. It's also dermatologist and ophthalmologist tested, so you can rest easy applying this to your waterline. Reviewers are obsessed with the consistency and how easy it is to blend.
This article was originally published October 10, 2018. If you buy something through our links, New York may earn an affiliate commission.