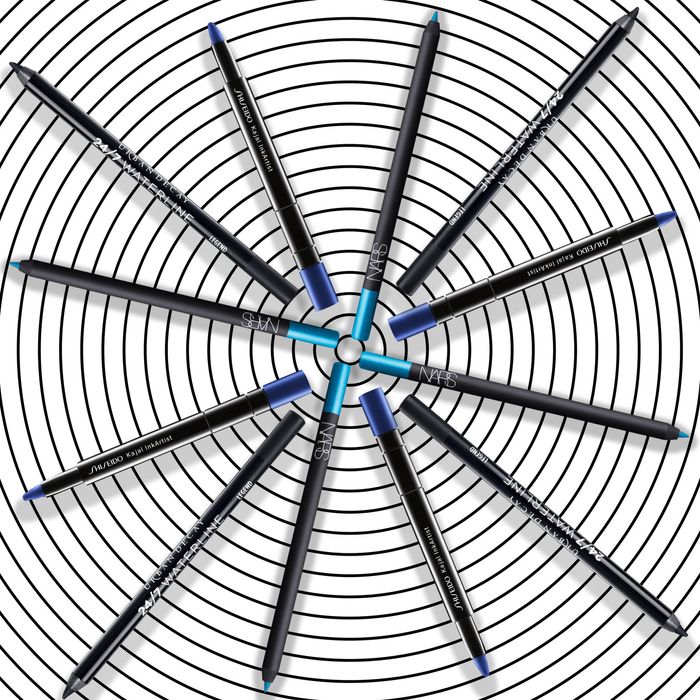 Photo: Courtesy of the Retailer
Eyes are very sensitive. On average, more sensitive than emo skin and even Drake. This is especially true of the eye area we we refer to as the waterline; that thin, wet strip of flesh where the edge of your eyelid hangs out with your eyeball. It isn't particularly fun to touch or think about, unless eyeliner is involved. Lining the waterline with eyeliner and tightlining (lining just the upper waterline to make your lashes look even thicker) are often the keys to a better-than-average smoky eye or getting your eyes to pop (in the good beauty way, not the bad health issue way.)
However, like every other beauty product, not all liners are created equally. You shouldn't repeatedly rub any old pencil or liquid liner on your lashline or your oh-so-sensitive waterline with reckless abandon. You shouldn't rub anything at all! Kohl and Kajal liners with creamy formulas and rounded tips that smoothly glide across the waterline before setting in place are where you should focus your attention. Here are 15 eyeliners with highly pigmented formulas, reliable staying power, and soft shapes that work great for the waterline, tightlining, and even less-invasive, regular eye-lining if you have sensitive eyes.
The One With "Waterline" in the Actual Name
The One That You Can Also Use on Your Brows
This product's tear-proof formula and wide, not-too-pointy point will put any waterline at ease and probably win over the whole upper third of your face in the process. If you're always short on time and have a lot of other things to line — your upper lashline, your lower lashline, your brows — this Kajal and its built-in smudger can get you an entire eye look in one go.
The Smooth Criminal
If you have to fast-forward through the parts in beauty tutorials where the vlogger pulls down her waterline and starts to repeatedly rim it while looking upward because it's extremely unnerving, this pencil is for you. The long-wear formula has one of the smoothest glides and ease during application which means no dragging, skipping, or going back and forth over you work on your poor waterline multiple times.
The Drugstore One
If your main intentions with lining your waterline are to add drama, intensity, and intrigue, this extremely pigmented liner was designed for just that. It only comes in one color, Blackest Black, and it means it.
The One That Comes in a Bunch of Colors
These moisturizing liners are great for waterline lining and tightlining enthusiasts who want to switch things up. The waterproof formula comes in 14 different colors ranging from olive to amethyst, so you can wear a different color on your waterline every day for two weeks if your heart desires.
The One That Sets in a Timely Fashion
One of the worst parts of lining your waterline is the part where one finger is hooked on your lower eyelid post application and your other hand is fanning your eye while you hope with every fiber of your being that the liner is finally set. This velvety pencil gets rid of most of that agony because it sets very quickly, so you don't have to worry about transferring a bunch of eyeliner on your eyeballs.
The One That's Good for Tightlining
If you're also interested in tightlining your upper waterline to get that "invisible eyeliner" look, this rich eyeliner is a good place to start. It's basically everything you'd except from a gel liner, but in a more convenient pencil form and with a tip that's a wee bit pointier so that slides against the waterline without skipping on your lashes.
The One That's Easy to Hold
This chunky Kajal crayon will put your mind at ease if you're biggest fear is a freak eyeliner accident that results in a slip and a poke. The shape of the liner makes it easier to grip, hold, and control than skinnier versions, and the formula housed inside has a melting quality to it the doesn't drag while you swipe.
The One That's Made for Monday Mornings
If you want your eyeballs to look like themselves, only better, try this eyeliner that only comes in one color, and one color, only: waterline flesh color. Its gentle, aloe-infused formula instantly neutralizes any redness when applied to the waterline so you look considerably more awake and alert post-hangover or unintentional all-nighter. If you're feeling ambitious, use it to highlight the inner corner of your eyes and just underneath the brow bone to really brighten everything up.
The One That's Made for Friday Nights
If you're ready to party, this beloved gel liner is, too. It comes in a wide range of fun colors (teal, peach, orchid) in paintlike matte and sparkly shimmer finishes that are never not bold. The easy, vitamin E–enriched glide makes this pencil well-equipped for on-the-go and last-minute applications. Keep a few in your purse for when your plans change.
The One That's Good for a Smoky Eye
If there's anyone who knows their way around a smoky eye, it's Charlotte Tilbury, so it's not that surprising that her kohl liner makes the perfect finishing touch. Applying the highly pigmented formula to the waterline intensifies and pulls all your shadow, liner, and blending efforts together to make it all look like a "look." The formula itself exceeds creamy territory and feels almost silky, which may explain why its creator loves sleeping in her eye makeup so gosh darn much.
The Natural One
Real kohl is illegal to sell in the United States. This pencil, created by Kristen Stewart's makeup artist Jillian Dempsey is the next best thing. It's very pigmented, goes on without tugging, and can be easily smudged at the lash line to create a softer look. It's also "naturally" formulated.
The One That Seriously Stays Put
If raccoon eyes and Kardashian tear-wiping after every yawn are the bane of your existence, consider this gel liner that was specifically designed for the waterline and tightlining. It's water, smear, smudge, and budge-proof, which drastically cuts down on periodic mirror checks and panicked under-eye dabbing. If you do plan on full-on crying in a confessional though, maybe top your liner off with a good waterproof mascara, just in case.
The One That's a Whole Look
This gel pencil gets you so much color in the tiniest swipe that one go-around is all you need to create a striking eye look. But should you want to channel your inner Mother Makeup and play, this soft formula allows for a solid amount of freestyling on your end before it sets. Do a little smudging then stand back and marvel at what you've created in a matter of minutes.
The Well-Rounded One
If you just want to jump in and start lining your eyes without over-complicating everything, Sephora's reliable waterproof liner is a good place to start. It not only comes in a convenient retractable design, it's outfitted with a built-in sharpener and a smudger, and comes in a solid range of easy-to-wear colors like charcoal, chocolate, and plum. You got this.
This article was originally published October 10, 2018. If you buy something through our links, New York may earn an affiliate commission.