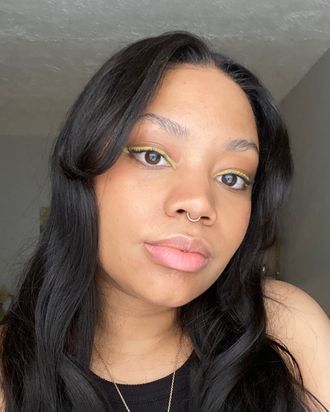 I've been an eyeliner devotee from the moment I was able to perfect the cat-eye look, and I've spent years testing out the best eyeliners to craft the perfect matte black wing or even the occasional pop of color.
Eyeliners wield a special power that a lot of other makeup products don't: the ability to make a huge difference in just a few strokes. The fun part is, there's no one way to do your eyeliner, either. You can do a messy and glittery party-girl look that would rival any character on Euphoria, or you can lean into the clean-girl look and just opt for a simple yet classic cat-eye.
Whatever your look of choice is, I tried and tested probably over 40 eyeliners in the last few years, and just under ten liners in the last few weeks alone. Yes, just like sunscreen, I take my eyeliner very seriously. The criteria for a good eyeliner isn't just how good it looks; it's how easy it is to apply (sans Q-tips cleanup) and how long it lasts. What good is a perfect wing if it's flaking and smearing off in an hour?
The Best For Clean Lines
This liner keeps it clean in more ways than one. With its inky felt-tip, the liner glides perfectly and lasts all day without moving or transferring. The smaller felt tip also allows for the most precise wing so you can create the perfect cat-eye.
The Best Drugstore Color
A color liner can be quite unreliable: It can skip, drag, and leave you pulling at your eyelid to get any sort of pigmentation. Maybelline's Tattoo Studio Gel Pencil is the exception. It applies smoothly and evenly without sacrificing any color or wear.
The Best Eyeliner for Cat-Eyes
Maybelline makes one of the best liquid liners out there. Why? Its ability to give a sharp line. This pen has a supersharp tip and an easy-control grip that helps you create smooth, even strokes. Use it to create a cat-eye, and you'll end up with angles so precise your friends will think you used a protractor.
The Best Drugstore Liquid Eyeliner
In an Ulta review, one woman noted that this liner stayed on during a car accident. "I fell out of a truck going 50 mph," she explains. Even if you don't regularly fall out of trucks, you will appreciate the reliability of this $8 version. The color is intensely black, dries quickly, and lasts throughout both positive and unfortunate situations. The pen version from Amazon is also highly rated.
The Best Drugstore Eyeliner Pencil
This pencil doesn't know the meaning of drag. It glides on smoothly, but it isn't one of those pencils whose tip breaks off if you dare to apply any pressure. In a blind test, we bet you would peg this one as being from a luxury brand, but it's under ten bucks.
The Best Liquid Liner for Jewel Tones
If you want sapphire blue winged liner or a jade green cat-eye, you have to go Stila. No matter the shade, each performs equally well, giving you a vibrant, sharp line of pigment that glides across your skin and stays put. If you want slightly different shades of brown or black, Stila excels at those in liquid formulation too.
The Best Under-the-Radar Eyeliner
In general, you should not sleep on the Sephora Collection. Thanks to Sephora's manufacturing know-how, the entire collection contains very satisfying dupes for high-end products at a fraction of the price. Its eyeliners are reliably long-lasting, come in a ton of fun colors, and cost under $10. The one is particularly nice because it doesn't require any sharpening and doesn't smudge, but also blends easily if you want a softer look (how it manages to do these seemingly contrasting tasks is a mystery, but it works).
The Best Eyeliner for Smoky Eyes
This budgeproof pencil is wildly popular probably because it feels like coloring with an oil pastel instead of a No. 2. The formula is ultracreamy and glides on smoothy, while the color payoff is up there with something more liquid, like a marker. The formula's also simple to play with and smudge out for an easy smoky eye before it sets for the day.
The Best Eyeliner for a Matte Finish
Many eyeliners will claim they're matte, but this one truly is. The super-black liquid liner has a dense but flexible brush ,much like the Pat McGrath Labs one, so you're able to be a bit more creative with your liner. It does dry very fast, however, so move quickly.
The Best Everyday Eyeliner
Tilbury thinks beyond the usual eye-pencil shades, and her unique color blends define eyes in an effortless-looking way. Try the taupe-y Smokey Gray, a nice toned-down alternative to black, or the nude Eye Cheat, which is excellent at dialing down redness in the eye area without looking concealer-ish.
The Easiest Eyeliner
If liquid liners leave you blotchy and pencil liners make your delicate eyelids shudder, this gel liner in a pot will be your saving grace. Use a brush to glide the creamy formula over your lids. It's easy to guide it into hard-to-reach places or paint on cat-eye wings without skips. Once it sets, it stays put with a long-lasting matte finish that has a unique sheen you can't get from a liquid or pencil liner.
The Best Blendable Eyeliner
Shiseido's high-impact shades glide on and are easy to blend into a smoky eye with the attached sponge. Since this is a thicker liner, it's perfect for smudging or creating a bolder, thicker line with the bright shades.
The Best Eyeliner for High-Impact Color
It takes a bit of work to perfect this liner, but the color payoff is definitely worth it. For example, Electric Slide, a matte green, shows up vibrantly without any eye prep or priming. But do you know what's even better? It's long-wearing.
The Best Eyeliner for Pros
If you want something thin and precise, this liner is for you. The brush is small and dense but flexible enough to create thin or thick lines. It's also a true black color that doesn't skip or smear.
The Best Eyeliner for a Hint of Color
This satiny liner comes in a handful of subtle to not-so-subtle shades, including olive, a standout shade of metallic-y green that you should grab if you're looking for an alternative to your standard black. The long-shade glides on and adds just a hint of color without too much shine or sparkle. You can also smudge it out for a smokier look.
The Best Eyeliner for Your Waterline
These creamy liners are great for waterline lining, tightlining, and general design-drawing because they consistently keep their precise shape, no sharpener necessary. The nonirritating vitamin E and aloe-infused formula not only comes in classic black and brown but also lush tones like amethyst and terra-cotta that pop on darker skin tones.
The Eyeliner That Will Never Come Off
This liner lives up to its name, famously staying put during a car accident and a subsequent ride to the hospital. (It's unfortunate that car accidents can be used as a measure of liner durability, but here we are.) If you're prone to blinking immediately after application, you'll appreciate the quick-drying formula. If you have have oily lids, you'll love the way it stays in place throughout the day.
The Best Luxury Eyeliner
Yes, this eyeliner is pricey. However, you get two eyeliners for the price of one. This liner comes with two tips — one bigger and thicker, and the other smaller and finer. Use the thicker side to line your eye in a hurry; use the thinner side to perfect the point and angle of a cat-eye. Both tips are sturdy, and the pigment flows from them as freely as drinks at happy hour (though it also dries very quickly). Once on your lid, it looks thick and expensive and not at all like a magic marker.
The Best Eyeliner for a High-Impact Look
Despite its grip-friendly triangle shape, Rihanna's liquid liner is actually quite well rounded. The shade (called Cuz I'm Black) is super-juicy and delivers an extra-saturated inky line immediately upon contact. There's never any need to go back over your handiwork to get an opaque line, and like other Fenty products (Pro Filt'r, Stunna Lip Paint), this stuff will last you all day.
The Best Liquid Liner for Bright Colors
Stop admiring all those graphic-liner trends from afar and pick up this Japanese liner pen. It has such a precise point (created out of five types of custom-made fibers that mimic hair cuticles) that you'll find yourself taking your liner to places it's never been before. It's notoriously difficult to make a liquid liner in a bright color, and these come in a palette worthy of van Gogh, with shades ranging from electric blue and soft yellow to seven different kinds of black.
The Most Reliable Eyeliner
There's good reason this pencil is a longtime favorite. It goes on as smoothly as a roller-ball, smudges in really nicely, and packs a bold punch of pigment, which is why it still stands the test of time.
The Silkiest Eyeliner
The formula of this pencil might not have actual silk in it, but its name fits because it does have a very silky texture. A quick sketch along the waterline or beneath the lower lid proves it. It comes in eight shades, bearing names that represent the brand's botanical bent, like Black Forest and Jasper.
The Best Clean Eyeliner
Makeup artist Jillian Dempsey is a leader in the clean-makeup movement, so she kept all preservatives out of this pencil (which means you need to sharpen it often to keep it fresh!). Dempsey created the velvety texture by loading it with jojoba oil, shea butter, and marula oil. Thanks to a built-in sponge tip, smudging this one is extra easy.