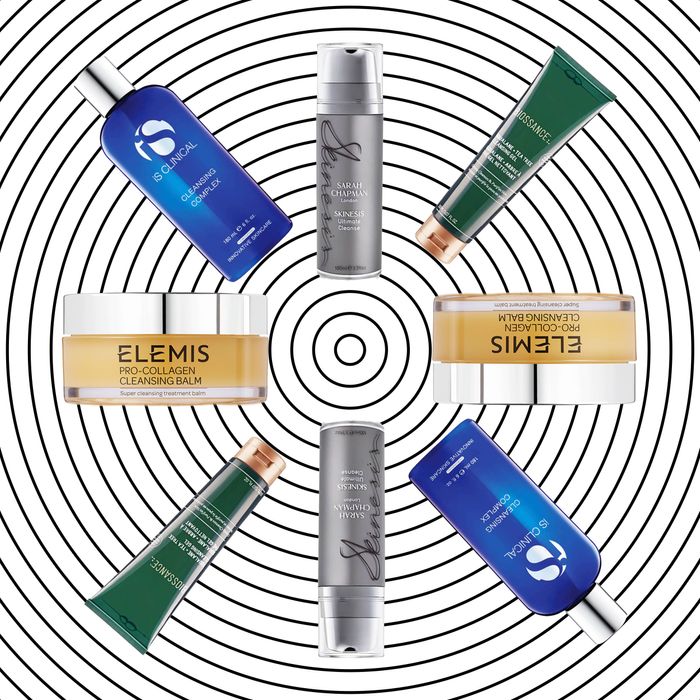 Photo-Illustration: by The Cut; Photos: Retailers
Cleansing is the first step of any solid skin-care routine, so it's important to find a cleanser that knows what it's doing, especially if you want to set the rest of your products up for success. No one wants to emerge from crouching over the sink with skin that feels tight, stripped, or irritated. Here are 21 effective face washes and cleansers that have a reputation for leaving skin feeling immaculately clean, nourished, and ready for whatever's next.
The Best Drugstore Cleanser
Non-offensive, readily accessible, and transcendent of both time and trends, Cetaphil's gentle formula has cult status. It's humbly effective, works on every skin type, and is beloved by all: dermatologists, famous people, and real-life people with good skin.
The Best Fancy Cetaphil
This feels like the fancy version of Cetaphil. It's very, very gentle and designed to not be irritating to even very sensitive skin types. If you don't wear makeup often and want a light cleanser, this is for you.
The Best Cleanser for Removing Makeup
Technically it's not a face wash, but why do we have to follow every single rule anyway? This is a perfect makeup remover that dissolves even the most waterproof of makeup with a few swipes. (For particularly stubborn mascara, put it in a pad, leave it in place, and give it time to work.) It feels just like water, which is ideal when you're too lazy to splash actual water on your face.
The Best Face Wash for Sensitive Skin
This antioxidant-packed, fragrance-free cleanser is loved by both dermatologists and owners of sensitive, finicky skin for its ability to cleanse while calming irritation. The pH-balanced formula is infused with soothing aloe. It whips into a lovely, lightweight cream that helps maintain the skin's natural acidity, so flare-ups become less frequent and skin stays protected and supple.
The Best Face Wash for Acne-Prone Skin
If you have skin that's prone to breakouts, you don't want your cleanser to do too much. You want something that does the job without disrupting the situation, like stripping skin to severe dryness or, conversely, leaving an oily residue behind. Biossance mixes its signature ingredient, the weightless moisture provider squalane (which is in every one of its products), with calming tea tree oil, which also provides the anti-septically soothing scent in this gel formula.
The Best K-Beauty Face Wash
This multitasker removes makeup and gently cleanses, all while feeling like a dessert for your face. The soft, sherbet balm texture melts into a heavenly oil once it hits the skin, then transforms again into a gentle milky cleanser once water is introduced into the mix. You're left with soft, makeup-free skin and a facial massage you didn't know you needed.
The Best Foaming Face Wash
The refreshing gel formula is soap-free and naturally foams on its own (thanks to an ingredient called quillaja saponaria, otherwise known as soapbark.) It thoroughly rinses away the day's debris without taking all the moisture in your skin with it.
The Best Charcoal Cleanser
This luxurious gel cleanser gets you a two-step double cleanse in a single pump. The photogenic beads of black charcoal draw all the gunk out of pores, while fruit enzymes smooth your skin and a kale protein blend leaves everything feeling nourished. Your face will feel fancier than usual and squeaky clean, but not the least bit taut or stripped.
The Best All-Purpose Face Wash
This silky gel cleanser is so well rounded, it'll fit right in with any skin-care routine, whether it's 3 steps or 15. It has a low pH, which means it keeps your moisture barrier undisturbed, and it has the perfect mix of cleansing ingredients (natural Coco-Glucoside and Tea-Cocoyl Glutamate), hydrating ingredients (cucumber and hyaluronic acid), and soothing ingredients (chamomile and camellia). It will leave your skin feeling chill and open to the next steps in your skin-care routine.
The Most Nutritious Face Wash
Does your skin feel like it's missing a little something-something lately? This refreshing gel wash contains a healthy dose of probiotics, omega fatty acids, and vitamins that make your face feel nourished and much more balanced. Fittingly, it has a nice, silky texture that feels more like a serum than a stripping soap, making it the perfect final step in a double cleanse.
The Best Cannabis Face Wash
This cleanser has a creamy texture and optimistic scent (from green oregano oil) which also helps relieve problem skin (the salicylic acid in the formula helps with that, too). Of course, its hero ingredient would be the cannabis sativa seed oil. True, it might not provide any actually psychologically calming effects, but when your skin feels soothed, you feel soothed.
The Face Wash You Can Use To Shave Your Legs
Austin–based celebrity facialist Renee Rouleau tends to the skin of Demi Lovato and Busy Philipps. She's all about maintaining skin's moisture barrier, and this gel-to-milk formula is part of that plan. Glycerin and apricot extract help keep moisture levels in line, while aloe vera extract soothes and hydrates — so much so that leg-shaving is a popular hack with this one.
The Best "Clean" Cleanser
Seattle–based dermatologist Heather Rogers created this after seeing patients' skin react adversely to Aquaphor (yes, people can even develop sensitivity to that). This oil-free cleanser is her solution to standard face wash that might be too stripping. It's sudsy enough to remove makeup in a formula that relies on eight ingredients, led by aloe barbadensis leaf juice and glycerin.
The Facialists' Favorite Face Wash
This botanical cleansing milk is beloved by so many facialists, including Joanna Czech, Aida Bicaj, and Karine Kazarian. They appreciate its gentleness, its brightening properties, and its ability to wash away pollutants. And since it has a consistency not unlike milkier Half & Half, using it does feel like a nurturing treat.
The Celebrity-Favorite Face Wash
This blue bottle appears in many a celeb skin-care shelfie because it keeps skin bright and blemish-free behind the scenes. It's a gentle but mighty mix of willow bark (a form of exfoliating salicylic acid), which breaks up pore-clogging oil and encourages cell turnover, and antioxidants, which protect skin from free radicals and make it glowier and glowier over time.
The Face Wash That Feels Like a Blanket
This delightfully rich balm is kind of like a quick version of a paraffin treatment, but without the wax or overheated burn potential. When you massage it into your skin, it feels temporary wrapped in blanket of soothing, hydrating ingredients. Even the removal (which Elemis recommends doing with a damp cotton cleansing clothing) has a ritualistic quality, which leaves skin feeling hydrated and with a newfound bouncy texture.
The Best Oil Face Cleanser
This is the gold standard of fancy oil cleansers, with over a thousand Sephora reviews and close to five stars. The oil doesn't feel greasy but smooth and silky, and combines with water to create a gentle, thorough face wash that won't irritate the skin or leave a weird film.
The Smoothest Face Wash
The texture of this cleanser feels like the kind of fancy butter served in a dish. Your face isn't toast, but you'll still like the feeling of gently massaging off all the makeup and grime. (Make sure you start with a dry face). Add water to turn it into a satin-y feeling mixture that rinses off to give you soft, clean skin. For these reasons, it's one of the most-mentioned products in our Auto Refill series.
The Duchess-Approved Face Wash
Meghan Markle loves this cleanser. The texture of this balm is so sleek, plush, and luxurious that perhaps it helps her forget, for a moment, about the British tabloids and what mean people are saying about her on the internet. It's also a very thorough face cleanser — you don't need to double-cleanse when using this. Just once is enough for fresh, de-grimed skin.
The Best Luxury Face Wash
Vogue once called this the "best face cleanser in the world." It's the OG balm cleanser, the first to launch during a time when all face cleansers were foaming. And it continues to be a favorite, even though its practices can seem somewhat old-fashioned and quaint — it doesn't foam, it smells vaguely medicinal, it comes with an eight-page foldout of lymphatic drainage massage techniques, and you must use a muslin cloth to rinse it off. If you want a quick clean, this isn't it. But if you want a ritualistic clean that feels like you're washing off the stress of the day along with the dirt, try it.