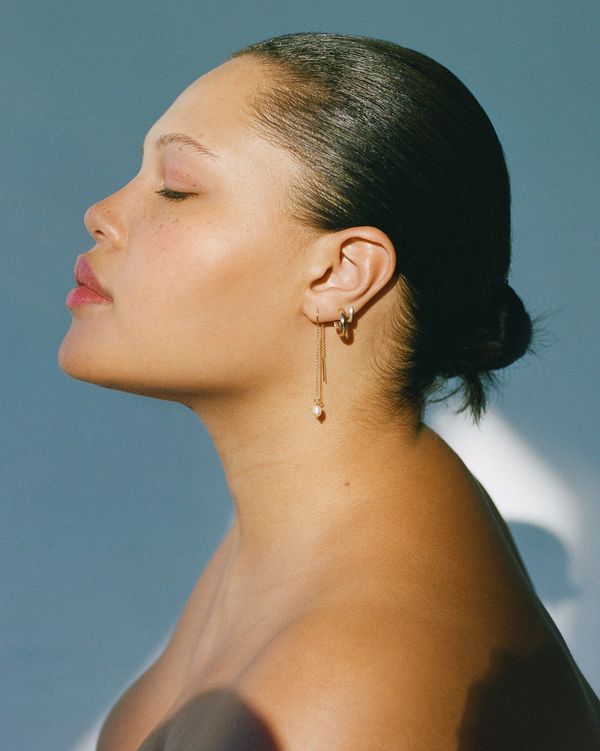 In the old days, exfoliating your face was about as delicate a process as resurfacing your floors. But the newest generation of products lets you achieve clear, smooth skin without rubbing it raw.
There are two kinds of exfoliators. Physical ones slough off dead skin cells using teeny-tiny grains or granules of some type, while chemical ones do it using face acids. Both will give you softer skin, lighten acne scars, and improve skin texture without making you red or creating wrinkles in the process. The market has a ton right now, and we've probably tried most of them. Below, we've rounded up the best ones for creamy, velvety, bump-free skin.
The Best Drugstore Exfoliator
You might associate salicylic acid with zits. And that's true — it's the face acid recommended most for acneic skin, because of its abilities to scoop out dirt and grime from clogged pores. But it can sweep away dead skin cells, too. This cleanser contains salicylic acid as well as ceramides, so it'll keep your skin moist and make it smoother in the process. It's fragrance-free and has close to 3,000 five-star Amazon reviews. It can be used on the body or the face (reviewers say it also does great things for keratosis pilaris a.k.a. chicken skin). – Kathleen Hou, Beauty Director
The Best Affordable Exfoliator
Trust the Ordinary — the minimalist, direct-to-consumer Everlane of skin care — to make exfoliation easy. This is made of straight-up glycolic acid, one of the smallest types of acid molecules, making it incredibly effective because it can penetrate the skin so well. It's also wildly affordable. – K.H.
The Non-Scary Exfoliator
If you'd like to try a chemical exfoliator but are just too scared, start here. Created by Australian former beauty editor Zoë Foster Blake, each pad comes pre-soaked in a nice blend of AHAs and oils, so it exfoliates your skin without giving you any sort of bad tingly feelings. That doesn't mean it's any less effective, though — you'll still get dewy looking skin, even if the results come at a slightly slower pace. – K.H.
The Very Intense French Exfoliator
This is an extremely potent chemical exfoliator — so much so that beauty editors refer to it as "Jesus in a bottle." There are seven different P50 products, all with slightly different names. The original is the strongest but may not be best for sensitive skin. The skin-care obsessives on Reddit consider P50 PIGM 400 a holy-grail product because it's gentle yet sturdy — ideal for people with hyperpigmentation issues and those who struggle with skin tone. – K.H.
The P50 Dupe
Considered a gentler dupe to P50, this has cult status in the U.K., where it's often sold out. With 5 percent glycolic acid, it's strong enough to be effective but not irritating. Former Cut beauty editor Ashley Weatherford swears by it. (It comes in a more potent pad form as well.) – K.H.
The K-Beauty Exfoliator
This is a great introductory exfoliating toner — perfect if you're nervous about using anything too strong. The gentle formula contains willow bark water and glycolic acid. It also comes in an easy-to-use spray bottle, so you can spray it directly onto your face. – K.H.
The Exfoliator for Acne-Prone Skin
Created by cosmetic cop Paula Begoun of Paula's Choice, this is perhaps the product used most by Cut editors. With a mix of beta-hydroxy acids (a category of acids known for "de-gunking" or cleaning out pores), it keeps skin clear and bright. – K.H.
The Gentle Meghan Markle Exfoliator
This very gentle physical exfoliator from Tatcha comes in an easily transportable powder. Add a little water and the formula transforms into a milky lather with grains of soft Japanese rice bran. The grains are so delicate that you might wonder, Is this even working?, but the proof is in the aftermath, when your skin will feel soft and not at all tight. It's also a favorite of Meghan Markle (she gave it to guests at her baby shower). – K.H.
The Cate Blanchett-Approved Exfoliator
This exfoliator has a similar texture to Tatcha's and very similar ingredients — and it also has the endorsement of Cate Blanchett, patron saint of perfect skin. Like Tatcha's, it uses rice bran to exfoliate but adds a blend of salicylic acid (most commonly seen in acne products) and soothing, anti-inflammation ingredients like green tea and colloidal oatmeal. Because it comes in a powder, it's great for travel. – K.H.
The One With 5 Stars at Sephora
This cult serum is another great chemical exfoliator, with almost 1,000 five-star reviews at Sephora. If you're wondering what gives the product its yeasty smell, that would be lactic acid, the star ingredient. A potent acid that's less irritating that glycolic acid, it's derived from milk and comes with great humectant moisturizing properties. – K.H.
The "Natural" Exfoliator
If you're a fan of "natural" skin care, you're probably already using this or any of the many other well-loved products in Drunk Elephant's range. This is a liquid exfoliator serum designed for nighttime and packed with a dream team of starter acids such as glycolic, lactic, tartaric, citric, and salicylic. Don't worry: Despite it all, your skin won't peel. Instead, you'll see smoother skin and diminished acne scars over time. – K.H.
The Best-Smelling Exfoliator
If you're into clean skin care and have skin that's too sensitive to use acids, try this. You can add it to an existing cleanser as a sort of a booster shot. Mix a little into your palm like you're pouring salt from a shaker, and it will turn into a gentle froth. Use it enough, and you'll have a face that feels like a baby's bottom and smells like freshly baked strawberry rhubarb pie (and not in an artificial way, either). – K.H.
The Scrubbiest Scrub
If you still like a scrub that feels like a scrub, this one won't hurt your skin. It contains tiny micro-exfoliants, rather than larger granules. Key ingredients are hydrated silica to slough away the dead skin, glycerin which draws moisture into the skin and soothing aloe leaf extract. It's a reviewer favorite with hundreds of five-star reviews for how gentle and hydrating it is. – C.R.
The 60-Second Exfoliating Cleanser
Fans of the Milky Jelly Cleanser will enjoy this deeper cleansing exfoliator. The key to making this blend of gentle exfoliators (lactic and malic acids) work is the 60-second rule. Not familiar? The concept popularized by aesthetician Nayamka Roberts-Smith is simple, cleanse your face for a full 60 seconds instead of your usual rush and rinse. In that time, the foamy cleanser works into a rich lather, buffing away dull skin and moisturizing. – C.R.
The Slow-But-Steady Exfoliator
If you want something gentler and less expensive (by half!) than the P50 and Drunk Elephant, this is a good bet. It contains a blend of exfoliating acids like lactic and azaleic, which will work steadily (albeit slightly more slowly) to polish and gently slough off dead skin. – K.H.
The Best Exfoliator For Makeup
Created by Kate Somerville — one of the busiest facialist in L.A. come awards season — this is a blend of chemical and physical exfoliators. The formula is made up of grains plus nearly every botanical ingredient you've ever heard of (honey, papaya, pumpkin ferment), like some kind of Sweetgreen seasonal special. On Sephora, where it has over 2,000 five-star reviews, fans rave about how it turns skin into a smooth canvas for seamless makeup application. – K.H.
The Tik Tok Viral Exfoliator
This mask has gone viral on TikTok, racking up thousands of views and likes with reviewers for its glossy, glass skin finish-like results. The weekly mask is a powerhouse blend of chemical exfoliants (lactic, glycolic and salicylic acid) and enzymes. As the name implies, the mask promises the kind of results you'd expect from a pro in two to three minutes, with instantly smoother, brighter skin. While it's not ideal for sensitive skin, reviewers say that it didn't irritate their skin and sloughed away their dull skin leaving their faces brighter and softer. – C.R.
The Classic Peel
Despite the scary-sounding name, this is really just an effective exfoliant that works to gently dissolve (not peel) dead skin cells. The results are instantaneous, which is why this peel has developed a big following — cult status, really — since it first launched many years ago. This is the original version, but there are additional version now, including one for sensitive skin. No matter which one you try, the reviews all praise it for delivering soft, smooth skin. – K.H.
Pharrell William's Approved Exfoliator
With the launch of his brand Humanrace, Pharrell Williams finally gave the people what they wanted: the secret to his ageless skin-care routine. As it turned out, one of his secrets was "exfoliating like a madman" and rinsing with cold water. The buzzed about Lotus Enzyme Exfoliator packs the power of 8 percent glycolic acid, AHAs derived from fruit, micro exfoliating rice particles and exfoliating enzyme. So you too can exfoliate like a star. – Chinea Rodriguez, shopping writer
This article was originally published on January 18, 2018. It has been updated throughout. If you buy something through our links, New York may earn an affiliate commission.