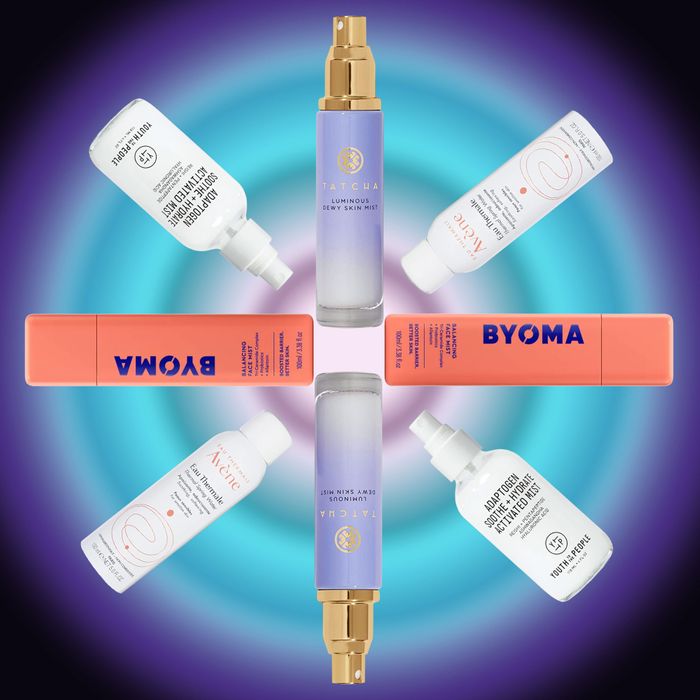 Photo-Illustration: by The Cut; Photos: Retailers
For more of the Cut's favorite fashion, beauty, and home finds, sign up for the weekly Cut Shop Newsletter.
Of all the possible skin-care steps, a face mist may seem the most frivolous. But unlike Big Water bottling and selling something that doesn't need to be bottled and sold, there's real merit to many face mists on the market. To walk through life with an unrelenting veil of hydration surrounding your face? It's not just the stuff of mermaid dreams.
FAQs
"A face mist is typically a water-based spray that is super lightweight but packs a punch of hydration along with some other benefits depending on the ingredients," says Sephora beauty director David Razzano. What exactly are those benefits? Humectants and emollients, according to Hadley King, M.D., F.A.A.D., a board-certified dermatologist in New York City. You'll find ingredients you'd expect in your daily moisturizer or serums, like water-loving hyaluronic acid, smoothing niacinamide, and hydrating plant- or marine-based extracts like aloe vera and trehalose.
When do you use a face mist?
Face mists are multitaskers that can be sandwiched in your current routine, either as a foundational step post-cleanse or to prep the skin for each new product applied on the face, notes Taylor Worden, celebrity esthetician and founder of Taylor Worden Skin. They can also be helpful in applying makeup like a pro; Razzano says to spritz your foundation brush with a face mist for smooth, blended application. Be warned: You'll want to avoid using a face mist that's entirely (or largely) comprised of plain ol' water as the last step in your routine. If it's not encased in something occlusive (like a moisturizer), the water will do its thing and evaporate — leaving your skin tight and more irritated than before. If you are looking to spritz whenever, wherever, make sure you look for those aforementioned skin-nourishing ingredients, oil-inclusive formulas, and ones that avoid alcohol, which can dry the skin out.
How does a face mist differ from a face essence?
Dr. King says essences are designed to work as part of a regimen, whereas a mist is more of a stand-alone product. "It can be used at any time, regardless of what other products you have used," Dr. King says. Another obvious difference is in their application: Mists are sprayed, and essences are applied with a pad — or dribbled unceremoniously onto your face. And while neither would likely be considered the building blocks of your routine, they both may cause you to cross the skin-care Rubicon. Once you introduce a face mist to your life, you'll be hard-pressed to revert back to a pre-sea-sprite existence.
The one that started it all
The thing about French pharmacy brands is that they're simple and effective. While this appears to be humble water masquerading as skin care, it's actually boosted with minerals that are clinically proven to alleviate inflammation in people with atopic dermatitis. Legend (the brand) says Avéne's thermal spring waters even cured a horse with alopecia, so if you're someone with sensitive, irritated, or chronically inflamed skin, this will be your new beauty work … horse. Just make sure to layer it under a moisturizer to prevent drying.
The irrigation for your face
But in an elegant way. This is Razzano's "all-time must-have." He says that it gets you clean ingredients at a great price and that the formula is extremely effective: "It instantly hydrates the skin 127 percent, but it also is incredibly soothing — I call it the 'fire hydrant for your skin' because if I am working on a model and her skin becomes red or irritated, I immediately use this to calm the skin down fast, reducing the redness and still moisturizing along the way." Much like Avéne's thermal spring water, this one bottles up mineral-rich water that contains properties like polysaccharides to deliver moisture to the skin.
The one to wear over your makeup
If face mists weren't multitasking enough, Charlotte Tilbury decided to take it a step further. Dr. King recommends this product and describes it as a lightweight hydrating mist that contains aloe vera (to soothe and hydrate), green tea extract (an antioxidant with anti-inflammatory properties), and triglycerides to support the skin barrier. It also creates a comfortable sort of cast over your face to lock your makeup into place without feeling like you're covered in Saran wrap.
The best drugstore face mist
The worst thing about a face mist is that if the applicator is bad, you can wind up wasting a lot of your fancy liquid. You don't have to worry about that with Byoma's Balancing Mist. Not only is it a more affordable option, but it delivers an even spray to fully saturate your face without leaving large water droplets on your skin (it sounds sexier than it actually is). It also includes key ingredients that would be familiar to you if you have dry skin: a ceramide complex and allantoin, which work to restore your skin barrier.
The luxury face mist
An ultrafine mist, a floral water base, and a composition inspired by a history-making perfume — casual skin-care things. Dr. King likes this mist for its inclusion of "mineral-rich Hungarian thermal water, as well as humectants like glycerin to hydrate and emollients like phospholipids to support the skin barrier." It does include a delicate neroli and rose fragrance, so it may not be suited for the most sensitive of skin types out there.
The one for happier skin
If your skin is constantly in a state of rage (see: breakouts, eczema, and general redness), prepare for an (un)healthy attachment to this Tower 28 SOS spray. Aptly named, it's designed to chill the skin out by using hypochlorous acid, a skin-balancing ingredient that breaks up bacteria on your face.
The celeb-backed one
Not one but two celebs have called out this mist in their Vogue "Beauty Secrets" videos — and so has Nicole Kidman, according to the brand. This is a botanic-packed mist that smells like a garden and feels like the morning dew in said garden. It includes a trifecta of floral extracts, including stone crop, lavender, and jasmine, which are meant to hydrate, soothe, and nourish the skin.
The glass-skin one
Razzano calls this the ultimate mist for dewy, glowing skin. He says the combination of Okinawa red algae (with hyaluronic acid), botanical oils, and Tatcha's well-aging complex creates a mist that gives you plump, radiant, and luminous skin. "It's wonderful to use over makeup to help prevent caking or cracking throughout the day," says Razzano.
The one with adaptogens
If you exclusively thrift and make your own oat milk at home, we think you might be into this mist. It's a favorite of Razzano, who says the two adaptogens — ashwagandha and reishi — work to cleanse, hydrate, and flush the skin with antioxidants, amino acids, and iron ("all of which helps to prevent the signs of premature aging"). It also comes in clutch when you want to mist throughout the day. "The formula can penetrate through makeup without disturbing it," says Razzano.
The one that's actually a sunscreen
Leave it to a dermatologist to recommend a sunscreen face mist. Because if you're going to be reapplying anything during the day, it better have some SPF in it. Nava Greenfield, M.D., a board-certified dermatologist at Schweiger Dermatology Group in New York City, likes that Habit offers an easy way to add protection over makeup or when your two hours are up and you need to reapply your sunscreen anyway. (Her favorite SPF 41 product is out of stock, but the next-best SPF 39 is up for grabs.)
The spa in a bottle
If you remember the pure class telegraphed by pulling a bottle of rose water out of your backpack and elegantly spritzing it on you and whoever was sitting next to you in class, think of this as the grown-up (and way more hydrating) version. It's packed with botanical oil extracts that you can see rise to the top of the bottle, which is generally a good indicator of a nondrying mist, and includes glycerin, a hallmark humectant. The elixir happens to also be the paragon of what a spa should smell like.
The dewy one
Another indicator of a nondrying mist is the exclusion of alcohols commonly used in skin care. While it's perfectly normal to see them in other steps of your routine, the alcohol can be drying if you're spraying willy-nilly throughout the day. Worden likes this one for its inclusion of aloe vera, witch hazel (to calm), and reishi mushroom.
The one that's secretly an essence
Dr. Greenfield's other favorite is essentially an essence bottled up as a mist. She says the Tata Harper formula has rose, lavender, and a floral mix that "provides nourishing hydration to the skin and can be used throughout the day for dry skin."
Experts