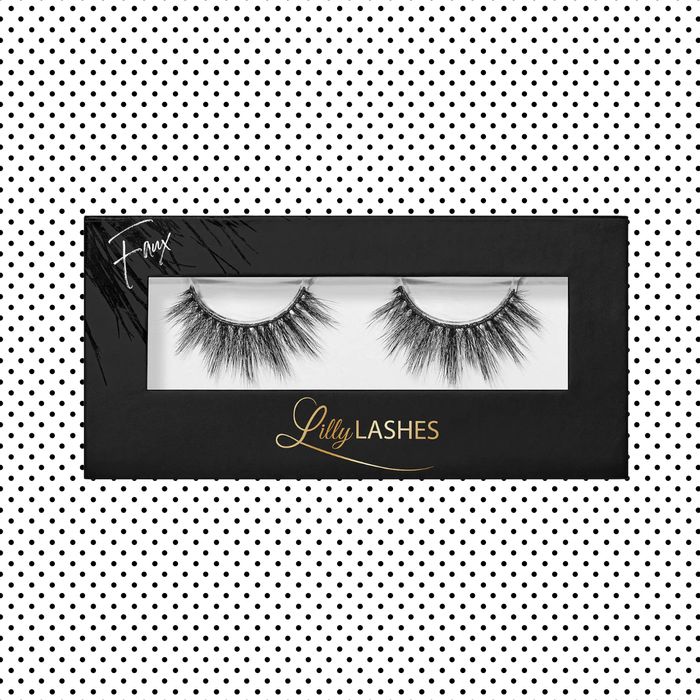 Photo-Illustration: by The Cut; Photo: Retailer
In the late 1800s, people were so obsessed with long eyelashes that they would sew them onto their eyelids using a needle and thread. (To make this slightly less painful, they rubbed on a cocaine solution beforehand.) Nowadays, the obsession with long, fluttery lashes remains, but with a lot less suffering. Today's fake eyelashes can be applied using a simple adhesive, and they're available from naturalish to full-out drag queen. We rounded up the best ones, relying on both online reviews and input from makeup artists Katrina Klein, Benjamin Puckey, Robin Black, and Porsche Cooper.
What are the types of false eyelashes?
The main ones include strip lashes, individual flares, individuals, and corner lashes, according to Klein. "Strip lashes are mainly used for a more glam look and are generally easier to put on yourself," she says. "Individuals are used when you need to fill in but don't want a full glam look. I prefer them because you can really tailor them to the eye shape." And true to their name, corner lashes are for lifting the outer corners of the eyes.
How do you apply false eyelashes?
Klein suggests measuring the lash first to make sure it isn't too long. "Always trim from the outer corner — not the inner corner — so it isn't sharp," she says. "Once that's done, bend the lash so it's in a half-moon shape and flexible." You'll apply the glue in a thin line adjacent to your lashes and make sure it has dried for 30 seconds. Start by placing the lashes on top of your natural ones and then hold the corners down for longer to make sure they're secure.
A useful item when applying strip lashes are lash applicators, which are shaped like tweezers, but with a long, flat edge to grip the lashes and hold them in place until the glue dries. Klein also says that when it comes to applying individual lashes, use actual tweezers for more precision. When it comes to tools, she recommends the House of Lashes applicator and Sweed tweezers, and for glues she uses Duo and Callas eyelash adhesives (the latter if you have a latex allergy).
Read on for the best eyelashes from drugstore to luxury, and get ready for lush falsies with minimal fuss.
The Best Repeat-Wear Clusters
The brand was created by makeup artist Gabriella Elio, and this specific product is one of Klein's favorites. The falsies are clusters that come in various lengths that you can wear up to ten times, and the band is made of a translucent cotton so it's more comfortable on your lash line while still staying invisible. Fill your lashes in as much or as little as you want and then save them in the compact case after removal for use later.
The Best Affordable False Eyelashes
Ardell makes some of the best affordable fake lashes. They're beloved by makeup artists, cruelty free, and all priced under $7. Makeup artist Benjamin Puckey, whose clients include Tracee Ellis Ross, especially loves No. 174. He says, "It has slightly longer hairs but also flares toward the end and gives a beautiful, sultry eye." His tip for Bambi lashes is to apply mascara to your natural lashes before adding falsies, then do another coat to combine the falsies with mascara — but only at the root. "I never like the look of false lashes with mascara applied from root to end, because it takes away from the featheriness," he says.
The Best False Lashes at Sephora
If you want the dramatic lash look of a reality star, you'll love these, which were developed by Bravo star Lilly Ghalichi. (J.Lo and Kylie Jenner have also worn them). Unlike other false lashes, these are exceptionally long and full. They also have a slight variation in length and taper slightly at the ends, so they look more "natural." They're Sephora's best-reviewed lash, with up to 1,000 reviews. Although they're more expensive than a drugstore lash, the brand claims they can be reused up to 25 times.
The Best False Lashes on Amazon
These lashes have the best reviews (over 1,000 of them) on Amazon, with reviewers praising them for being super long and fluffy, giving a flirty look. They're also noted for being so lightweight that you'll forget you're wearing them. And three pairs cost just under $6.
The Best False Eyelashes for Lifting
Puckey says, "I mostly work with false lashes that support the natural lash and have wispy, slightly irregular hairs with tapered ends that mimic natural lashes. I found my favorite lashes through trial and error! The Velour 'Would I Lie' lashes are perfect because they lift the eye with longer flared lash hairs toward the end." Because they have a crisscross formation, they look dense at the root and lighter at the ends, so they won't weigh down the eye. Klein also recommends these for the thin band that easily blends in with your natural lash line.
The Best False Eyelashes for Zoom
Makeup artist Porsche Cooper, whose clients include Mary J. Blige and Joan Smalls, has been wearing the lashes from Black-owned business Camara Aunique. She likes that they're both natural-looking and glam, explaining, "I've been using and reusing her eyelashes for my Instagram Live series and for Zoom meetings, so I can attest to how fabulous they are. They do not disappoint!" She adds, "The bands on these lashes are superior — they are invisible and Über-flexible, which allows for an easy and seamless application on the lash line without the need for eyeliner."
The Best False Eyelashes for a Cat Eye
Makeup artist Robin Black of Beauty Is Boring loves these lashes for editorial shoots and red-carpet events. Made of cruelty-free synthetic fiber, each lash is handmade, with hairs of different lengths. These lashes gradually increase in length ever so slightly toward the end of the lash, creating a cat-eye effect.
The Best Clusters
If you speak fluent M.A.C, you'll know these as the 33, the brand's best-selling false lashes. These are clusters of lashes which vary in length, so you can add them from the inner to the outer corners of your eye. They have tons of five-star reviews that frequently mention the word compliments.
The Best Underlashes
Strip lashes (the kind that come in a band) go over your natural lash. But if you're a real professional, you'll also apply little clusters of lashes on the lash line or under your lash line, close to the waterline, to make it look fuller. Lashes that go on your waterline are called "underlashes," and this kind is Puckey's favorite. He explains, "I have been using the Dolly Wink 5 Real Nude underlashes for years now. I love the transparent band and how natural they look when applied. It's so hard to find beautiful underlashes!"
The Best Luxury Lashes
If you really miss eyelash extensions, these are as close as you can get. They've become a favorite of makeup artists, and celebrities such as Lupita Nyong'o and Charlotte Casiraghi have worn them to the Met Gala. The kit contains clusters of "underlashes," a mascaralike adhesive, an applicator, and sealant. There's a slight learning curve to using them, but lots of YouTube tutorials and articles exist to help, and plenty reviews say the easy look and the before-and-after results have them "hooked." Unlike most false eyelashes, these are designed to be safely worn up to seven days. If you choose to wear them that long, you'll have to be careful cleaning around your lashes — but if you're an extension devotee, you're already used to that.
If you buy something through our links, New York may earn an affiliate commission.