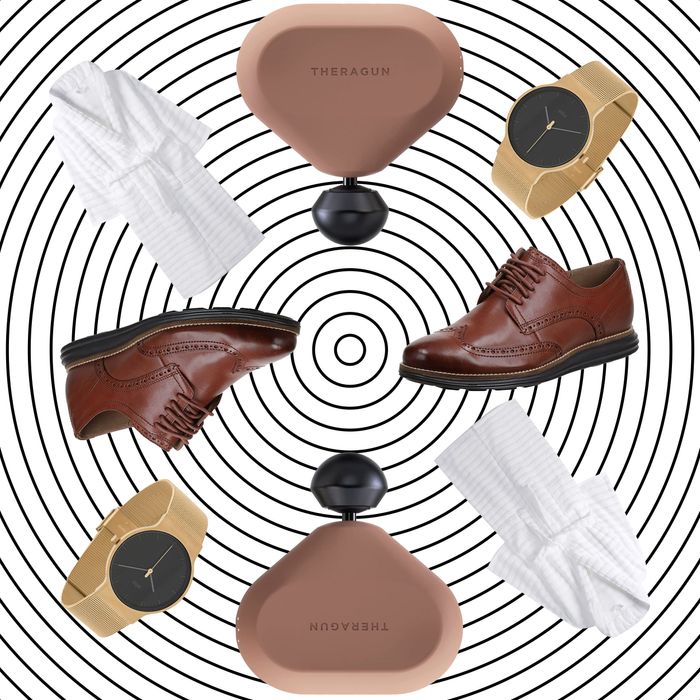 Photo-Illustration: by The Cut; Photos: Retailers
Shopping for dads and the other men in our lives can be hard. They may be a little shy about mentioning it, but men love cool stuff just as much as the next person. With Father's Day quickly following Mother's Day, we're sure he's expecting something just as cool — or just as cozy — as what you gifted Mom. Yes, dads love robes too, so don't leave him out!
We've rounded up the best Father's Day gift ideas for literally every kind of dad. From the best grilling gadgets for the dad who loves to grill and cook to a coffee subscription service for the dad who recently retired and is really enjoying his leisure time with his trusty cup of joe, scroll to shop all our picks below.
For the Dad on the Go
No more excuses for skipping breakfast: This sandwich-maker lets him easily cook up eggs, meat, and bread in one go. Don't worry, it's even easier to clean.
For the Dad Who Likes to Work Out
Whether he loves hitting the gym or just has a bad back, this portable, quiet massage gun is perfect for soothing aching muscles.
For the Dad Who Loves to Grill
This set has everything he needs to fire up the barbecue and more — including a bag to take his favorite tools on the go. You never know when grilling duty will call.
For the Dad Who Really Loves to Grill
Make sure he's prepared to grill any time or place with this portable model he'll want to keep on hand for camping and tailgating ventures.
For the Dad Who Needs New Clothes
This lightweight jacket made of organic cotton is the perfect addition to match everything in his closet.
Available in sizes XS to XL.
For the Dad Who's Over Old Spice
Whether you're buying a gift for a new dad who wants to keep things fresh or a seasoned dad who's due for a change, this crisp, woodsy deodorant is a sure thing.
For the Photographer Dad
For all those photos of the kids he's endlessly snapping.
For the Dad Whose Phone Is Always About to Die
A sleek nonslip pad makes charging about as simple as it gets.
For the Dad Who Loves Espresso
This very cool-looking, very old-school espresso-maker brews up two perfect cups.
Or Just Loves Coffee in General
We've teamed with Trade Coffee to get Cut readers an exclusive deal where you can save $30 off a 6-bag coffee subscription when you use the code THECUTTRADE.
For the Dad Who Loves Practical Footwear
For the Dad Who Loves His Garden
And is complaining about his knees. This thoughtful gift will be the talk of the town when he starts tending his garden for longer and with little to no lingering joint pain.
For the Dad Who Retired to Florida
Tombolo does modern, kitschy takes on the classic polo shirt. This one would make a big splash in Boca, but it's also ideal for the millennial dad who likes to cosplay as Frank Costanza.
For the Dad Who's Ready for Summer
If you know your dad will want to live in sandals all summer, make sure they're a stylish and comfy pair like these Birkenstocks.
For the Dad Who Needs a Trim
Easy to use and even easier to charge, this affordable beard trimmer comes with three interchangeable combs.
For the Dad Who's Always on Time
Give him a very chic way to keep track of time. This minimalist watch is made of super-slim stainless steel, so it's not bulky and matches just about anything.
For the Dad Who Loves Podcasts
He may not splurge on these himself, but surprise him with some everyday luxury.
For the Dad Who Needs New Shoes
These classic oxfords are perfect for any occasion he'll need to dress up for. He'll be grateful to have these on hand instead of his trusty white kicks.
For the Stylish Dad
This lightweight, silky shirt is perfect for the dad who loves to dress up.
Available in sizes S to 3X.
For the Dad Who Idolizes Paul Newman
Classically cool and affordable enough to be low stakes, these just might make a stylish dad's fashion dream come true.
For the Foodie Dad
He has cabinets full of sauces and spices and perfectly seasoned cast-iron pans: Gift him this set of steaks that will help him put them to good use. The collection features two large NY strip steaks and one large chuck eye.
For the Dad Who Appreciates Comfort
Made for lazy weekend mornings, this fluffy cotton robe has a plush hood.
Available in sizes XS to XL.
For the Dad Who Taught You How to Cook
Culinary personality Molly Baz's dad makes delightful appearances in her videos and tutorials, so it feels fitting to give your dad her first cookbook, which happens to be full of crowd-pleasing new dishes to add to his repertoire.
For the Dad Who Loves to Layer
A little retro and timelessly cool, this lightweight jacket will set him apart from all the dads in identical fleece vests.
Available in sizes S to XL.
For the Dad With Exceptional Taste in Music
Hanif Abdurraqib's latest book offers a historical deep dive into the legacy of Black performances that shaped the world, woven together with his own memories of the musical moments that changed his life.
For the Dad Who Needs a Skin-Care Routine
Dads deserve nice skin too! If your pops is late to the game, make things easy for him with this two-step system that's so effective it keeps selling out.
For the Dad Who's Always Puttering Around Outside
A headlamp is useful for grilling after sunset, checking on weird nighttime noises, and a whole host of other classic dad jobs.
For the Sneakerhead Dad
If you can't afford those Jordans he's been lusting after, this is a worthy consolation.
For the Dad Whose Wallet Is Crumbling
Fancy but not too flashy, this sleek calf-leather cardholder will look right at home in his back pocket.
For the Cinephile Dad
Movie buffs will go nuts for this entertaining deep dive into the year that gave us The Matrix, Office Space, Being John Malkovich, and way, way more.
For the Gourmet Dad
Exactly the right size for a nice cut of steak — which, come to think of it, would be a great addition to this gift.
For the Dad Who Loves to Nap
A kinder alternative to a box of anti-snoring nasal strips.
For the Committed Dad
This will look rad engraved with the kids' initials, or even just "DAD."
For the Exercise Dad
These sleek shorts are lightweight and will wick away sweat so he can enjoy his intense workouts. Added bonus: The brand donates a portion of every sale to the SEAL Legacy Foundation, which provides support to wounded and fallen SEALs and their families.