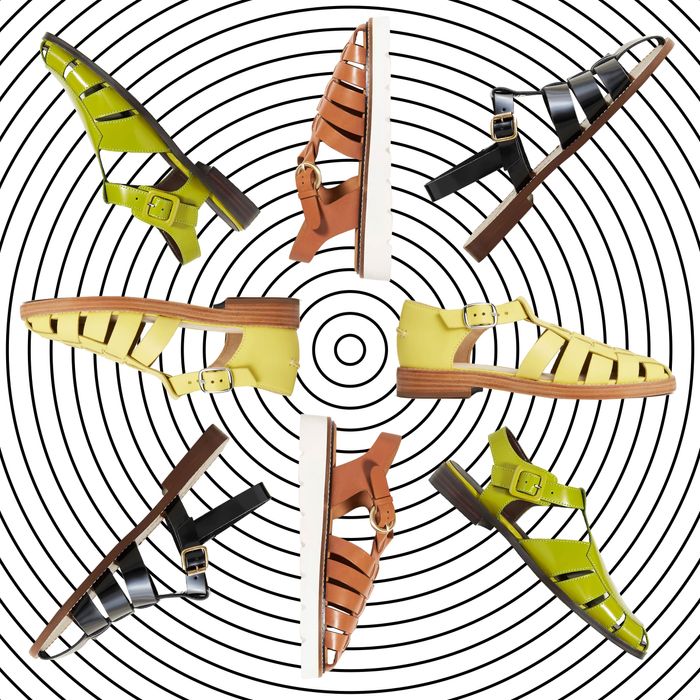 Photo-Illustration: The Cut
Every so often, a fashion trend pops up seemingly out of nowhere. Last summer, that trend was fisherman sandals — as in the woven sandals historically worn by infants, uncles, and actual wielders of the rod and the reel. And it's not going anywhere anytime soon. They're such a thing, you wouldn't be crazy to imagine that the Olsen twins and Alessandro Michele convened a small tribunal, like fashion's Knights of the Round Table, and decided that, yes, we would all look like fishermen this summer.
Maybe it's a return to functionality — many people have gotten more used to walking and biking places since the pandemic. Maybe everyone wants to pretend they're in Greece wearing their best summer frocks. Or maybe these hypothetical fishermen were really onto something. Either way, we've culled 17 cute options that require no rods or bait, below.
If You Want Something Simple, But Not Too Simple
Nothing says "summer" like a lemony yellow.
If You're 30 Going on 13
Or maybe you're planning on getting in the water.
If

You're a Minimalist

The square toe is also a nice design touch.
If You Just Want Something Classic
That's basically J.Crew's motto.
If You Bike to Work
Or are always late and running.
If You Like Wearing Color
You will not see many shoes in this color at the marina.
If You Want Something Dainty
Perfect with a white summer dress.
If You Want a Solid Under-$55 Option
Charles & Keith is one of fashion editors' fave brands to find great-quality shoes at great prices.
If You're Into Gen-Z Green
Fishermen would just call this "green," but would still be into these.
Or You're Still Into Millennial Pink
No shame. It's literally just a color. One that makes these fishermen sandals very covetable.
If You Want a Shiny Splurge
Fisherman like to party too.
If You Want to Splurge Splurge
Behold the pair approved by the Olsen twins.
If You Want Something More Surreal
If You Can Invest in the New Classics
These shoes are so architectural, you could practically live inside of them.
If You Want Something Freaky
If You Want a Few Extra Inches
Jellies for big kids (with big budgets).
Or a Whole Lot of Inches
These are not your fisherman's fisherman sandals. Both in inches and in price.