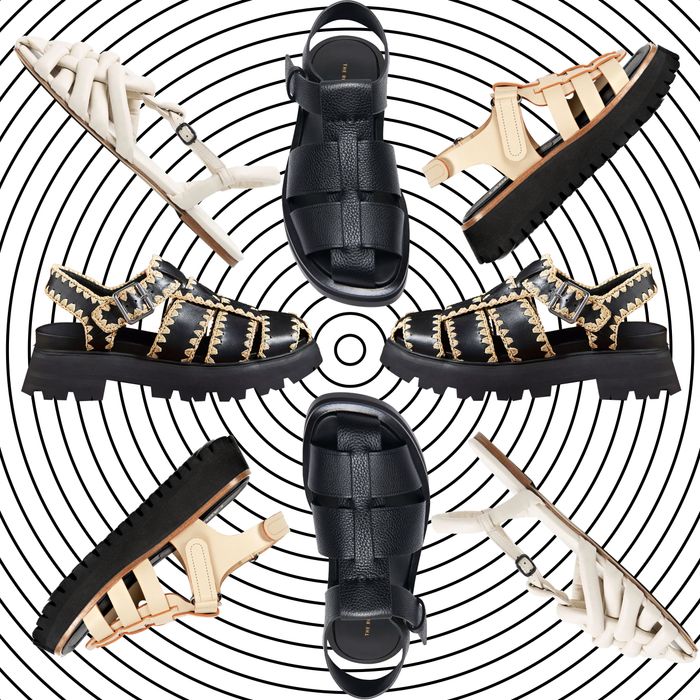 Photo-Illustration: by The Cut; Photos: Retailers
For more of the Cut's favorite fashion, beauty, and home finds, sign up for the weekly Cut Shop Newsletter.
Every so often, a fashion trend pops up seemingly out of nowhere. Last summer, that trend was fisherman sandals — as in the woven sandals historically worn by infants, uncles, and actual wielders of the rod and the reel. And it's not going anywhere anytime soon. They're such a thing, you wouldn't be crazy to imagine that the Olsen twins and Alessandro Michele convened a small tribunal, like fashion's Knights of the Round Table, and decided that, yes, we would all look like fishermen this summer.
Maybe it's a return to functionality — many people have gotten more used to walking and biking places since the pandemic. Maybe everyone wants to pretend they're in Greece wearing their best summer frocks. Or maybe these hypothetical fishermen were really onto something. Either way, we've culled 21 cute options that require no rods or bait, below.
If You Want Something Simple, But Not Too Simple
Nothing says elevated classic like a mule you can easily slip on during the summer.
If You're 30 Going on 13
Or maybe you're planning on getting in the water. If you are, these jelly sandals will survive the tides.
If

You're a Minimalist

The square toe is a nice design touch that separates these fisherman sandals from the usual bunch.
If You Bike to Work
Or are always late and running. You don't have to worry about putting these in "sports mode," because their adjustable buckle slingback already has you covered.
If You Like Wearing Color
Go our of your comfort zone with these light-blue ones made from genuine leather.
If You Want Something Dainty
These Loq ones will look perfect with a white summer dress. Plus, they have a padded leather footbed for added comfort.
If You Want a Solid Under-$55 Option
Charles & Keith is one of fashion editors' fave brands to find great-quality shoes at great prices.
If You Love Anything Puffy
Just Like Darshita Goyal said: "Dressing like the Michelin Man is in."
If You're Into Gen-Z Green
Fishermen would just call this "green," but would still be into these. (The brand is running out of stock in this particular color, but it has seven more colors that are just as good.)
Or You're Still Into Millennial Pink
No shame. It's literally just a color. One that makes these fishermen sandals very covetable.
If You Want a Shiny Splurge
Fishermen like to party, too.
If You Want to Splurge Splurge
Behold the pair approved by the Olsen twins.
If You Want Something More Surreal
These will feel and look like you're walking on a cloud. And honestly, you can't go wrong with any leather option from the Spanish brand.
If You Just Want Something Classic
You technically might not be able to fish in these, but you won't know if you don't try.
Or Something a Bit More Chunky
With its squared toe and 1 3/4-inch heel, these fisherman sandals from editor-favorite brand Vagabond Shoemakers are guaranteed to become a staple in your closet.
If You Can Invest in the New Classics
These shoes are so architectural, you could practically live inside of them.
If You're Into Platforms
Platforms for big kids (with big budgets).
If You Want a Few Extra Inches
These are not your fisherman's fisherman sandals. Both in inches and in price.
If You Care About the Details
Our senior shopping editor, Bianca Nieves, loves these fisherman sandals. They are made from vegetable-tanned leather, and their foam cushion makes them extremely comfortable. Plus, they are handmade in Tuscany.
Or You're Into Stitching
The raffia stitching on these from Loeffler Randall will have you watching your feet every step you take.
If You Love Jelly
Sandals, that is. Live your Coach runway dreams and purchase these before it's too late.