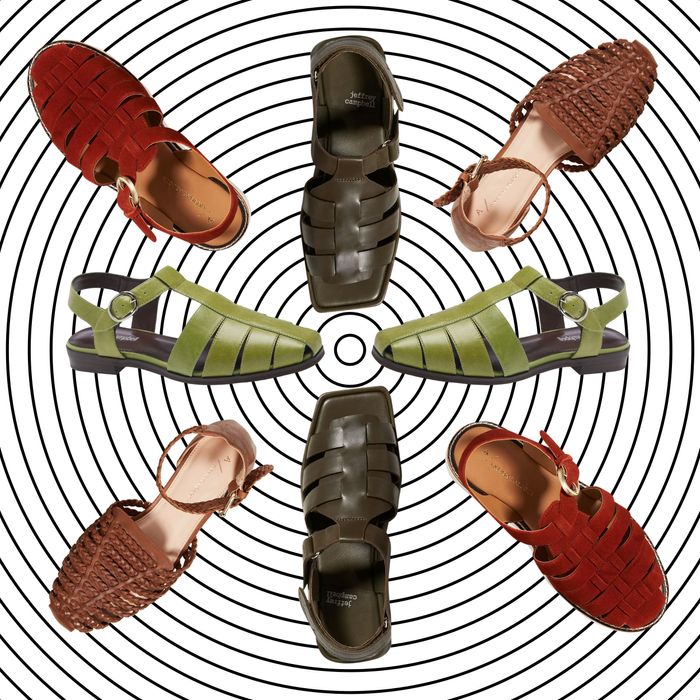 Photo-Illustration: by The Cut; Photos: Retailers
Every so often, a fashion trend pops up seemingly out of nowhere. This summer, that trend is fisherman sandals — as in the woven sandals historically worn by infants, uncles, and actual wielders of the rod and the reel. Now, they're all over the runways and in the streets, thanks to brands like the Row, Emme Parsons, and Gucci. (And then, of course, thanks to everyone else.) They're such a thing, you wouldn't be crazy to imagine that the Olsen twins and Alessandro Michele convened a small tribunal, like fashion's Knights of the Round Table, and decided that, yes, we would all look like fishermen this summer.
Maybe it's a return to functionality — many people have gotten more used to walking and biking places since the pandemic. Maybe everyone wants to pretend they're in Greece. Or maybe these hypothetical fishermen were really onto something. Either way, we've culled 13 cute options that require no rods or bait, below.
A Solid But Sleek Option
With a thick sole that looks like it could really get you places.
If You're 30 Going on 13
Sandals That Look More Expensive Than They Are
White stitching adds some elegance to an otherwise chunky shape.
A Minimalist Version in Cream
The vanilla shade is so appealing.
The Gorpy Kind
Sandals that would actually work in the water.
The Classic Kind
Can't you just imagine yourself in these, walking up some small cobblestone street in a seaside town?
A Mix of Sporty and Cute
For biking or running to catch the subway. (Remember running to catch the subway?!)
A Square Toe
Something a little different, like a fish got your toe.
A Pop of Color
You will not see many shoes in this color at the marina.
A Clean White Weave
Perfect with a white summer dress.
Something More Surreal
The New Classic
These shoes are so architectural, you could practically live inside of them.
A Very Shiny Splurge
Fishermen like to party, too.