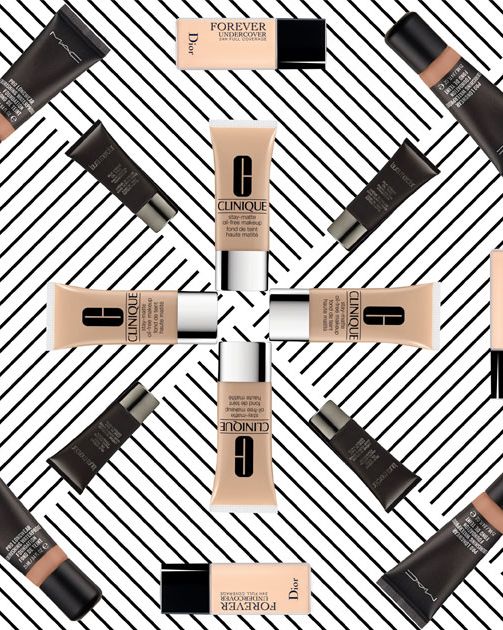 Photo: Courtesy of the Vendors
The dewy-looking makeup trend is one of the best things ever to happen to people with oily skin. Thanks to brands like Glossier and Milk, it's not just acceptable but downright fashionable to have a face that's not exactly dry.
However, there's a difference between prepackaged oily-looking products you can buy at Sephora and oil that naturally seeps out of your pores. I have oily skin, so my work-around for getting "that wet look" is applying a matte foundation, topping it with a light dusting of pressed powder, and adding a highlighter on top of that. Yes, it takes three steps, but such is life.
To find out which brands make the absolute best foundation for oily skin, we tested out a ton of them, analyzing them for breadth of shade, durability, and ability to stay matte — even under masks. Here are the best ones from drugstore to luxury.
The natural matte foundation
If you hate matte foundations, this one might make you convert. The full-coverage foundation is matte but still looks natural and helps keep oil at bay throughout the day. It touts itself as transferproof, and while it didn't wipe off completely onto a mask, you might want to set it with powder and setting spray to really keep it in place. Like most of the brand's complexion range, it comes in 34 shades. If you already have a NARS foundation shade, you'll likely be able to grab the same shade here.
The IRL Instagram filter foundation
Huda Beauty describes this foundation as "lifeproof," meaning it's waterproof and transferproof, among other things. To put it plainly, the long-wear formula promises to withstand almost anything. While we didn't jump into any swimming pools wearing it, it does withstand the usual oily midday T-zone without much touching up. It is full coverage, but it's not cakey or too matte, and it has a radiant — not dewy — blurring finish like that Instagram filter you love, hence the name. It comes in 39 shades.
The poreless drugstore foundation
This one is good if you're trying to hide the appearance of pores. I feel kind of silly recommending a foundation as a primer before applying another foundation, but that's what I think this one's best for. It comes in 40 shades, and many of those are darker shades which are new to the range.
The dewiest drugstore foundation
The demi-matte finish of the one is nice but might not work if you're very oily. While the matte finish reduces the amount of shine, the "demi" does keep things dewy. It's medium coverage and says it last for 24 hours, which is a stretch (I'd clock this one at around 6).
It's very easy to squeeze way too much out of this tube (and not as easy to suck it back in). It comes in 22 shades, which isn't bad.
The best overall drugstore foundation
Out of the drugstore foundations on this list, this one was my favorite. It's advertised as being designed specifically for oily skin, and it did a solid job at keeping my oily T-zone under control. It looked good, although I didn't feel like it had the best staying power throughout the day.
But hey, if all you want is a super simple foundation for oily skin, you really can't go wrong with one that costs $12.
The dependable foundation
I don't think I've ever been disappointed in a Clinique product — it's been a dependable brand for me since my middle-school Happy days. The one offers nice creamy coverage, goes on super smooth, and stays put all day. I appreciated the way the tip doles out exactly the right amount of foundation you need — no aggressive squeezing required. It comes in 20 shades, beginning with "Linen" and ending with "Sienna."
The light foundation your grandma will like
The consistency of Tarte's Amazonian Clay Foundation actually did remind me of clay. It was thick, almost like a less curdy cottage cheese, and not very liquidy at all. (Once you blend, it thins out considerably.) On my face, it struck a nice balance between matte and dewy without looking oily, but the coverage wasn't quite enough for me and I felt like it wore off a bit throughout the day.
If you just want something light, though, this is a great option. It comes in 25 shades, and when I wore one of them last Easter my grandmother said I looked "so beautiful," so there's that.
The best overall foundation
My favorite part about testing Fenty Beauty's Pro Filt'r Soft Matte Longwear Foundation is that I blind-guessed my shade, and I could not have been more off. I'm white and if you lined up all the skin tones in the world, I would not be in the middle, yet I'm usually a "medium." But the medium-looking shade here was way too dark for me, as it logically should be. Rihanna's been praised to the moon and back for this inclusive 40-shade range, and she deserves it.
I was surprised at how much coverage this foundation offered because of how thin the formula is. It's very, very matte and does not budge. It dries fast, so apply a lot of moisturizer beforehand and have a wet Beautyblender or brush handy to even it out.
The longest-lasting foundation
True to its name, this one really does last all day. It's very thick, so a little goes a long way. I had to go in with a Beautyblender like I was some kind of beauty vlogger to even it all out, but once I did I felt completely covered. If you're really oily, you might want to set this one with a powder afterward to absorb any extra moisture left behind. It comes in 24 shades.
The really blendable foundation
The one blends so smoothly. Applying it, I noticed that I couldn't see any lines along my cheekbone where the makeup stopped and my makeup-free skin began. It feels very light yet offers full coverage. The matte velvet effect works well for oily skin, and the consistency is also great for texture. It comes in 20 shades.
The photogenic foundation
I love that this one blends easily, and has a nice soft matte finish. It offers medium coverage, and is definitely one of the more "photo finish"–looking ones for this list. If you're oily, just be careful not to apply too much, because it can feel a little heavy once it's all blended in.
However, I have two big gripes with it. The first is that it only comes in 12 shades, and only one of them is darker than "Pecan." The second is that it's easy to squeeze too much out of the tube, resulting in a mess and also a waste of product.
The no-makeup makeup foundation
The one from Bobbi Brown blends nicely but it was a little light for my personal tastes, even though it's listed as being full coverage. However, it does advertise oil-free shine control and a weightless feel, and it delivers. If you're oily and don't need full coverage, this one's certainly worth a shot. It comes in 30 shades.
The wildly popular one
There are some 14,000 Sephora reviews praising this foundation for oily skin. Reviewers love that it looks matte for hours, without requiring any powder touch-ups. It's vegan, offers very full coverage (making it great for textured skin), and comes in 30 shades.
The best clean foundation
I'd classify the one as more of a skin-care product than a makeup product, which isn't necessarily a bad thing depending on how much coverage you want. It's clean, goes on very light, and has a nice, essential oil-type smell to it. Because it's a serum foundation, I wouldn't really recommend it for someone who doesn't want to feel oily. And it only comes in ten shades.
The fancy-lady foundation
The draw for me about this product is that it makes me feel fancy, rich, and sophisticated, as I would like to be someday. The foundation goes on smooth and does, as the packaging promises, stay in place throughout the day. My only complaint: It has a slight paint smell. You might only notice this if you were in the art club in high school, though. It comes in 42 shades (which is great!) but since there are so many, it feels like there definitely could be more darker options to choose from.
The sweat-resistant foundation
Dior's Diorskin Forever Undercover Foundation is one of the more expensive foundations on this list, but I'd argue it's actually worth its price if you can stomach spending $52 on foundation. It comes out thick and creamy but doesn't feel heavy, and it blends easily for full coverage. (I also found it was good for uneven texture, which I have in addition to oily skin. Fun!)
It stayed on well throughout the day and didn't wear off when I started to sweat (I wore it on a hike and still took a selfie in the rest-stop bathroom).
The best luxury foundation
This foundation comes out creamy and feels so luxe, and the packaging is beautiful. It's thick and dries to a subtle matte finish that looks beautiful.
The only thing I don't love about it is I could feel it on my face after application, so I'd probably be more apt to use it as a base layer before applying more serious going-out makeup. It comes in 20 shades.
The most velvety foundation
This is another very nice foundation worth its hefty price tag of $55. As the name implies, it's a matte foundation with a velvety texture that's full coverage. It does a good job staying put throughout the day and doesn't break down because of any oil underneath. It also has SPF.
But this one only comes in nine shades, which is very limiting. The darkest shade was Mat Amber, but the company has since added Mat Mocha, a shade that's only slightly darker than the amber.
This article was originally published May 18, 2018. It has been updated throughout. If you buy something through our links, New York may earn an affiliate commission.