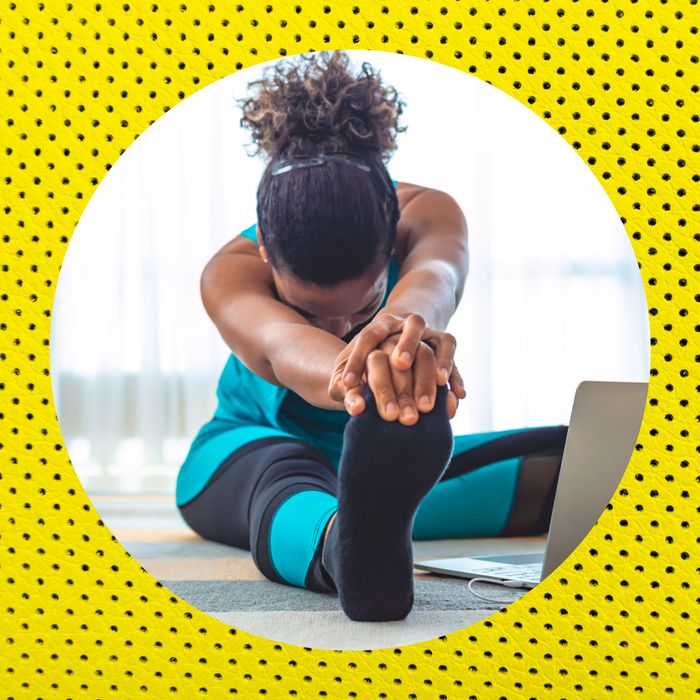 Hot Bod is a weekly exploration of fitness culture and its adjacent oddities.
Who knows if this interminable year will ever end. By some counts, we have ten weeks left, but I don't know if I trust it. In any case, it can be comforting to break down the brutal expanse of time into discrete blocks — each of which could be occupied with a new fitness experiment for you with some free trials. Free trials are the best! They've got hard boundaries (admirable) and feel like an intoxicating combination of (1) a gift someone gave you, (2) something you stole, (3) a formal introduction, (4) a daring way to try something new in a blessedly low-commitment arrangement.
Here are 11 for you to burn through or peruse before making a big commitment:
The Well-Rounded Package: Harlem Cycle — 7-day trial
Despite the premise, Harlem Cycle's online classes don't involve cycling, but instead are exercises meant to bolster your cycling (or running) practice. Their online program includes classes in stretching, toning, strength, mobility, and other cardio, as well as nutrition classes. The design of their app is also really well suited to prearranging a weekly schedule, which is something I miss about life in general!
Yoga My Fidgety Brain Can Abide By: The Underbelly — 14-day trial
Jessamyn Stanley's magnetic guidance and yoga series — which comes with descriptions like "highly flammable" and "practice submission" — will speak to the most yoga-indifferent among us. Mostly, I am a creature way too distractible and energetic for yoga, so if I'm doing a class, it is because I have been wooed by the charm of personality at the helm. Stanley's got charm for days — way more than 14 days, but that's the generous trial period she offers.
A Whole Body Sigh: the be.come project — 10-day trial
If the be.come project were a sound, it would be a very satisfied, belly-originating sigh. This 30-minute daily stretching series is calming and satisfying. I also noticed that after a few weeks of doing it, I'm way better at balancing.
If Jocks Went to a Rave: FORWARD Space — 7-day trial
FORWARD Space classes are an admirable coupling between athletic maneuverings and some hip-hop-rave–inflected dancing. It's a very 20-teens party over there. I'm a particular fan of their classes that incorporate weights, because they trick me into using my weights.
The Sneakily Brutal Muscle-Buster: Bonded by the Burn — 7-day trial
The Bonded by the Burn ethos is all about low-fi equipment: resistance bands and gliders (little pads that you pop under your feet so that certain core exercises require a lot of extra work) and your sheer tenacity. This has been one of the most challenging workouts I have tried during this quarantine period of virtual class hopping! I'm warning you in a way I was not warned.
An Aesthetically Minded Variety Pack: Alo Moves — 14-day trial
The production values are stellar with this one! Alo Moves offers a range of classes, but a yogic spirit seems to flow through even HIIT offerings. Their variety and specificity is impressive, ranging from "yoga for golfers" (nah, girl) or "self-care for activists" (sure, girl). And if you don't feel like moving at all, but instead like sitting very still, their sound baths are very cozy.
The Surprising Jack-of-Many Trades: Peloton — 30-day trial
Another big-boy offering! While Peloton is best known as the premier at-home cycling program, the Peloton app goes elsewhere with programs ranging from boot camp to meditations to stretching. A beloved college friend was very into their "guided walks" for a while and claimed that the steep grade of San Francisco hills made this "intense." Girlfriend was stressed, so we should not have teased her but we did!
The Thin Red Waistline: AARMY — 14-day trial
Do you like your workouts with a militaristic intensity and a band of brothers community? Look, I can barely follow this train of metaphors I have made, but I feel they are fitting for AARMY's workouts. The AARMY coaches are relentlessly empowering and will speak to you about your strong mind, your strong heart, and your strong quads, all achieved by lunges.
The Get Down, Stay Down, Do a Plank: 305 Fitness — 14-day trial
Named in honor of the esteemed Miami area code, 305 Fitness classes are determined to get you sweaty enough to bring your own humidity to the party. I've said it before and I'll say it again: 305 is almost more determined than I am to sculpt my peach. The newly launched online platform includes their beloved dance cardio, as well as toning and stretching classes.
And Finally, the Free Trial I'm Saving: The Class — 14-day trial
After The Class moved to Los Angeles, my favorite friend texted me approximately every three weeks to see if we might muster ourselves over to the West Side early one morning for The Class. We never made it! I am mostly to blame! It's not just that I was resistant to The Class's glowy promises about what seemed to be jumping jacks, but more that I was frightened I'd really love it and then suddenly be giving them all of my money. Anyway: I've been saving The Class's free trial as a treat for when I need it during some future dark, grumpy patch of winter.
The Irrepressible Groove: BFunk — 7-day trial
If you miss the spirit of a bouncy, big dance class, BFunk's delicious dance classes will fill your heart and days! These classes will teach you the BollyFunk and BhangraFunk schools of moving, so keep me posted on your progress please.