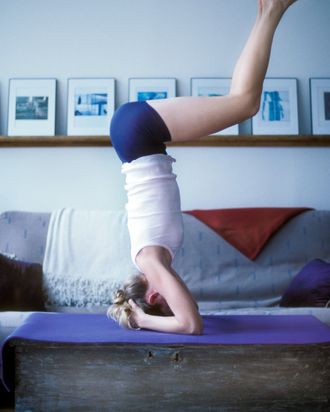 All you need is a clear living room floor and a pair of stretchy pants.
Photo: Steve Prezant/Corbis
As yoga has skyrocketed in popularity, teachers — typically paid a pittance for group classes — have realized that putting their routines online can be lucrative. There are now plenty of options for all levels, but most are secured behind a paywall. You really have to search to find great, free options, but they're out there, particularly now that many studios are offering free options for those practicing social distancing. We've tracked down the five best free sites for both newbies and experienced practitioners.
Do Yoga With Me is a massive site (it survives on donations) that offers everything from full classes to tutorials to meditation practices. There's an incredible variety of instructors and yoga styles, including Hatha, Vinyasa, Yin, Kundalini, and Ashtanga as well as power and prenatal classes.
Best for: Intermediate-level yogis who are interested in broadening their horizons with new breathing techniques, meditations, and yoga styles.
Corepower Yoga's full collection of 250+ videos comes at the cost of a monthly subscription fee, but they're now offering a new collection of typically hour-long videos for free every week, along with a handful of guided meditations.
Best for: Those who want clear instruction, and weekly variety.
Adriene launched her YouTube channel a little over three years ago, and has amassed more than a million followers thanks to her friendly, approachable demeanor and clear instruction. Sessions have names like "Yoga for Anxiety and Stress," "Yoga at Your Desk," and "Yoga for Bedtime." Classes are short — 20 to 30 minutes — and there are also quick tutorials on arm balances and the like.
Best for: The person that doesn't take yoga too seriously; beginners.
This channel, run by YogaWorks teacher Lesley Fightmaster — that's her real name — is great for more advanced yogis. Fightmaster releases a new class every Monday and most are 45 minutes to an hour long. Her voice-overs are well-paced (there's no music), and she offers all sorts of helpful tips throughout regarding modifications and prop usage. Class styles include Hatha, Vinyasa, Ashtanga, and more.
Best for: Those who want powerful, fast-moving, sweat-inducing sequences.
5. Yome
Instead of searching through YouTube for yoga tutorials, click over to Yome. The site catalogs hundreds of YouTube yoga videos and can be sorted by level, style, even topic ("detox," "knee pain"). Yome allows users to save videos to a list of favorites, so it's easy to build a library of routines.
Best for: People who want to try a new routine every day.
6. Daily Burn
The Daily Burn Yoga app offers a variety of classes in different intensity levels, ranging from beginner to expert, and from relaxing to sweat-inducing. The app is paid, but is free for a 30-day trial.
Best for: People who miss going to yoga class.
This post has been updated.