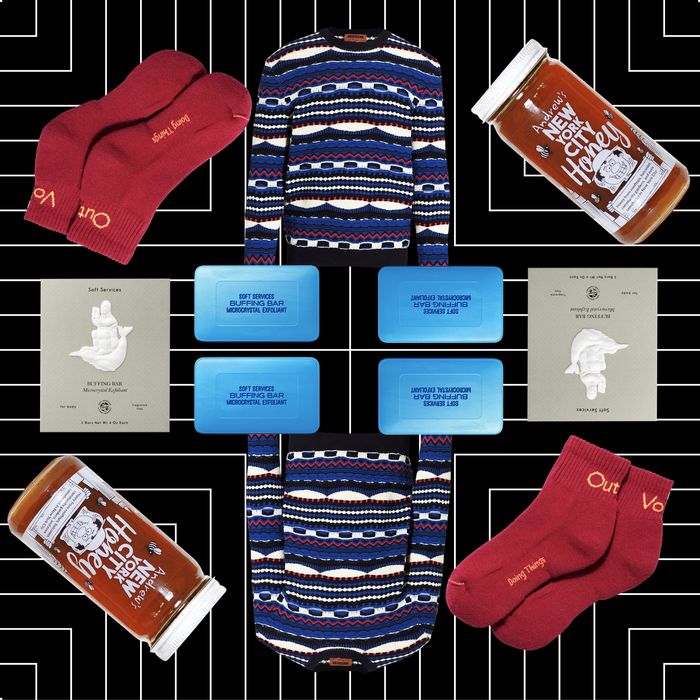 Photo-Illustration: by The Cut; Photos: Retailers
For more of the Cut's favorite fashion, beauty, and home finds, sign up for the weekly Cut Shop Newsletter.
I think the word picky has been dealt an unfair hand — probably because of its negative association with picky eaters. If you think about it in other contexts, though, pickiness can be a compelling (even admirable) trait. When dating, for example, it's good to be somewhat picky. Ditto for shopping, where pickiness more often signifies a sense of confidence and discernment rather than any sort of needless fussiness.
I might even go so far as to say that picky people are some of the most interesting kind of people. They know what they like and, therefore, what they want. Is anything sexier? (Sorry, I digress!) I'm just trying to explain why I find picky people to be especially fun gift recipients. The standards are high, the stakes are low (most of the time), and thoughtfulness will never be taken for granted.
To that end, below are some particularly great gift ideas for the most particular people in your orbit.
For Your Picky Brother
Ultracushioned Socks
Socks might seem like a boring gift unbefitting of a picky loved one, but when they're superlative socks that are capable of triggering a good mood whenever you put them on? Not boring or unbefitting at all.
I can personally attest to Outdoor Voices' Rec Ankle Socks being superlative athletic socks. I discovered them through my mother-in-law, who gave me two pairs last year because they're her favorite socks. After experiencing sadness every time they were in my dirty-laundry pile, I ended up buying myself three more pairs. They're the perfect height, just above the ankle, and they're somehow ridiculously cushiony without being bulky. Your picky brother will love them.
For Your Picky BFF
A Very Specific Skin-Care Product
A small thing that sparks major joy is when a friend texts me a link to something and says, "I think you would love this." I like to tap into a similar energy when gifting friends by writing "I think you would love this" on a tiny note card and affixing it to something I'm giving them.
A Soft Services microcrystal Buffing Bar is an ideal beauty product to gift someone not only because it's incredibly effective (I genuinely look forward to using mine once a week) but also because it's specific enough that they likely won't already have something similar — and because each one comes prepackaged in cute paper, so you don't have to go through the extra step of gift-wrapping it.
For Your Picky 'Someone Special'
A Literal Spark


"Someone special" could mean anyone, of course, but with this suggestion, I'm imagining someone who isn't a serious significant other but maybe could be in the future? I.e., someone you're dating or perhaps just making out with regularly enough that they've made it onto your gifting list. For this person, I think it makes sense to gift something that feels somewhat impromptu and therefore casual (even if it wasn't in reality).
Many lovely gift ideas fall into this category: a book you saw while browsing at a local bookstore that you thought they would like, a bar of Tony's Chocolate from your favorite bodega, a peace lily from your local plant store — you get the idea. 
If you want to up the ante just a little, consider a match holder with some cute red-tipped matches tucked inside. A match holder is something pretty much anyone can use but almost no one owns, so that's already fertile territory right there. It's also the kind of thing you could probably find casually at a store in your neighborhood, but there happens to be an extremely charming assortment online — vintage and new. I love this one, this one, and this one.
For Your Picky Partner
Knitwear


You know what they say: The true test for how well you know your long-term partner is if you're willing to risk buying them something they can't return. I'm kidding! But I do think there's something kind of fun about buying vintage clothing for a picky loved one as it does require some degree of bravado.
If you're truly risk averse, though (I get it!), this fully returnable Missoni sweater is currently on sale.
And this fisherman style is a steal for under $100.
For Your Picky Sister
Indulgent Stationery
One of the many great things about picky sisters is how they implicitly understand that whatever you get them as a gift can and should be something you'll both be able to enjoy
Ergo, a box of Happy Menocal x Chairish stationery is just the thing — accompanied by a serious offer to be your sister's pen pal. I'm obsessed with this stationery because it makes letter writing feel like eating a mini-tureen of chocolate soufflé: a gorgeous, glorious indulgence. Even the box the stationery comes in is an experience unto itself. I imagine receiving a letter written on it feels similarly, hence the win-win nature of this exchange.
Throw in a sheet of Ellsworth Kelly stamps, too, if you really want to wow.
For Your Picky Mom
Embroidered Linen Napkins


Picky or not, moms are notoriously tough nuts to crack, gifting-wise. After all, what gift could ever be good enough for the woman who once painstakingly cut the crusts off all your grilled cheeses and clipped your toenails while you slept? Perhaps … a set of linen napkins embroidered with her initials! Vintage monogrammed napkins are one of my favorite picky-person gift ideas because finding them requires the kind of effort that the recipient will undoubtedly appreciate and that you might actually enjoy (plus you get to toot your own sleuthing horn by saying things like, "According to the seller, these were embroidered 200 years ago in France" — no big deal).
If you look long and hard enough on eBay, you can usually find vintage ones with the recipient's exact initials (it helps to create a saved search along the lines of "vintage linen napkins with [recipient's initials] monogram" so the algorithm is always searching even when you're not). Or you could ask the experts at Comptoir des Teintures to help you with sourcing.
Alternatively, you could go the made-to-order route — I like a lot of the designs from B Bloom Embroidery on Etsy.
For Your Picky Acquaintance
The World's Best Coasters
A great gift is usually something uniquely suited to the person you're giving it to or something specific that most people would want but probably don't already have. By definition, an acquaintance is someone you don't know that well, so you have to go with the latter categorization.
My recommendation: a multipack of Graf Lantz merino wool coasters in whatever color palette you think they would like best. Coasters are something pretty much everyone can use more of, especially given how much we're supposed to be hydrating. These particular ones also happen to be the best coasters I've ever placed a beverage upon. Because they're made of wool felt, they don't make a goosebump-inducing "clink" sound when you place a glass on them, and they absorb condensation without feeling or looking waterlogged.
For Your Picky Boss
A Box of Seasonal Fruit
If you've got a picky boss, I hope they're the good kind (a discerning mentor with high but fair standards) instead of the bad kind (a control freak with irrational whims), but either way, I'm certain a box of seasonal fresh fruit from Frog Hollow Farm will measure up to their exacting specifications.
I learned about Frog Hollow from my friend Mattie Kahn, who is the best kind of picky person there is (a generous sharer of thoughtfully vetted recommendations), and it has since become one of my go-to resources for edible gifts that feel intentional and somewhat fancy but not too over the top.
For Your Picky Dad
Something Sweet (and Local!)


Most gift guides for dads, if I may be so bold, are bad. There! I said it. Feels good to get that off my chest. Please, I beg of you, don't get your picky dad a pair of noise-canceling earbuds or a set of whiskey stones. Instead, get him a bottle of local honey. It's a much sweeter gesture (literally and figuratively), and requires just enough research to make it a thoughtful gift but not an arduous one. Just Google "local honey + [city where your dad lives]" and see what comes up.
If he happens to be based in New York, get him a bottle from Andrew's Honey, which sells bottles from specific neighborhoods that are written out on the lids of the jars. Oh, and don't forget to explain to your dad that local honey not only tastes great but will also help with his seasonal allergies. Dads love that kind of thing.