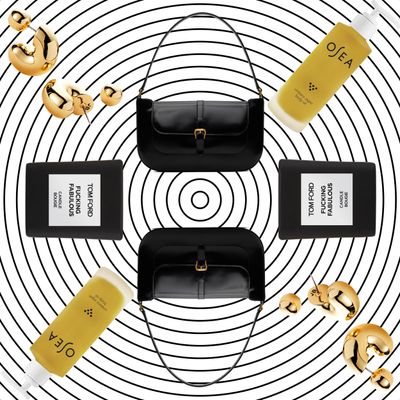 Photo-Illustration: by The Cut; Photos: Retailers
For more of the Cut's favorite fashion, beauty, and home finds, sign up for the weekly Cut Shop Newsletter.
Holiday shopping season is quickly approaching — and Black Friday is just a few days away — which means it's our time to shine. From gifts for literally any man in your life to stocking stuffers for your beauty-obsessed friend, the Cut Shop team is here to help you find the perfect present for everyone on your list — and we're starting off strong with the basics.
Here, you'll find the best products curated by price point, so you can shop for every upcoming gift exchange at once. A towel warmer for your friend who just bought a house in the burbs? Check. Jenny Bird hoops to impress your new boyfriend's sister? Check on that, too. Go ahead, start scrolling and let the holiday shopping games begin.
The Best Gifts Under $25
This affordable gift will make any trip feel expensive — in the best way.
If they tend to overindulge in coffee, help them keep things interesting with a new roast each month.
I know, I know, socks are a cliché stocking stuffer. But these plush ones from UGG are particularly cozy.
For that family member who takes holiday hosting a bit too seriously, gift this stress-relieving tea.
So they can get the full Ralph's Coffee experience — without having to wait in a long line.
RHONY fan? Gift them falsies from Jenna Lyons's brand.
The Best Gifts Under $50
Whether they're ditching alcohol altogether or just want to try a new sort of buzz, Kin Euphorics' adaptogen spritzes are the perfect alternative.
Give their martini a new kind of twist with this pretty glassware set.
It seems everyone is suddenly on a journey to become outdoorsy. They'll need a cute but practical belt bag for the adventure.
Béis offers the best in organizational travel accessories for those of us who want to pack smarter, not harder.
Phlur's Missing Person perfume had #BeautyTikTok obsessed this year, and the brand's coconut-oil-infused body lotion is just as good.
Who doesn't love a luxe sweet treat?
For their really cute cocktail-making needs.
The Best Gifts Under $100
AirTags will take one fewer stressor off their plate, especially if they're traveling for the holidays.
This seaweed-infused body oil delivers deep, long-lasting hydration, even in the dry winter months when nothing else seems to work.
The ultimate motivation to get out of bed in the morning? French-press coffee.
Few ateliers do fragrance like Byredo, and a sampler set is the perfect introduction.
Your beauty friend knows that this is the buzziest new cleanser to try, thanks to the fact that it's powered by high-performance botanicals like pineapple ceramides, white orchid, luffa fruit, and licorice.
Been there, done that on zodiac jewelry? Try a tarot-card-inspired piece instead.
The Best Gifts Under $150
This cult-favorite fragrance candle doubles as a cool piece of home décor.
These earrings are the perfect upgrade to a jewelry-box staple.
You simply can't go wrong with a holiday-ready sweater that's as chic as it is cozy.
If you can't take them on a trip to Mykonos for New Year's, this coffee-table book is the next best thing.
Well-made sneakers that not everyone has already can be a tough find, but these fit the bill.
This is the perfect gift for your best friend who probably shouldn't call that guy back.
The Best Gifts Under $200
Every friend group needs a designated photographer, and this camera will take their content game to the next level.
Nothing screams "chilling by the fire with hot cocoa" quite like a weighted blanket.
It really is the little things in life that mean the most, like this luxurious towel warmer.
The internet can't stop talking about facial steaming, and chances are this is on your beauty-obsessed friend's wish list.
The travel-obsessed person in your life will think of you every time they cut the security line at the airport.
Niche luxury fragrance backed by beautiful packaging is undoubtedly a winning gift, especially for that person on your list with very high standards.
The Best Gifts Over $200
Bury me in this cashmere set, please.
If they're entering their wellness era, help them kick it off right with a Sakara subscription.
You can't go wrong with a timeless staple from a coveted brand.
More subtle than a watch, the Oura Ring is an elevated take on an activity tracker, and it specializes in sleep quality.
The perfect shoe actually does exist.
These are the perfect combination of timeless and head-turning, plus they're 25 percent off for Black Friday.