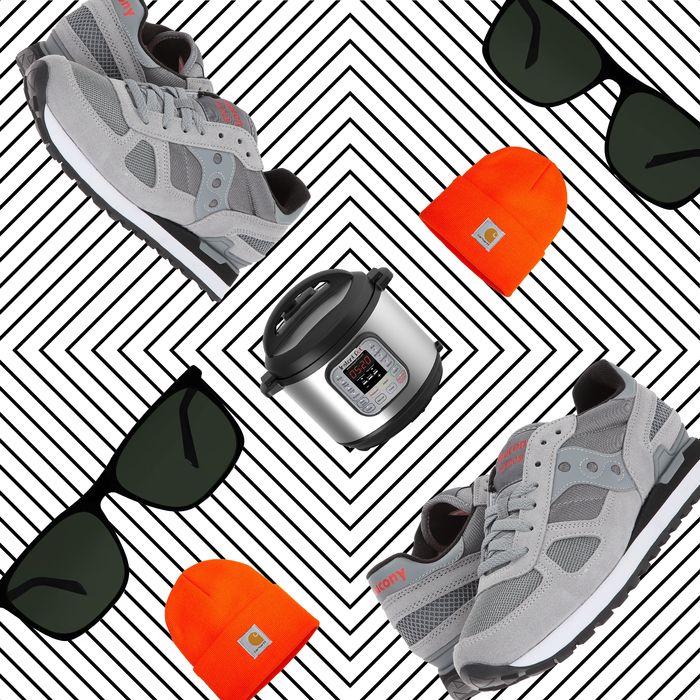 So your friend/brother/co-worker/life partner recently became a father, and you're trying to figure out what to buy him this holiday season. First of all, congrats — especially if you're the person who actually birthed the baby in question. And second, don't despair. While traditional baby gear is often hideous (and aimed at women), there are plenty of gifts you can give a new dad that will acknowledge both his change in status and his impeccable taste. Read on for our list, including an eye-catching coffee pot, the best affordable dadcore sneakers, and a sweatshirt that will look good even when it's covered in spit-up.
Made from nylon (so you can wipe it down!) and roomy enough for everything from diapers to swaddling blankets, this backpack folds up into a tiny square.
Inevitably, he'll find himself walking endless miles around the neighborhood trying to soothe a baby who just won't sleep. Here's where a zippered jacket is key — it'll fit nicely over a baby carrier.
Anecdotally, the dads we know all prefer the Bjorn to other carriers for its ergonomic fit and black-on-black styling.
For gripping the stroller handle in the freezing cold.
He can pop this on when there's no time to shower.
These are Hypebeast-y enough that he'll look stylish even when he's too tired for real pants.
An Equally Cool Sweatshirt
Appropriate for when cabin fever sets in.
Sunglasses to Hide Tired Eyes
Can't go wrong with a classic black Wayfarer style.
Because he's too tired to cook and you can't subsist off of takeout forever.
They might not be Balenciaga but they have the same ugly cool appeal.
To jot down the names of the new dad friends he's meeting at the playground.
If you buy something through our links, New York may earn an affiliate commission.