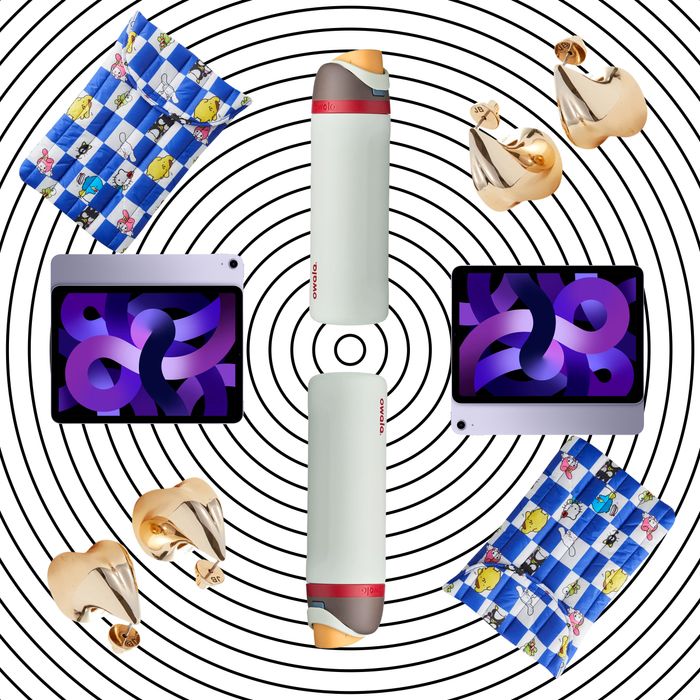 Photo-Illustration: by The Cut; Photos: Retailers
For more of the Cut's favorite fashion, beauty, and home finds, sign up for the weekly Cut Shop Newsletter.
When it comes to the best graduation gifts, there is one thing that tops the list: money. We asked our friends and Instagram followers what they wished they were gifted, and the common answer was mostly some extra cash. And we get it. Entering the workforce in this climate is quite daunting and uncertain, so some (or any) monetary help is always more than welcome.
However, while the postgrad or college hopeful would love a nice stack of hundreds, an apartment, and no student-loan debt, which frankly we'd like too, you most likely can't wrap up that one-bedroom or studio.
If you're feeling generous, though, and you want to gift something other than the above, we have the next best things. We've put together some graduation gift ideas that they'll actually find useful — including gift cards that are as good as cash and don't deserve such a bad rap.
Best Graduation Lifestyle Gifts for Grads
Nothing says "congrats" like a getaway. Let the recent grad de-stress from final exams and papers with a flight of their choosing. With over 300 destinations to choose from, they can jet off to a sandy beach somewhere or, hopefully, visit you.
Because we can not all afford to gift all-inclusive trips to places far away, this coffee-table book is close. Featuring dreamy photos and illustrations of the Amalfi Coast, this will have them planning or at the very least manifesting a trip there some day.
For their new apartment, nothing is more fitting than this pretty all-in-one pan. Available in a few pastel shades, the Always Pan is made for everything from frying and steaming to searing and sautéing.
Target carries almost everything they could possibly need. From snacks and essential groceries to bedding and décor, give them this gift card and let them handle the rest.
Fancy sheets will make even the tiniest apartment or dorm feel like home. These best-selling sheets are soft and made from thermo-regulating linen.
Tired: a candle.
Wired: Boy Smells' Room Sprays.
The brand's latest products are available in the smells you know and love from its candles but now are dorm-friendly. Spritz three to four times around your living space to completely transform your senses.
Allow the recent grad to further immerse themselves in the world of reusable water bottles by letting them try out the Owala one. It has everything a good reusable water bottle needs (double-wall insulation, lid, is dishwasher safe, etc.). Who knows, they might finally leave their Stanley cup behind!
The Beast Blender is a great gift for the grad who doesn't spend their money on daily lattes but daily smoothies instead. It's so aesthetically pleasing that it can stay on the counter rather than in the forgotten corners of their kitchen cabinets.
As they go out into the workforce or begin their college life, this book would help them figure out how to create habits that will benefit them in the long run.
If you know the recent grad will mostly survive from eating Maruchan ramen, do them a favor and gift them these noodles from Omsom. Made with no artificial flavors, no preservatives, and no HFCS, this set will make their prepping way easier.
Best Graduation Tech Gifts for Grads
Noisy roommates are a thing long after college; these wireless headphones keep the noise out and the music loud. They also offer up to 20 hours of battery life so you don't have to worry about charging between classes, work, or commuting.
Gifting them a laptop is a given. Between work, classes, and watching Netflix, they're going to need a machine that handles it all. The Pro can take on all the additional programs they may need for editing and working and provides 20 hours of battery life.
Let them capture all their summer memories and beyond on this very cool point-and-shoot film camera with zoom. Gift the camera along with film for pictures that will look cooler than any filter.
Nothing will motivate them to get their life together quite like an iPad.
The key to a good party is good music, so give your grad a great portable speaker they can travel and entertain with.
Whether it's gifted alongside a new phone or alone, a custom phone case from Casetify is sure to please any recent grad. With so many color, fonts, and style options, you can create a one-of-a-kind accessory for their phone that will look good in any mirror photo.
Complement the Atomic Habits book gift with an e-book reader. They'll be able to download all their college reads and book-club ones into one device.
Best Fashion & Beauty Gifts for Grads
Every grad needs a weekender bag for those long weekends they are either visiting home or escaping their newfound nine-to-fives.
For the grad who dreams of Paris, these French-girl-inspired hoops are almost as good as a trip to the city. Made of brass that is gold tone-dipped and finished with a high polish, these are perfect for everyday wear.
Catbird offers delicate jewelry at every price point and pretty home and beauty gifts your grad will love. We suggest they put the gift card toward a permanent Forever Bracelet in one of the NYC or L.A. stores.
Allow them to find their style without overconsuming by gifting them a Nuuly subscription service. Whether they'll need more work-appropriate outfits or simply want a few extra pieces to throw on for their classes, this under-$100 monthly service will change how they shop.
A subtle and chic way to tell them to arrive on time.
Every grad needs a laptop sleeve with a bit of personality.
There's nothing like the real thing, so gift this splurge-worthy perfume to the grad that's been searching and saving every dupe they've seen on TikTok. The viral fragrance features notes of jasmine, saffron, and sandalwood for a scent that's more sophisticated than their body sprays.
Somebody DM'd us saying they wish they were gifted a Dior Saddle bag. We respect that wish. Hear us out: This will not fit their laptop and books, but the beloved bag will look good with all their outfits, and isn't that worth the splurge? Consider this iconic bag an investment. You can even score one at a secondhand retailer like the Real Real or Rebag.
The present that no one wants to buy for themselves. This hair dryer is truly everywhere, and the reviews are amazing.