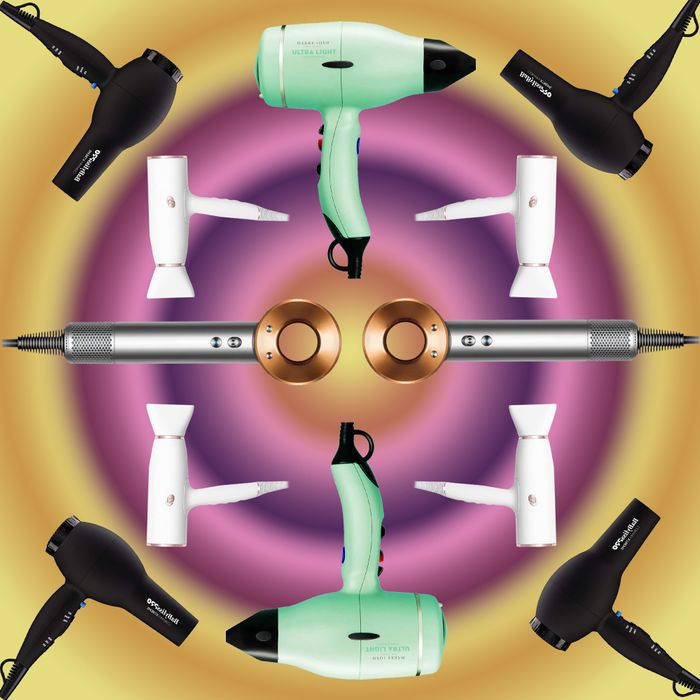 Photo-Illustration: Images courtesy the retailers
Air-drying your hair is great and all, but sometimes you just want a good blowout. To find the best hair dryer out there, the Cut's beauty team spent months testing them on our frizz-prone hair and spoke to a few experts who shared some of their favorite dryers and some tips on how to make the most of an at-home blowout.
What should you look for in a blow-dryer?
One thing all hairstylists agree on is that you should make sure that dryer is light enough to hold and can dry the hair fast to avoid extended periods of heat. You want a blowout, not a workout.
How do you protect your hair while using a dryer?
According to expert hairstylists Kim Kimble and Dimitris Giannetos, a heat protectant is a must-have. "The heat protectant ensures that the hair stays healthy against the heat while also making sure your natural hair does not get damaged," explains Kimble, who recommends applying the protectant to hair that is still damp. Giannetos recommends blow-drying hair when it's wet or towel dried because doing so while the hair is dry can easily create split ends.
Did you know your hair dryer has a filter?
It does, and experts such as hairstylist Marwa Bashir recommend you regularly clean it since "it's essential in long life for your blow-dryer."
The Best Hair Dryer for Frizzy Hair
This dryer comes with a feature called "Nanoe Moisture Infusion," which allegedly infuses your hair and scalp with 1,000 times more moisture while drying. Although it sounds counterintuitive, it's meant to make hair smoother and less frizzy. The proof is in the Amazon reviews, where people rave about getting smooth blowouts that hold up even in humid, rainy weather. —Kathleen Hou, former beauty director
The Fastest Cheap Hair Dryer
Many of the 9,000+ Amazon reviews of this dryer include the phrase "half the time" — as in, "I blow-dried my hair in half the time!" Reviewers love how quickly this dryer works to dry hair. At only 2.2 pounds, it's pretty lightweight, too. —K.H.
The Brand Professionals Love
Strategist reports that this other Parlux dryer is beloved by one of Paris's most famous hairstylists, David Mallett, for being light and virtually indestructible. Use it whether you want a smooth blowout or French-girl hair. —K.H.
Parlux might not be super-popular Stateside, but I often see the brand backstage during Fashion Week. It's superlight, compact, and durable, and because it's made in Italy, it will work across countries (you just need the right converter). —K.H.
The Best Affordable Hair Dryer for Shiny Hair
Many cheap blow-dryers don't come with "cool" settings, which are essential for sealing the hair shaft. A closing blast of cold air after a blowout helps hair to look especially shiny and smooth. This one does both hot and cold air especially well for a very reasonable price. —Jessica Prince Erlich, former beauty writer
The One With a Cult Following
This hair dryer is an internet phenomenon thanks to Amazon. It's currently the No. 19 best seller in its "Best Sellers in Hair Care" section. And the rumors are true: Because it styles and dries hair at the same time, it works very well at delivering salonlike blowouts (particularly for people with especially curly or thick hair). Average dry times range from eight to 12 minutes. Reviewers call it a "game changer." —K.H.
The Best Affordable Hair Dryer for Natural Hair
"Curly" is a word that comes up a lot in reviews of this dryer. As the Strategist mentioned, it has more power wattage than the Dyson, making it a great option for those with natural hair, who praise its three strong but not too strong heat settings. And it only weighs about 1.7 pounds — less than a barre-class weight. —K.H.
The Best Affordable Hair Dryer
For an all-around classic under $30, you can't beat this one. It has excellent reviews on Amazon, with people praising how well it performs basic tasks. And it's light — only 1.2 pounds. True, it isn't as famous or beloved as the Amazon favorite Revlon One-Step, but it's a lot cheaper. —J.P.E.
The Fastest Fancy Hair Dryer
This weighs less than a pound and gives you a frizzless, easy blowout very quickly. The Cut's former beauty editor Ashley Weatherford once wrote an ode to it in which she said, "It cuts my typical drying time by a third." Multiple reviewers claim that it works so well that it's replaced their flat iron. It comes with a nice ten-year warranty. —K.H.
The Beautiful Snow-White Hair Dryer
I've been a longtime fan of T3, and the provided a chic upgrade to an older T3 dryer I've been using for many years. It comes equipped with a diffuser, two nozzle options, five heat settings, and three speed settings. It even has an automatic shutoff when you put it down. When I used it on both wet and dry hair on the hottest heat and strongest airflow, it took about 20 minutes to dry my hair and about ten minutes to create a bouncy, frizz-free dry style. My only issue: All switch buttons (the power, heat, and speed) are located on the front of the dryer, so I found it awkward to click back and forth between drying sections of my hair. —J.P.E.
The Best Hair Dryer If Your Arms Get Tired Easily
Weighing in at 13.5 ounces, this option from InStyler felt the lightest of the bunch. It works quickly, but it's light enough that if you do want to spend a lot of time perfecting your blowout, your arm isn't going to get tired. The packaging is super-sleek, with high-gloss white facets and a glowing blue light. Other features include a cool-shot button, two heat settings, and an ionic switch. Perhaps the best one, though, is the airflow dial, which allows you to control the amount you're using by scrolling up or down with your finger. —J.P.E.
The Investment Hair Dryer
Photo: Courtesy of the vendors
Yes, this dryer is expensive, but here's why it's worth it: First, if you're not one to frequent blow-dry bars and prefer a DIY style at home, this tool will completely dry your hair three times as fast. If you are a regular salongoer, it will pay for itself after ten blowouts. With my usual dryer, it takes me 30 minutes to dry my hair from start to finish. With the Dyson, I'm done in ten — and it looks good!
The dryer is powerful yet quiet and remains cool to the touch courtesy of what the company calls "heat-shield technology." Even on the hottest power setting, I never burn my scalp. I found myself reaching for this one again and again throughout the testing process. It has magnetic attachments and a sleek carrying case for travel. Dyson has successfully turned a dreadful chore into a task I don't mind doing. And it's a favorite of many stylists, Bashir included. She loves how quiet and lightweight the supersonic is and remains impressed with how great the diffuser is at radiating hot air without blowing hair out of place. —J.P.E.
The One That's Backed by Drew
This blow-dryer can handle Drew Barrymore's iconic voluminous waves (it's her brainchild, after all) and my thick, curly bob. It doesn't hurt that it's a sub-$100 hot tool and, at just 13.5 ounces, is one of the lightest dryers we tested. Frankly, it's adorable — especially if your aesthetic is prepubescent Manic Pixie Dream Girl. —Shanna Shipin, Cut Shop contributor
The Really Powerful One
GHD stands for Good Hair Day, and this award-winning dryer will make sure you have one in record time. It blasts a powerful airflow that travels at 75 mph through a professional contoured nozzle for smoother, shinier, frizz-free hair. This is a favorite of Giannetos's. It's very lightweight (1.7 pounds) and comes in unique colors like this plum shade with gold accents that looks like Iron Man in hair-tool form. —Erica Smith, former beauty writer
The One You Can Use Forever
If you have a tendency to be hard on your hair dryers, try this one. It's not the lightest option (2.6 pounds), but Rio Viera-Newton, Strategist's beauty writer, says her mom likes this one because it gets the job done and comes with a lifetime warranty. —K.H.
The Best Hair Dryer If You Hate Flat Irons
To hold this one-pound, handleless dryer, you actually grip the barrel itself. Don't worry, a protective rubber coating keeps it from getting too hot to touch. It does take some getting used to, but once you adjust, the control you achieve is a godsend for taming unruly roots.
After going to bed with wet hair (including four inches of root regrowth from my last keratin treatment), I woke up with a curly, frizzy crown that would normally require the attention of a flat iron. —J.P.E.
The Hair Dryer Gisele Uses
Celebrity hairstylist Harry Josh's line of mint-green pro tools has a cult following as big as Harry Josh himself (think Gisele Bündchen and Karlie Kloss). The newest version of his dryer has been upgraded to work faster (drying hair up to 94 miles per hour), feel lighter (it weighs less than a pound), and be quieter (you'll be able to hear your playlist if you wish). With 12 heat levels and speeds to choose from, along with what they call "double-ion technology," this dryer works efficiently on all hair types. The ionic feature is meant to smooth away frizz, but if you're battling fine flat hair, you can click it off for more volume. And talk about that color! That's one of the many reasons Bashir loves using this dryer. —J.P.E.
The Best Hair Dryer for Travel
If you want a blow-dryer you can take abroad, look for one that's dual voltage. The Amazon reviews (3,000 of them) are full of moms who gift this to their kids prior to backpacking adventures because it's foldable, durable, and performs the basic functions well enough. You still obviously need to bring an adapter. —K.H.
The Best Fancy Hair Dryer for Travel
Sephora and Ulta reviewers love this dryer because it's foldable and dual voltage, making it perfect for travel. Even though it's small and lacks a temperature setting, it doesn't get superhot, won't dry out your hair, and isn't very loud. It's bright yellow, if you like that sort of thing. Compared to the other travel blow-dryers, it doesn't feel flimsy, and it works well enough to continue using at home, too. —K.H.
The Best No-Static Hair Dryer
My mom has been using this hair dryer for the last three years and she loves how it doesn't create static. She has thick, short hair, and loves that she can style her hair under 30 minutes without sacrificing her arms since it's so lightweight. She does admit that the settings buttons are place awkwardly but after using it for so long she's used to them. —Bianca Nieves, senior shopping editor
The Most-Reviewed Hair Dryer
Yes, yet another Revlon select. What can we say? The brand really knows how to produce top-notch hair dryers. This one in particular checks off all the boxes. It's under $15 and it's perfect to throw in your weekender bag. Some reviewers even share it's their preferred hair dryer to dry their pets, for garage work, and one even used the hair dryer as the engine for a Pinewood Derby race, and won. The more you know! —B.N.
The Best Hair Dryer If You're New to Styling Your Hair
While the Revlon Hair Dryer & Volumizer is the one with the cult following, you shouldn't sleep on the brand's Hair Dryer & Styler. You get the same benefits but without the hassle of learning how to properly maneuver the brush to get the desired volume. Plus if you're new to the hair styling game, this product works as a hair dryer and a hair iron, leaving your hair detangled, smooth, and styled. As somebody who prefers to my hair to air dry, this device is my go-to when I want to switch it up and keep my getting ready time under 30 minutes. —B.N.
The Versatile One
Drybar released this multitasking blow-dryer in early 2022 to immediately positive reviews. It has since won some pretty prestigious beauty awards, and customers love that it distributes heat evenly, has easy-to-use controls, and — with three nozzle options — lets you style your hair in a ton of different ways. It's perfect for people who have a bit of experience with blow-drying at home, especially since the body of the tool can get a bit hot. But perhaps the best selling point is that it blasts such precise, high heat that you can reap the benefits of a hard-earned blowout four to five days after you put in the work. —S.S.
The Best Travel Dryer With Multiple Settings
Unlike most other smaller on-the-go dryers, this option from Kim Kimble offers two speeds and three heat settings for optimal styling. You know it was made with a professional grade of mind, being lightweight and easy to use. —Brooke LaMantia, Cut Shop Contributor
The Best Dryer for a Voluminous Blowout
T3 is a cult-classic for hair dryers, and this dual-headed brush lets you achieves salon-level blowouts at home. Using the same IonFlow Technology as all its dryers, the brush gives even and consistent airflow that comes in five heat settings and three speeds. —B.L.
The Dyson Dupe
It's no secret people are obsessed with the Dyson Airwrap (and for good reason), but on TikTok, people are just as devoted to finding a good dupe. This five-in-one dryer is a fraction of the price but allows you to try out what a Dyson would do without spending that money. Like most dupes, it's reviews are mixed, but plenty people have shared how much they love this product. —B.L.
Our experts: