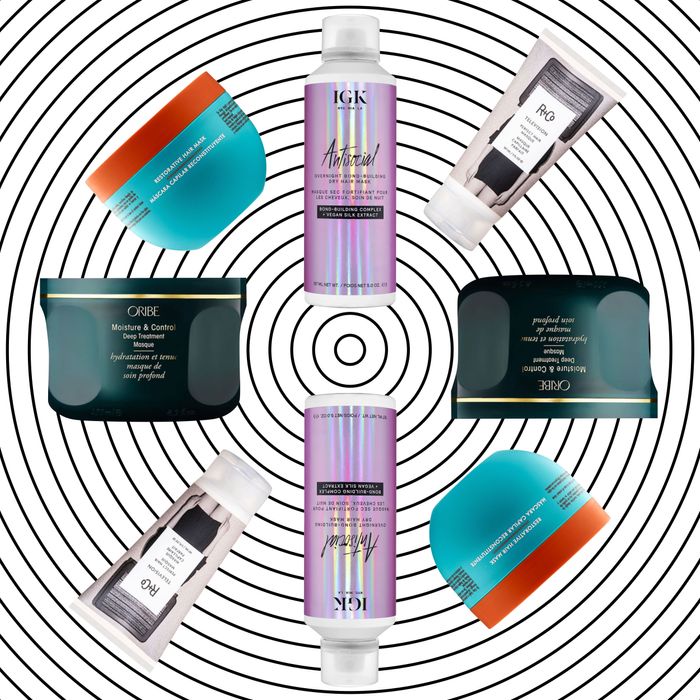 Photo: Courtesy of the retailers.
Hair masks are usually something you let yourself have just for a little while, as a treat. But if you're spending more time at home, especially over the holidays, why not really indulge by leaving a hair mask on for longer than you ever imagined possible. Instead of counting down to rinse-off during the prescribed five to ten minutes in the shower, wear it while on dry land. Braid, wrap, or pile coated hair into a bun and let your strands really marinate in the heavenly scented, nourishing goodness while you rabidly puzzle, cosplay as a baker, give yourself a facial, or binge-watch things hours past a respectable bedtime. Ready for the softest, shiniest hair of your life? Here are 17 hair masks your dry, damaged, or dull hair will be happy to wear around the house.
The Starter Hair Mask
If you're new to the world of hair masks (welcome) or can't quite put your finger on a particular hair problem, Verb's well-rounded hydrating mask is a good place to start. It's a step up from your usual conditioner but not overly heavy, and leaves a light, lingering scent, making it good pick for any hair types that could use a little something-something.
The Trusty One You Can Always Rely On
Like it's cult-favorite leave-in conditioner counterpart, this miracle mask is a reliable, no-frills treatment that has many abilities, including smoothing and softening overly heat-styled hair and even standing in for your regular post-shampoo conditioner when used in smaller doses.
The One That Supports Your Hair-Growth Journey
If you're embarking on the painstaking journey of growing your hair longer, this tub of goodness makes for a supportive sidekick. Apple cider vinegar and peppermint will keep your scalp stimulated and clean while your hair sits in strengthening shea butter and Jamaican black castor oil, a recipe for less breakage and more length retention over time.
The Nutritious One
If your hair feels weaker or more lackluster than usual, this nourishing, antioxidant-packed mask of vitamins E and C–rich tomato extract will help nurse it back to life, as if it's been regularly popping its multivitamins.
The One to Take on Vacation
This mask is packed with reparative monoi oil, a Tahitian beauty secret that has long been relied upon to undo and prevent damage from the sun and salty ocean water, making it a good pick if you tend to emerge from pools or other bodies of water with matted tangles and crispy strands. Another reason to leave this one on a little longer — the scent of the other star ingredients, Tahitian gardenia extract and coconut oil, will make you smell like you're on a beach vacation regardless of where you actually are and what you're actually doing.
The Sweet One
This hair mask is packed with honey, a natural humectant, and is a sweet-smelling treat for dry, brittle hair. The extra-thick formula works best for strands that are in dire need of some TLC, which is why the Strategist's Rio Viera-Newton loves using it on bleached hair to help it literally bounce back.
The One That Does Damage Control and Is an Amazon Favorite
If your hair feels brittle, broken, or just generally doomed due to the chemicals or heat you voluntarily subjected it to, this is the hair mask to call in for reinforcements. The treatment contains the brand's patented bond-building technology that helps repair broken hair at the strand level, so you're rebuilding things after a disaster, rather than putting on a fresh coat of shine to cover it up. It's the best-reviewed hair mask on Amazon, with 96,000 five-star reviews.
The One You Can Share With Roommates
This well-rounded hair mask — packed with high-quality avocado oil, lemon extract, and olive-fruit oil — is a good staple to keep stocked in a shared bathroom. The nourishing blend benefits all hair types and has a fresh, subtle smell that will please all noses.
The One That Feels Like a Makeover
If you're looking for a true treat-yo-self moment at home, this luxurious hair mask is like the icing on a self-care cake. Thanks to keratin and an amino-acid blend, your hair feels like new post-rinse and will waft the brand's heavenly Melrose scent of rose, bergamot, and cedarwood long after. That combo alone is enough to make your hair feel like it went from a "before" picture to an "after," worthy of slo-mo hair shake.
The One That Makes Hair Supersoft
This award-winning mask from the clean hair-care line has won over Cut staffers and a cool 3K or so Sephora reviewers alike. It's also one of the most mentioned products in our "Auto-Refill" series. Its naturally derived ingredients — including B vitamins, rosehip oil, argan oil, collagen, and silk — transform hair into shiny, silky strands that are instantly softer to the touch after you step out of the shower.
The One That Makes Hair Super-Shiny
This mask is essentially a Good Hair Day in tube. The blend of moisturizing murumuru butter, hydrating snow mushroom extract, and four oils ranging from olive to pequi gets you sleek, frizz-free, extra-shiny hair that, as the name implies, is pretty much camera-ready, no Zoom filter needed.
The One You Can Comfortably Sleep In
If you want to wear your hair mask for upward of seven hours without worrying about it oozing onto your pillow, IGK's innovative dry formula makes it a breeze. It goes on like a dry shampoo but is anything but — instead of soaking up oil, it distributes a time-release, bond-building formula that strengthens hair over time, preventing future damage, frizz, and the need to actually get in the shower.
The One for Thick Hair
If you have thick hair and a lot of it, this rich hair mask will get the hydrating job done without you having to go through half of the tub. It's packed with shea butter, reparative keratin protein, and the brand's star ingredient (argan oil, of course) to make managing all that hair much easier when detangling or styling.
The One for Fine Hair
If you've shied away from hair masks because you don't think your fine hair can handle the heaviness, consider this mask designed with weightlessness in mind. The formula's hydration comes from nutrient- and mineral-rich deep-sea water rather than a thick emollient, and it aims to rebalance the natural oils already hanging out on your head instead of adding more into the mix, so limp hair feels more bouncy and enjoys a bit of a lift.
The One That's a Spa Day for Curls
Caring for delicate curls can become a chore, but taking a dip into this luxurious tub not only makes dry curls feel much more manageable, but also turns the often annoying process of moisturizing and moisturizing some more into a pampering process.
The One That Will Reset Your Color
This fancy hair mask by French hair wizard Christophe Robin has a reputation for transforming even the most fried, processed, heat-styled hair into healthy-looking strands thanks to prickly pear seed oil that's high in antioxidants, and inula plant extract that not only helps hair retain and revive color.
The One to Splurge On
Yes, the triple-digit price makes you do a double take, but it's worth it if you want to really invest in your hair. The gloop-y goodness gets right down to nourishing business with a healthy serving of coconut oil and rarer nut oils like cupuaçu and manketti, plus shea butter for a transformative experience that's like giving your hair the head equivalent of a fancy spa facial at home.