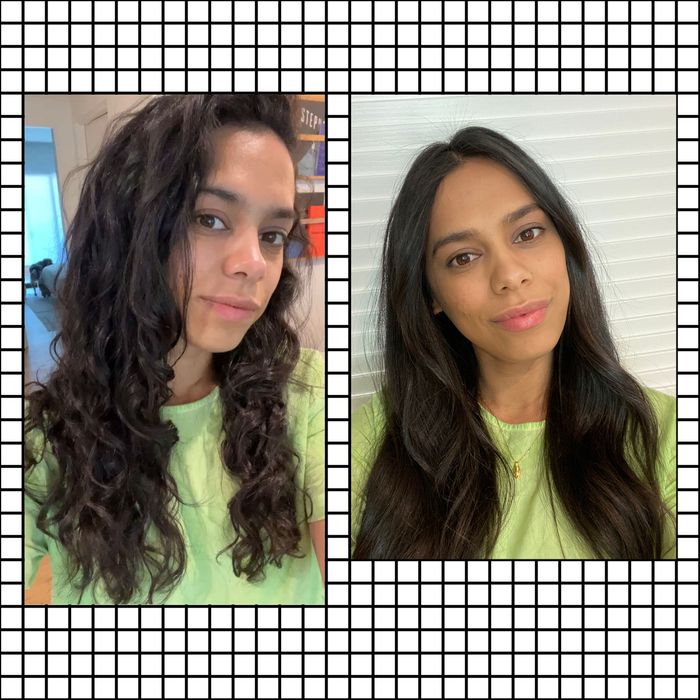 Courtesy of the retailers.
Photo-Illustration: Courtesy of the retailers.
For more of the Cut's favorite fashion, beauty, and home finds, sign up for the weekly Cut Shop Newsletter.
Taking extra care in finding the best hair straightener for your hair type and texture (as well as the best heat protectants to shield your tresses) can go a long way to ensuring that the proverbial hair tool at the bottom of your bathroom drawer is as effective as it should be.
So we asked hairstylists who work with all kinds of hair for the things to look out for before you replace the one that's busted, crusted, and practically kindling on your countertop. Below the Cut Shop team has rounded up the best hair straighteners we've tested, spotted backstage during Fashion Week, and subsequently added to our wish list.
FAQs
What should I look for in a hair straightener?
Above all, quality. Like curling irons and any hot tool that comes in direct contact with your strands, hair straighteners have the capacity to inflict very real damage. This doesn't mean you can't bargain hunt, but you'll want to keep a few things in mind for extended use:
Easy-to-understand heat settings: Some hair straighteners operate via a fixed temperature, while others have a manual dial or screen to select your ideal heat setting. Hair pros told The Cut to start with a low heat setting and to avoid going above 450 degrees, lest you risk damaging your strands and natural curl pattern.
Fewer passes: Whatever your ideal heat setting is, you need a straightener that delivers in one or two passes (presses, hair sandwiches, etc.). The more passes, the more cumulative harm.
Ergonomic design: You'll want a lightweight tool you can wield for extended periods of time, as well as one that has the capacity to swivel if you plan on waving or curling the hair. In terms of design, a set of plates that have a beveled (or rounded) edge will help prevent snagging.
Auto shut-off: While this isn't a must for everyone, we want to ensure those with one very particular kind of neuroses feel seen. If you've ever reversed your commute or gone all day worrying about burning your place down, look for a tool with automatic shut-off. Brands like GHD, Bio Ionic, Remington, Dyson, and more have this feature, but the length of time can vary from five to 30 minutes when not in use.
Should I pay attention to plate types?
Yes. But if you want a shortcut: Get a ceramic flat iron. It's the top choice of every expert. "A good universal choice for most hair types and textures would be a one-inch ceramic or ceramic-coated plate. With this size, you can get your hair pin-straight or create different types of waves and curls," says Sky Barbarick, a Los Angeles–based hairstylist.
Justine Marjan, a celebrity hairstylist and GHD brand ambassador, and Jess Elbaum, a New York City– and Los Angeles–based celebrity hairstylist, agree that ceramic straighteners are less damaging because they don't reach scalding hot temperatures, making them a good option for fine or thin hair. They also tend to be the most widely available and affordable of the bunch.
There's no quick answer here. The plate size depends on what look you're going for, what your hair type is, and how long it is. The standard is a one-inch; these are wide enough to be used on a whole head of hair and small enough to style shorter strands. If you have a lot of hair, a 1.5- to 2.5-inch will help pick up the pace. (Marjan notes that wider plates allow you to take larger sections and style hair faster.)
In general, Barbarick says, "The shorter the hair, the smaller the plates should be." So if you have a pixie cut or just want to straighten baby hair or bangs, a .5-inch will work best.
The Best Straightener for Long, Thick Hair
If you want to splurge, Barbarick recommends the Original Styler's older sister, the "pro-loved" Platinum+ Styler. Marjan says it has "ultrazone technology," which constantly readjusts the temperature, giving you more consistent and even styling. This makes it especially great for long, thick hair. We also like that it also has curved edges (unlike the Original), which make it easy to wave and curl — as seen in the image above.
Temperature: 365 degrees | Plate size: 1 inch | Plate type: Ceramic
The Best Overall Straightener
"GHD are ergonomic, produce even heat quickly, and shut off after 30 minutes of nonuse," says Barbarick. She, Marjan, and Rush recommended all sorts of GHD flat irons, but the Original Styler is a great entry point. It heats up in just 30 seconds and is the most affordable of the GHD ilk. One thing to know before you buy GHD: All of the brand's straighteners are fixed at 365 degrees and do not have adjustable temperature settings.
Temperature: 365 degrees | Plate size: 1 inch | Plate type: Ceramic
The Best Flat Iron for Waves
Compared with all the fancy flat irons, this one is a great value. And Target reviewers agree. It's called a "3-in-1" iron because the iron has curved plates, so you can use it to create smooth waves, curls, and sleek, straight styles. It heats up quickly, and has a long (nine feet) cord so you can maneuver with dexterity. And don't worry about having to rush home because you can't remember if you shut off the flat iron — there's an automatic shutoff. Celebrity hairstylist Kristin Ess also has some great videos showing you how to use it at home.
Temperature: 440 degrees | Plate size: 1.25 inches | Plate type: Titanium
The Top-Rated Hair Straightener on Amazon
If you want one backed by a jury of your peers, this Remington flat iron has been given five stars on Amazon by over 39,000 people. It's a fraction of the cost of luxury straighteners, but it has a lot of the same benefits, like "floating" ceramic plates that won't pull at your hair, auto shut-off, and thin, rounded edges for versatile styling.
Temperature: Adjustable 310 to 450 degrees | Plate size: 1 inch | Plate type: Ceramic
The One Beyoncé Uses
FHI's rounded edge allows you to easily curl or add waves without much effort. It's almost as small as a travel flat iron, and I love that it straightens even the poofiest sections with just a single pass. But don't just take my word for it, listen to Beyoncé (via InStyle): "I'm crazy about it! I can't live without my flat iron! It takes me about an hour to do my hair, and the only time I don't is when I'm on vacation." (Picture younger Beyoncé, doing her own hair on vacation).
Temperature: Adjustable 140 to 450 degrees | Plate size: 1.25 inch | Plate type: Ceramic
The Best Flat Iron for Curly Hair
This highly rated, ultra thin iron is perfect for getting bobs, lobs, and bangs stick straight. Its long, slim plates also make it easy to reach frizz that sits at the roots of naturally curly hair, along with any baby hairs that hang out on the hairline. Hair length and texture aside, this straightener has become a go-to for stylists and non-stylists alike because it has 50 heat settings, up to 450° F, and a lightweight body that's easy to hold.
Temperature: Adjustable 240 to 450 degrees | Plate size: 1 inch | Plate type: Titanium
The Best Travel Hair Straightener
A lot of travel flat irons are so small that they seem like they'll only work on tiny doll hairs, but Babybliss's Mini Straightener doesn't skimp on heat. It can reach up to 430 degrees in a few minutes, and its half-inch ceramic plates won't take up too much space in your bag. Even if you don't travel a ton, it's a great tool for bangs, too.
Temperature: 365 degrees | Plate size: 1 inch | Plate type: Ceramic
The Hottest Flat Iron
The Sedu's ceramic plates not only straighten hair, they seal the hair's cuticle to stop frizziness before it starts. It's one of the hottest flat irons — its maximum temperature caps at 450 degrees — but its adjustable temperature is handy when I want to precisely control the level of heat I put on my hair.
Temperature: Adjustable 180 to 450 degrees | Plate size: 1 inch | Plate type: Ceramic
The Best Straightener for Damaged Hair
"I love T3!" says Jess Elbaum. "They are not only quality irons, but they are also aesthetically gorgeous on vanities." The Smooth ID has special tech that heats the iron to your specific hair texture and length (as well as any color treatment) and has precise temperature controls so the plates don't get any hotter. This makes it safe to use for coarse, curly hair but also thin, fragile, or damaged hair. Like the Platinum+, it also has curved edges for waving and curling, and it shuts off after one hour.
Temperature: Adjustable from 260 to 401 degrees | Plate size: 1 inch | Plate type: Ceramic 
The Best Wet-to-Dry Straightener
"It's a game changer," says Marjan. For those who perpetually wake up 30 minutes late or have a needy household, the Duet actually lets you straighten towel-dried hair without setting off every air purifier in the building. We know it sounds too good to not have consequences, but Marjan says, "They did clinical trials on over 100 women and found that there was no additional heat damage done to their hair after using the tool!" It's not going to give you precision styling and finishes with more of a blow-dried look, but it's a time-saving option for serial straighteners who are willing to shell out. There's even a setting that allows the tool to be used on dry hair.
Temperature: 365 degrees (Shine Shot mode) | Plate size: 2.5 inch | Plate type: Ceramic
The Best Straightener for Short Hair
"I can't live without this in my kit!" says Los Angeles-based hairstylist Amanda Leigh Rush. "It's perfect for baby hairs around the face, pixie cuts, and styling short hair." She says it's great for silky straight looks but also a great flat iron for natural curls and waves. "Bulkier irons simply cannot get as close to the scalp as this one does"
Temperature: Adjustable 240 to 450 degrees | Plate size: 1 inch | Plate type: Ceramic
The Best Luxury Straightener
If you want your iron to stand out in a crowd, you know what to do. Dyson's is the only flat iron on our list that uses copper plates, which are a more flexible metal. They "hug" your strands, ensuring sleek hair in fewer passes. We found it to be heavier and a bit more unwieldy than the GHD Unplugged, but the Corralle's plate size is a full one inch and it holds a longer charge (30 minutes versus 20 at best), making it more versatile for everyday. P.S.: If it dies before you're finished, you can plug it in to use.
Temperature: Adjustable 320 to 435 degrees | Plate size: 1 inch | Plate type: Ceramic tourmaline
The One With the Best Wide Plates
Double-wides aren't just for deep fryers and strollers; sometimes you need a big booty berth(a) for styling — in which case, the award-winning Bio Ionic is where it's at. The double-plate design is best for those with long and thick hair and, because it can handle a higher heat setting, it works particularly well for those with natural curls. While there's no swivel, the cord is nine feet long, ensuring you can move up and around long hair easily.
Temperature: Adjustable 265 to 450 degrees | Plate size: 1.5 inch | Plate type: Ceramic
The Overachiever
Another iron that promises to deliver in one pass is this Confidante straightener from Amika. Even if you haven't dipped your toe into Amika's hair-care line, you can bet its heat-primer and -protectant products are designed specifically to work with the brand's hot tools. Apart from the titanium infused with infrared wavelengths that Amika says penetrate the shaft more effectively, the plates are also just a smidge longer than your average iron, making your straightening time more efficient. We also love the large digital screen and heatproof coating for the handle — a necessary feature for a straightener that can reach a high temp of 450 degrees.
Temperature: Adjustable 170 to 450 degrees | Plate size: 1.25 inch | Plate type: Titanium 
The Most Unique Design
You're probably acquainted with Drybar for its blow-dryers (and blow-dry bars), but don't sleep on the brand's other hot tools. As the name suggests, this flat iron uses four half-inch plates — but it doesn't just make for a beautifully designed product: The smaller plates allow for more even heat distribution. The cavity in the middle of the iron also helps create that all-important tension, which is what gets you super sleek (and bouncy!) in less time. If that weren't enough, the tool has five out of five stars on Nordstrom.
Temperature: Adjustable 250 to 450 degrees | Plate size: Four .5-inch plates | Plate type: Titanium 
Our experts: