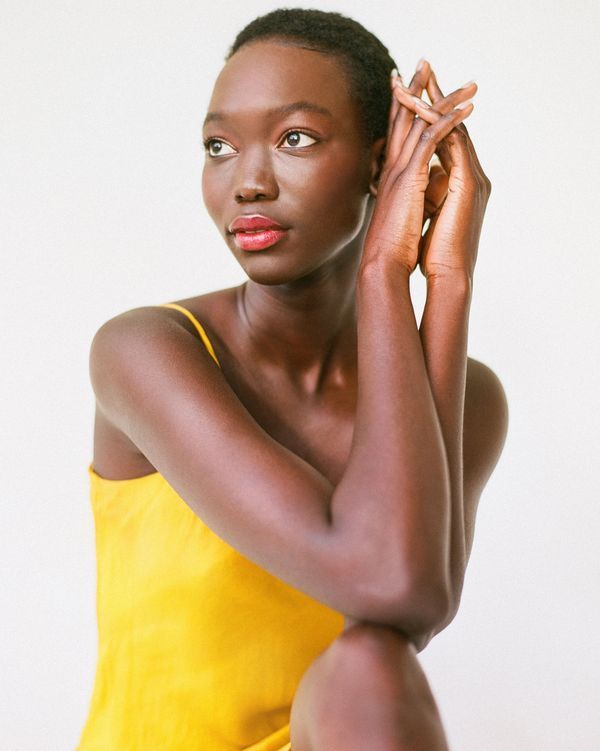 Our hands are feeling a little crispier than usual, and we bet yours are too. The fun, end-of-year combo of impending winter weather, frequent hand-washing, and habitual hand-sanitizer baths is the perfect recipe for dry, cracked hands.
"Washing your hands removes skin's natural oils and breaks down its moisture barrier," says dermatologist Amy Wechsler. "If you give those oils right back in the form of a moisturizer, you can prevent the breakdown from happening." Wechsler recommends steering clear of occlusive formulas, like Aquaphor, when hands are super-dry. "Formulas like that stay on the surface," she says. "You need something that penetrates." Read on for the best hand creams that will do the trick in a wide variety of situations.
The Best-Looking Hand Cream
Sure, this can't fit in your bag, but it won't look out of place on your curated nightstand. The overnight treatment is fragrance free and features retinol for smoother, clearer hands and colloidal oatmeal for soothing skin.
The One to Keep in Your Kitchen
Besides having very chic packaging, Courteney Cox's home-care line features a hand cream worth splurging on. The line features a number of scents, but our favorite is the earthy, floral-steeped rose one.
The Best Affordable Hand Cream
The ideal moisturizing window for hands is five minutes after you wash them; leave one of these lotions in the kitchen and one in the bathroom, and that goal becomes a lot easier to meet. The formula (with sweet almond oil and shea butter) is rich but absorbs surprisingly quickly. And it comes in the same lavender and basil scents that have made the brand's cleaning products so popular.
The Hand Cream Everyone Loves
This shea butter formula is on every hand cream roundup for a reason. It feels as luxurious as the pretty silver packaging looks, and is so rich that a single tube goes a long way. The next time you're scrambling to come up with a good last-minute stocking stuffer, keep this crowd-pleaser on the top of your shortlist.
The Really Powerful Hand Cream
This thick, eucalyptus-scented salve gets down to business with a heavy-duty formula that's packed with the kind of oils (like avocado, sesame, and olive) that extremely rough, worn, and dry hands need. It creates a protective "glove" of moisture that helps keep hydration locked into hands.
The Fancy Hand Cream
Aesop's unisex products have a reputation for making one feel upscale, and this creamy hand balm is no exception. It smells like a complex candle and softens skin and chapped, flaky cuticles with a concentrated blend of oils (sweet almond and coconut) and butters (shea and cocoa.) Like most creams that come in the brand's crinkly metal tubes, it's a treat.
The Best Hyaluronic Acid Hand Cream
If the inherent thickness of hand creams sends a shiver down your spine, never fear — a lighter gel formula exists. Neutrogena's Hydro Boost for hands is packed with the same hyaluronic acid you've been putting on your face. Applying the cooling formula makes hands quickly feel hydrated, like they just drank the recommended amount of water through a cold metal straw.
The Hand Cream That Won't Leave You Greasy
If you have to do a lot of typing, hand-shaking, or carrying various objects, this cream will be your new best friend. The 96 percent natural formula doesn't leave any trace of greasy residue; your hands won't feel awkwardly sticky, just suddenly soft. The only evidence that you've been slathering rich cocoa and shea butters and jojoba oils all over them will be the energizing green-tea scent.
The Hand Cream That Makes Your Hands Look Younger Right Away
This well-rounded hand cream (infused with both CBD and CBG) has a nice fluffy formula and a subtly sweet minty scent, and it comes with an amino-acid-based powder that creates an immediate blurring effect on any fine lines hanging out on your hands. Go forth and post pics of your fresh mani sans any filters.
The Best Fragrance-Free Hand Cream
This hypoallergenic, fragrance-free treatment has a quick-absorbing lotionlike consistency that delivers speedy relief for itchy, eczema-prone skin. The gentle formula contains colloidal oatmeal to calm irritation and absolutely zero scent, making it a great option for anyone with skin as sensitive as Drake.
The Best Fancy, Fragrance-Free Hand Cream
If you want to treat your sensitive skin or selective nose to a more luxurious fragrance-free formula, this is it. Each squeeze dispenses an unbelievably creamy, cloudlike formula that truly feels like a treat for dry, worn-out hands. It also absorbs quickly and leaves a nice glow-y, photogenic sheen, like you recently got a manicure.
The Hand Cream That Comes in a Pump
If you loathe gunky flip caps or hate trying to screw a cap back on with slippery hands, this hand cream is the way to go. It's infused with nourishing rosehip oil, orange-peel oil, grapeseed oil, and aloe vera to target stressed skin on overworked hands. The convenient pump-and-go package cuts down on frustration and mess, and the bottle looks beautiful on any bathroom counter. Bonus points for the crisp citrus scent, which transports your mind to somewhere warm and beachy.
The Best Hand Cream with SPF
If you apply face or body SPF daily, chances are some part of your hands will get coated in residual SPF in the process. But to make sure you're completely and literally covered, Supergoop made a sunscreen with hands in mind. The lightweight blend of meadowfoam seed oil, argan oil, and SPF 40 absorbs in record time to ensure they're protected from the aging rays of the sun.
The Best Luxury Hand Cream
This adorable Parisian egg is home to an incredibly soft and melty hand cream that was designed to be used while traveling light. Sadly, though, it still won't fit in this purse.
The Portable One
This similarly egg-shaped contraption is home to a fast-absorbing, nongreasy formula that debuted during the height of the pandemic, when essential workers needed its nourishing qualities most. It's easy to squeeze from every angle, comes with a click-to-close cap to prevent spills in transit, and makes you smell like Glossier's popular You scent.
The Old Reliable Hand Cream
Neutrogena's tried-and-true formula is on the heavier side and has successfully healed many a dry hand, making it worth buying whether you prefer the lavender or unscented formula. Leave one at your desk, leave one in your medicine cabinet, leave one on your nightstand, leave one in your car, and leave two more in two other undisclosed location for safekeeping.
The Nutty Hand Cream
If flowery scents aren't your jam but you still want something that smells like nature, Naturabrasil's nourishing hand cream may be up your alley. The softening formula strengthens your skin's natural moisture barrier with the help of Murumuru butter and oil from castanha, a.k.a. Brazil Nuts, a.k.a. the same extremely moisturizing ingredient that's found in the delicious-smelling butt cream everyone loves to sniff.
The Hand Cream That Prolongs Your Manicure
If you can barely focus on how dry your hands feel because of how terrible your cuticles look, this multitasking cream will help. It locks in the moisture it delivers with natural baobab, pumpkin seed, and watermelon-seed oils and gently exfoliates with a natural fruit acid complex.
The Best-Smelling Hand Cream
This stylish hand cream was based on Byredo founder Ben Gorham's perception of the color white. The end result is a clean blend of pink pepper, peony, and a touch of sandalwood that makes hands smell heavenly — and gives them smooth, lightweight moisture, too.
The Hand Cream With the Most Impressive Packaging
Photo: © 2016 Products On White Photography
Look at that chic black tube! The contents are nice, too: shea butter blended with a lot of essential oils, including argan, avocado, apricot, rose hip, sunflower, and geranium. Despite the oil levels, this cream has a light texture that sinks in quickly but leaves your skin moisturized.
The One You'll Want to Use All Over
This extra-rich formula is basically like slugging for your hands. It contains two different types of shea butter that really amp up the sealing factor, and comes in five unique scents to choose from. A little goes a long way, and that's good news for the rest of your limbs, because this butter leaves skin kissed with a beautiful, hydrated sheen.
If you buy something through our links, New York may earn an affiliate commission.