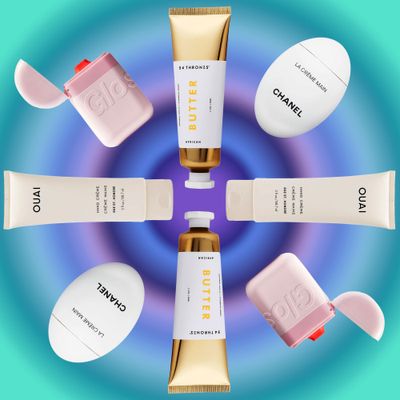 Photo-Illustration: by The.Cut; Photos: Retailers
For more of the Cut's favorite fashion, beauty, and home finds, sign up for the weekly Cut Shop Newsletter.
Between frequent handwashing, sun exposure, harsh weather conditions, and habitual hand-sanitizer baths, dry, cracked hands can be a serious problem. But fear not — we've rounded up the best hand creams that help combat a variety of concerns and leave your hands feeling supple and smooth. Whether you prefer an indulgent, luxury formula or simply want to hydrate without a greasy feel, read on to shop the 15 best hand creams on the market.
Is washing my hands often making them drier?
"Washing your hands removes skin's natural oils and breaks down its moisture barrier," says dermatologist Amy Wechsler. "If you give those oils right back in the form of a moisturizer, you can prevent the breakdown from happening."
What is the best hand cream formula?
Wechsler recommends steering clear of occlusive formulas, like Aquaphor, when hands are super-dry. "Formulas like that stay on the surface," she says. "You need something that penetrates."
Read on for the best hand creams that will do the trick in a wide variety of situations.
The Overall Best Hand Cream
This shea butter formula is on every hand cream roundup for a reason. It feels as luxurious as the pretty silver packaging looks, and is so rich that a single tube goes a long way. The next time you're scrambling to come up with a good last-minute stocking stuffer, keep this crowd-pleaser on the top of your shortlist.
Pros: Tried-and-true formula; provides long-lasting hydration.
Cons: It's very thick, which can be a bit overwhelming.
The Best Natural Hand Cream
If you have to do a lot of typing, hand-shaking, or carrying various objects, this cream will be your new best friend. The 96 percent natural formula doesn't leave any trace of greasy residue; your hands won't feel awkwardly sticky, just suddenly soft. The only evidence that you've been slathering rich cocoa and shea butters and jojoba oils all over them will be the energizing green-tea scent.
Pros: Affordable; won't leave your hands feeling greasy.
Cons: The packaging doesn't feel luxe.
The Best Luxury Hand Cream
This adorable Parisian egg is home to an incredibly soft and melty hand cream that was designed to be used while traveling light. Sadly, though, it still won't fit in this purse.
Pros: Chic packaging; ideal for traveling.
Cons: Comes with a luxury-level price tag.
The Best Affordable Hand Cream
The ideal moisturizing window for hands is five minutes after you wash them; leave one of these lotions in the kitchen and one in the bathroom, and that goal becomes a lot easier to meet. The formula (with sweet almond oil and shea butter) is rich but absorbs surprisingly quickly. And it comes in the same lavender and basil scents that have made the brand's cleaning products so popular.
Pros: It's the perfect post-dish-washing hand cream.
Cons: Smells like dish soap.
The Best Hand Cream for Sensitive Skin
Tatcha's Indigo line is one of the Cut Shop team's favorite. Just like their Indigo Overnight Repair moisturizer, this hand cream will soothe the skin on your hands, especially if you have minor eczema flare-ups or irritation thanks to its squalane and silk extracts.
Pros: Great for sensitive skin.
Cons: One reviewer says the formula tends to separate.
The Best Travel-Size Hand Cream
Being on the-go is no excuse to keep your hands dry. We provided the portable option above but if you still want a compact option, we present you this one from Ouai. Its thick and nongreasy formula will keep your hands smooth and ready for whatever you have planned in your busy schedule.
Pros: Compact design; rich and nongreasy formula.
Cons: Has a potent floral scent. 
The Best Heavy-Duty Hand Cream
This thick, eucalyptus-scented salve gets down to business with a heavy-duty formula that's packed with the kind of oils (like avocado, sesame, and olive) that extremely rough, worn, and dry hands need. It creates a protective "glove" of moisture that helps keep hydration locked into hands.
Pros: Creates a "glovelike" protection for your hands; can help with redness.
Cons: Because of the problem-solving formula, expect a thicker feel. 
The Best Fragrance-Free Hand Cream
This hypoallergenic, fragrance-free treatment has a quick-absorbing lotionlike consistency that delivers speedy relief for itchy, eczema-prone skin. The gentle formula contains colloidal oatmeal to calm irritation and absolutely zero scent, making it a great option for anyone with skin as sensitive as Drake.
Pros: Affordable, hypoallergenic, and fragrance free, which is ideal for problematic skin.
Cons: Some reviewers say it's not thick enough.
The Best Fast-Aborsbing Hand Cream
If you want to treat your sensitive skin or selective nose to a more luxurious fragrance-free formula, this is it. Each squeeze dispenses an unbelievably creamy, cloudlike formula that truly feels like a treat for dry, worn-out hands. It also absorbs quickly and leaves a nice glow-y, photogenic sheen, like you recently got a manicure.
Pros: Stocked with peptides and multivitamins; absorbs quickly; provides a post-manicure sheen.
Cons: The packaging is not very efficient.
The Best Hand Cream With a Pump
If you loathe gunky flip caps or hate trying to screw a cap back on with slippery hands, this hand cream is the way to go. It's infused with nourishing rosehip oil, orange-peel oil, grapeseed oil, and aloe vera to target stressed skin on overworked hands. The convenient pump-and-go package cuts down on frustration and mess, and the bottle looks beautiful on any bathroom counter. Bonus points for the crisp citrus scent, which transports your mind to somewhere warm and beachy.
Pros: Has a bright citrus and vanilla scent; infused with nourishing essential oils.
Cons: Expensive; not travel-friendly.
The Most Reliable Hand Cream
Neutrogena's tried-and-true formula is on the heavier side and has successfully healed many a dry hand, making it worth buying whether you prefer the lavender or unscented formula. Leave one at your desk, leave one in your medicine cabinet, leave one on your nightstand, leave one in your car, and leave two more in two other undisclosed location for safekeeping.
Pros: Affordable; fragrance free; powerful formula.
Cons: Some reviewers say it leaves a bit of residue.
The Best Hand Cream That Gently Exfoliates
If you can barely focus on how dry your hands feel because of how terrible your cuticles look, this multitasking cream will help. It locks in the moisture it delivers with natural baobab, pumpkin seed, and watermelon-seed oils and gently exfoliates with a natural fruit acid complex.
Pros: Helps soothe irritated cuticles; made with natural ingredients.
Cons: Sticky consistency.
The Best-Smelling Hand Cream
This stylish hand cream was based on Byredo founder Ben Gorham's perception of the color white. The end result is a clean blend of pink pepper, peony, and a touch of sandalwood that makes hands smell heavenly — and gives them smooth, lightweight moisture, too.
Pros: A perfectly curated Byredo scent; chic packing; lightweight moisture.
Cons: It's expensive.
The Best Lightweight Hand Cream
Photo: © 2016 Products On White Photography
Look at that chic black tube! The contents are nice, too: shea butter blended with a lot of essential oils, including argan, avocado, apricot, rose hip, sunflower, and geranium. Despite the oil levels, this cream has a light texture that sinks in quickly but leaves your skin moisturized.
Pros: Powerful ingredients; quick absorption; ultracool packaging.
Cons: In contrast to the dark packaging, the scent is for those who prefer something light and bright.
The Best Cream for Hands and Body
This extra-rich formula is basically like slugging for your hands. It contains two different types of shea butter that really amp up the sealing factor, and comes in five unique scents to choose from. A little goes a long way, and that's good news for the rest of your limbs, because this butter leaves skin kissed with a beautiful, hydrated sheen.
Pros: Available in four different scents and three different sizes; long-lasting product.
Cons: Some reviewers say it's not very spreadable unless you warm it up in your hands first.
Our Experts: