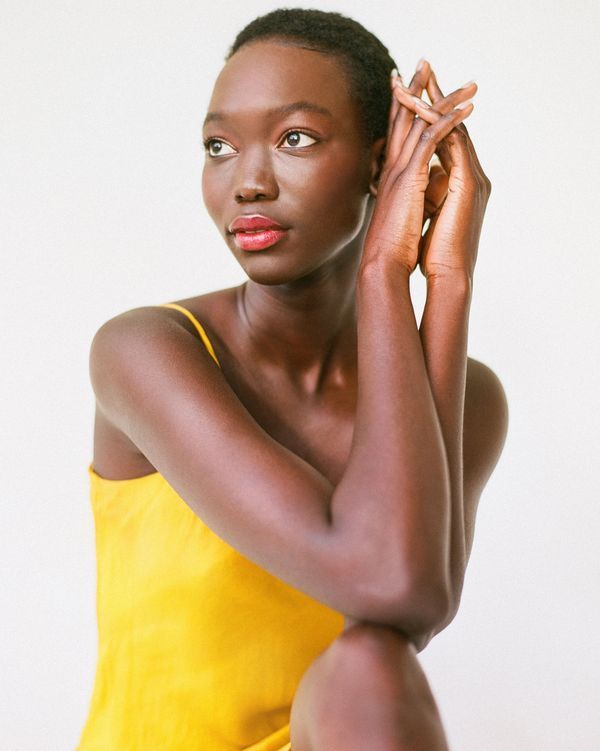 It's not high on the list of concerns about coronavirus, but my hands are incredibly dry right now, and I bet yours are, too. The CDC recommends washing your hands frequently, "especially after going to the bathroom; before eating; and after blowing your nose, coughing, or sneezing." You should use soap and water, and you should take at least 20 seconds. All of this is a recipe for dry, cracked hands.
"Some people think they might be overdoing it with how often they're washing their hands now, but that's the amount of washing that you're supposed to do," says dermatologist Amy Wechsler, who washes hers (followed by a pump of Purell) between every patient. "I always apply moisturizer afterwards; it's a simple dry-skin-care step. Washing your hands removes skin's natural oils and breaks down its moisture barrier. If you give those oils right back in the form of a moisturizer, you can prevent the breakdown from happening."
Wechsler recommends keeping a humidifier nearby, using a gentle hand soap (she prefers fragrance-free Seventh Generation), and not using occlusive formulas, like Aquaphor, when hands are super-dry. "Formulas like that stay on the surface," she says. "You need something that penetrates." Read on for 22 hand creams that will do the trick.
The Best Affordable Hand Cream
The ideal moisturizing window for hands is five minutes after you wash them; leave one of these lotions in the kitchen and one in the bathroom, and that goal becomes a lot easier to meet. The formula (with sweet almond oil and shea butter) is rich but absorbs surprisingly quickly. And it comes in the same lavender and basil scents that have made the brand's cleaning products so popular.
The Hand Cream Everyone Loves
This shea butter formula is on every hand cream roundup for a reason. It feels as luxurious as the pretty silver packaging looks, and is so rich that a single tube goes a long way.
The Best Really Powerful Hand Cream
This thick, eucalyptus-scented salve gets down to business with a heavy-duty formula that's packed with the kind of oils (like avocado, sesame, and olive) that extremely rough, worn, and dry hands need. It creates a protective "glove" of moisture that helps keep hydration locked into hands.
The Best Fancy Hand Cream
Aesop's unisex products have a reputation for making one feel upscale, and this creamy hand balm is no exception. It smells like a complex candle and softens skin and chapped, flaky cuticles with a concentrated blend of oils (sweet almond and coconut) and butters (shea and cocoa.) Like most creams that come in the brand's crinkly metal tubes, it's a treat.
The Best Hyaluronic Acid Hand Cream
If the inherent thickness of hand creams sends a shiver down your spine, never fear — a lighter gel formula exists. Neutrogena's Hydro Boost for hands is packed with the same hyaluronic acid you've been putting on your face. Applying the cooling formula makes hands quickly feel hydrated, like they just drank the recommended amount of water through a cold metal straw.
The Hand Cream That Makes Your Hands Look Younger
This shea butter treatment is a hand-specific anti-aging cream that will make your face jealous. It's packed with Tula's signature probiotics to lock in moisture, along with retinol to smooth, licorice to target dark spots, and vitamin C to clean up any lingering free radicals.
The Best Fragrance-Free Hand Cream
This hypoallergenic, fragrance-free treatment has a quick-absorbing lotionlike consistency that delivers speedy relief for itchy, eczema-prone skin. The gentle formula contains colloidal oatmeal to calm irritation and absolutely zero scent, making it a great option for anyone with skin as sensitive as Drake.
The Hand Cream That Comes in a Pump
If you loathe gunky flip-caps or hate trying to screw a cap back on with lotiony hands, Beautycounter's hand cream may be the way to go. The clean beauty brand's cream comes in a convenient pump-and-go package that cuts down on frustration and mess. Bonus points for the crisp citrus scent, which helps transport your mind to somewhere warm and beachy.
The Hand Cream That Won't Leave You Greasy
If you have to do a lot of typing, hand-shaking, or carrying various objects, this cream will be your new best friend. The 96 percent natural formula doesn't leave any trace of greasy residue; your hands won't feel awkwardly sticky, just suddenly soft. The only evidence that you've been slathering rich cocoa and shea butters and jojoba oils all over them will be the energizing green-tea scent.
The Best Hand Crea with SPF
If you apply face or body SPF daily, chances are, some part of your hands will get coated in residual SPF in the process. But to make sure you're completely and literally covered, try Ahava's anti-aging hand cream. It relies on a blend of algae and Dead Sea minerals to brighten and smooth over time, and tops things off with a dose of SPF 15 to protect hands from the aging rays of the sun, without smelling like straight-up sunscreen.
The Best Luxury Hand Cream
This adorable Parisian egg is home to an incredibly soft and melty hand cream that was designed to be used while traveling light. Sadly, though, it still won't fit in this purse.
The More Affordable Portable One
This egg-shaped contraption comes in fun colors and bright scents and is home to a lightweight, non-greasy formula that you can rely on year-round. (It won't fit in the aforementioned purse, either, but it will probably fit in these.)
The Old Reliable Hand Cream
Neutrogena's tried-and-true formula is on the heavier side and has successfully healed many a dry hand, making it worth buying whether you prefer the lavender or unscented formula. Leave one at your desk, leave one in your medicine cabinet, leave one on your nightstand, leave one in your car, and leave two more in two other undisclosed location for safekeeping.
The Nutty Hand Cream
If flowery scents aren't your jam but you still want something that smells like nature, Naturabrasil's nourishing hand cream may be up your alley. The softening formula strengthens your skin's natural moisture barrier with the help of Murumuru butter and oil from castanha, a.k.a. Brazil Nuts, a.k.a. the same extremely moisturizing ingredient that's found in the delicious-smelling butt cream everyone loves to sniff.
The Hand Cream That Prolongs Your Manicure
If you can barely focus on how dry your hands feel because of how terrible your cuticles look, this multitasking cream will help. It locks in the moisture it delivers with natural baobab, pumpkin seed, and watermelon-seed oils and gently exfoliates with a natural fruit acid complex.
The Best-Smelling Hand Cream
This stylish hand cream was based on Byredo founder Ben Gorham's perception of the color white. The end result is a clean blend of pink pepper, peony, and a touch of sandalwood that makes hands smell heavenly — and gives them smooth, lightweight moisture, too.
The Hand Cream With the Most Impressive Packaging
Photo: © 2016 Products On White Photography
Look at that chic black tube! The contents are nice, too: shea butter blended with a lot of essential oils, including argon, avocado, apricot, rose hip, sunflower, and geranium. Despite the oil levels, this cream has a light texture that sinks in quickly but leaves your skin moisturized.
The Best Clean Hand Cream
Palm-Beach-based organic and natural facialist Tammy Fender created this cream from natural actives, like shea butter, sunflower oil, and a slew of flower extracts. The neroli fragrance is as soothing as Fender's spa — which is saying a lot.
The One From the Famous Manicurist
Celebrity manicurist Deborah Lippmann might not be able to adorn our wrists and fingers with diamonds, but she's happy to help our hands themselves look fancy. (Nail shaping, however, is on you). Fans love how this cream delivers intense moisture without being greasy or heavy. The subtle scent and high SPF are excellent added features.
The Hand Cream That Smells Like Spring
Persian rose gets top billing in this luxuriously rich cream, but sweet orange peel oil rises to the top, scent-wise, lending it a "spring is almost here!" sensation.
The Best Night Hand Cream
A favorite of Dr. Wechsler's, whose own sensitive skin has a tendency towards eczema. "It's really thick and a little oily. I don't use it during the day, but it's excellent if your hands are super-dry," she says. "It's my right-before-bed lotion."
The One Meant to Be Used Alongside a Serum
Hyaluronic acid and sunflower fatty acids in this cream provide long-lasting moisture, while the kakadu plum-derived vitamin C helps boost collagen and fade dark spots. In this time of serious hand care, Tenoverten suggests tag-teaming it over their new Hand Repair Serum.
If you buy something through our links, New York may earn an affiliate commission.