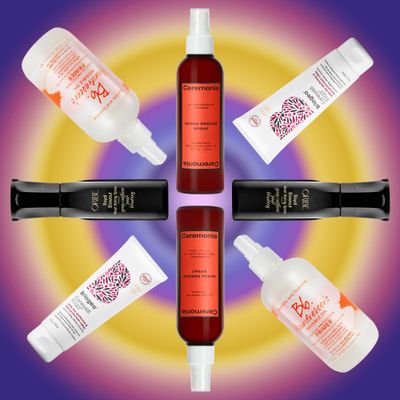 Photo-Illustration: by The Cut; Photos: Retailers
For more of the Cut's favorite fashion, beauty, and home finds, sign up for the weekly Cut Shop Newsletter.
As someone who spent years of my life straightening my hair — primarily during my preteen years when I hated my curly hair — I know the importance of a good heat protectant. Of course, there's actual rhyme and reason (a.k.a. science) that goes into how these magical products work, but there are definitely some heat protectants out there that are better than others.
FAQs
So are heat protectants the holy grail of safely styling your hair?
Cosmetic chemist Esther Olu explains that while protectants "are an excellent tool to help reduce heat exposure and damage to the hair, it is super-important to note that heat protectants are not 100 percent fool proof, but can help minimize heat damage." It's still important to avoid heat as much as you can and use the protectant, whether it's a cream or spray, as it says on the label.
Below, find the best heat protectants that hair experts and the Cut team swear by.
The Great-Smelling Spray
We love Ceremonia for its clean, fragrant products that really do work wonders on the hair. Their Guava Rescue Spray is both a heat protectant and detangler that creates a natural UV barrier to shield hair from sun damage and protects against heat damage from tools. Its soft and woody scent will have you spraying it on your hair each and every day.
The Silky Cream
"Aside from its scent, as it says within the product's name, this product leaves a beautiful silky, moisturized feel to the hair. It also does an excellent job at maintaining frizz," explains Olu, who shared this as her No. 1 heat protectant. "Also, a little goes a long way!"
The Sleek Blowout Spray
This luxe styling spray protects the hair from heat, speeds up drying time, and offers a silky, shiny finish to any hair type. It's safe for color and keratin treated hair, and it's recommend to be used on damp hair ahead of styling. With one or two spritz, you and your hair are good to go.
The Frizz-Control Cream
If you're someone who cannot style their locks without inducing lots of frizz, consider this heat protectant that will keep frizz at bay. Made with rosehip oil, this cream provides fatty acids to help keep your hair frizz free. Plus it's silicone-free and protects hair against heat up to 450 degrees Fahrenheit.
The Best Serum
If you're a skin-care enthusiast who's newly into hair care, say hello to the hair serum from Amika. After applying one to two pumps on damp hair, this serum shields hair from heat styling and blow-drying. It's the perfect product for those who like to keep it simple, and are already a pro at applying skin-care serums.
The Best Frizz-Control Cream under $10
This scented, anti-frizz cream can be used before air drying or heat styling to protect against heat damage, while maintaining your hair's moisture and shine. It contains FrizzLock Complex, which is a vegan protein blend that replaces animal-derived keratin and helps protect your hair from split ends. All for under $10!
The Best Spray Under $10
I've had this heat protection in my possession ever since my mom first blow-dried my hair. And I still swear by it. This spray is available at almost all drugstores and can be used on both damp hair and dry hair for protection up to 450 degrees.
The Best for Protecting Dyed Hair
Everyone loves this protective primer, including myself and Cut shopping writer Chinea Rodriguez. It's a multipurpose product that provides intense moisture (which is especially vital for those why regularly color their hair), has UV filters to avoid sun damage, provides heat protection, detangles, softens, and protects color from fading for up to 16 washes. It's basically a holy grail.
Our experts: