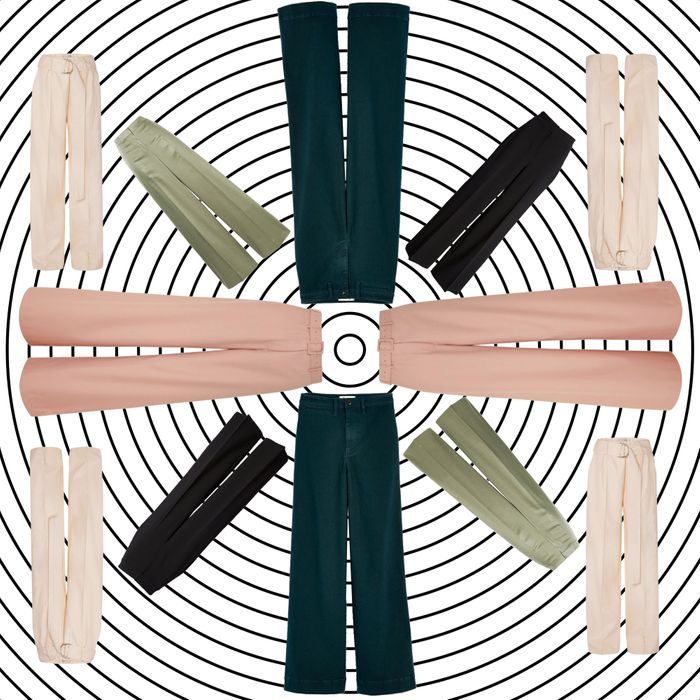 Photo: Courtesy of the Retailers
One of the nice side effects of the ongoing slouchy-suit trend is that high-waisted wide-leg pants are having a moment, too. Never over-designed and often actually comfortable (if you can find a more sweatpant-y soft version), they'll make you look put-together and elegant without feeling too fussy. And there's something about the way they take up space that feels powerful — these are boss pants.
Below, we've rounded up 18 of our favorite pairs. Dress them up to a Katharine Hepburn effect, or wear them with a plain white tank top like fashion editor Christine Centenera for a more streetwear-cool look.
The Streetwear Option
The snap details on the side make these look like warm-up workout pants, but the color (and trouser-like waistband) makes them office-appropriate.
Available in sizes XS–XL.
Burgundy Wide-Leg Pants
More casual than some of the more structured items in this list, these would work best for a not-too-formal office. Pair with a thin sweater for an easy, wear-anywhere outfit.
Available in sizes XS–XXL.
Under-$100 Wide-Leg Pants
These would look so cool with a plain white T-shirt.
Available in sizes 0–10.
More Casual Wide-Leg Pants
These are closer to wide-leg jeans than wide-leg suit pants, if you want something a bit more relaxed.
Available in sizes 23–31.
Dressy Wide-Leg Pants
These caramel-colored satin pants would look great at a holiday party or with a white turtleneck.
Available in sizes S–2XL.
The Power Pants
If you want a power suit without the blazer weighing you down.
Available in sizes 38–44.
The Dressed-Up PJ Pants
The flowy shape, subtly autumnal print, and elastic waistband are a perfect combination for Thanksgiving dinner or any other holiday feast.
Available in sizes 14–28.
A Truly Simple Pair of Wide-Leg Pants
The leg on these pants is wide, but not too wide. Nothing crazy, just a simple, affordable pair of work pants.
Available in sizes XS–XL.
The Ones That Move
If you like pants that have a little volume and movement of their own, these pleated palazzos are for you.
Available in sizes S–L.
A Statement Pair of Wide-Leg Pants
You can dress up these faux-leather pants for work with a crisp button-down or a going-out top.
Available in sizes 14–28.
The Glamorous Wide-Leg Pants
These cream-colored wide-leg leather pants look so luxurious they'll almost bump you up a tax bracket.
Available in sizes 32–44.
The Anglophile's Choice
Depending on how you style these tartan pants, they could go professorial or punk — it just depends on what kind of Britannia you're into.
Available in sizes 36–40.
The Best Wide-Leg Pants for Work
These are the kind of pants you can wear three days a week without comment. Say hello to the new staple in your closet.
Available in sizes 4–14.
Real Leather Wide-Leg Pants
Trust us, leather pants are more versatile than you think.
Available in sizes 34–42.
Slouchy-Cool Wide-Leg Pants
For aspiring Olsen twins.
Available in sizes 00–12.
Minimalist Wide-Leg Pants
No bells, whistles, or color here.
Available in sizes 00–12.
Wide-Leg Pants in Blush Pink
Balance out the menswear shape with a feminine shade of pink.
Available in sizes 4–14.
Black-Tie Wide-Leg Pants
Inspired by a tuxedo, they have a satin stripe up the side.
Available in sizes 16–24.
If you buy something through our links, New York may earn an affiliate commission.