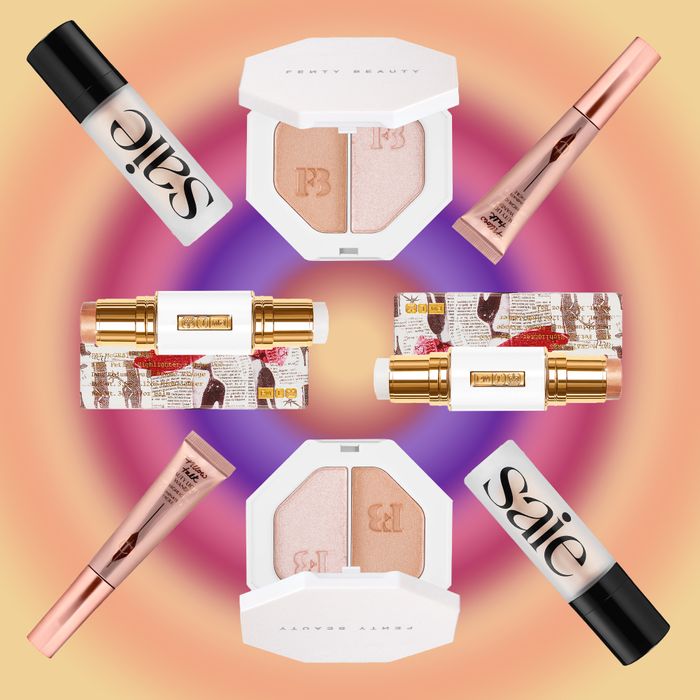 Photo-Illustration: The Cut; Photos: Retailers
For more of the Cut's favorite fashion, beauty, and home finds, sign up for the weekly Cut Shop Newsletter.
If you think your skin still looks a little tired or dull even after your meticulous beauty routine, when it comes to makeup, a highlighter can help. Whether it comes in the form of a powder compact, a liquid gel, or a creamy stick, a highlighter's job is to instantly brighten skin by attracting light, creating the illusion of being well rested.
Since everyone loves a good beauty hack, we tested all of the most popular highlighters, taking notes on everything from their blending abilities to their texture (no glitter, please). In the end, we've pinpointed the 25 best highlighters for erasing dark shadows around the eyes and producing a (much-needed) "lit from within" glow.
The Best Drugstore Highlighter
Photo: Courtesy of the Vendor
This four-piece palette is an all-in-one complexion enhancer. Once you've applied your base, this is all you need. It includes a bronzing shade, a blush shade, and two highlighters to create dimension. The pigment payoff is minimal, but that's not necessarily a bad thing.
The Best Highlighter for Mature Skin
In a stick form with absolutely no shimmer at all, this is one of the easiest highlighters to use. The reviewers, especially those with 50-plus-year aged skin, love that this gives a natural and moisturized not-greasy look to skin that doesn't settle into pores or lines.
The Glossier Highlighter
The Glossier hype might have died down, but the brand's highlighter is still a favorite. Moonstone is an opalescent shade allegedly infused with rose-quartz crystals and a moisturizing-oil core. It glides onto skin for a dewy sheen with a very slight iridescence. Whereas the other sticks tested here were creamy, this one had a wet quality that felt super-hydrating and produced a serious glow.
The No-Makeup-Makeup Highlighter
RMS Beauty's little pot of dewy goodness is like the anti-highlighter for the inexperienced and glitter averse. Its effects are significant but in the subtlest way possible — probably why it was a favorite of the J.Crew catalogue makeup team. Swipe it on the cheeks, down the nose, and on the Cupid's bow. The formula is so sheer it requires little blending effort. It's not sticky, glittery, or made with a single chemical. Win-win-win.
The Buttery Highlighter
Photo: Courtesy of the Vendor
If you find creams too creamy and powders too powdery, Becca's pressed highlighter falls somewhere in the middle. The formula feels like an ultrafine powder that's almost buttery and lightweight and does not cake or sink into the skin. It is effective for illuminating dark shadows and brightening skin with a hint of shimmer. This shade, Pearl, is a soft white, and there are ten others to choose from.
The Best Highlighter for Glass Skin
If you want the surface of your skin to resemble a "glazed donut," this high-shine highlighter will get you that glass skin you desire. Its formula is 50 percent gloss, 50 percent pearlescent sheen, which ensures your skin looks 100 percent reflective. It comes in five shades ranging from Crystal Clear (your go-to if you want to be glazed) to more bronze-y rose-gold options if you want to look more sun kissed or fresh faced and flushed.
The Best Highlighter for Dry Skin
Photo: Courtesy of the Vendor
A dry complexion tends to favor cream formulas, but this powdery one has a slight sheen and a silky texture that doesn't cling to parched areas. Instead, it melts right in without looking the slightest bit frosty. Focus on your lids as a sheer wash of shadow and dab it on the inner corners of the eyes. The result: an immediate brightening effect that will make you look hours more rested.
The Best Lightweight Highlighter
This lightweight gel highlighter from Saie happens to be perfect for nailing the "clean" look that's been trending lately. Just a few drops leaves you with an all-over subtle and believable glow that makes you look like someone who drinks enough water, gets enough sleep, and skips face makeup altogether because your skin is that good.
The TikTok-Famous Highlighter
There are plenty viral TikTok beauty products that have not lived up to their promised hype. This is not one of them. After going viral as a way to mimic Bella Hadid's glow-y jawline, this highlighter became a fan favorite because it's super-easy to apply and provides a glow that will last all day.
The Best Highlighter Balm
The Best Drugstore Highlighter If You Want to Look a Little Extra
Photo: Courtesy of the Vendor
If Glossier is your go-to daytime highlighter, the NYX stick is for nights out. It goes on with a purple sheen for a holographic effect that's only visible when the light catches your skin. Despite being purple, it's not obvious or gaudy; it just makes you look really, really radiant.
The Rihanna Highlighter
Rihanna's Fenty Beauty line has been praised for its wide range of shades and tones. Of all the products in the range, the Killawatt highlighter is among the most buzzed about. The shades, which come either as a solo or duos, look more intense and shimmery in the packaging than on your face. This one (called Lightening Dust / Fire Crystal) illuminates the skin with a soft pearlescent sheen that can be toned down for day or amped up for night.
The Best Contour-Highlighter Combo
You get two great things in this one stick. On the one end is a creamy contour stick, the other a highlighter in a complementary shade. It comes in six shades for various skin tones, and it's a Black-owned businesses created by entrepreneur and activist Sharon Chuter.
The Best Highlighter for Oily Skin
Photo: Courtesy of the Vendor
This shimmer-free pressed powder invisibly brightens any area of the face it touches, and the superfine texture is meant for setting makeup (it's a good dupe for Hourglass's Ambient Lighting Powder). It isn't cakey, and it doesn't cling to dry skin or draw attention to fine lines. What's more, if your complexion tends to get shiny, this one has oil-absorbing abilities. The compact is equipped with a great mirror. The only thing that's missing is a brush.
The Best Travel Highlighter
Photo: Courtesy of the Vendor
This Champagne cream highlighter is subtle with a mild shimmer, brightening complexions without a hint of glitz. It layers and blends easily. Of all the creamy highlighter sticks, this is the only one that's dual sided with a sponge, so you can buff the highlighter without using your fingers. Don't underestimate this benefit: It's a huge plus for on-the-go touch-ups.
The Mix-In Highlighter
Most highlighters are very concentrated in pigment and are meant to be used more as an accent. But this liquid one from Charlotte Tilbury is so light and effective it can be used alone or mixed into moisturizer, foundation, or concealer to amp up dewiness. As it comes in several skin-tone shades, it works very well at minimizing redness and concealing. The only con is that, after it went viral on TikTok, it's always out of stock.
The Highlighter That's Camera Ready
Brand founder Anastasia Soare's highlighters are a longtime favorite of Kim Kardashian West. They come in various shades of soft, melty Champagne designed to feel luxurious and be very visible on-camera.
The Best Goop-y Highlighter
This highlighter looks expensive with its gilded packaging, and it feels that way too. It glides onto the skin like silk and leaves a soft, dewy look that lasts for hours. If you want something a little more obvious than the Chanel or Glossier and has a creamy formula, this is the one for you. It's a favorite of Gwyneth Paltrow and is Goop approved.
The Fashion-Editorial Highlighter
Models such as Karlie Kloss are used to hearing fashion's favorite makeup artist, Pat McGrath, command her team to bring her the "shiny stick!" Her supersecret highlighter is a creamy — not shimmery — formula that adds life and glow to skin. Thanks to its double end, you can choose exactly how shiny you want to be. One side contains a clear balm, while the other has a Champagne pigment. Use both for a true fashion-editorial effect.
The Best Highlighter Powder
This palette is a favorite of makeup artists because it functions as a dewy-looking setting powder. It is meant to be used with a fluffy brush to "set" or perk up areas that need more radiance such as under the eyes or along the cheeks. Brand founder Carisa Janes created this product to mimic the soft glow produced by pink-tinged light bulbs. If you want a strong-looking highlighter, many people choose to apply an additional creamy one over this.
The Best Luxury Highlighter
Photo: Courtesy of the Vendor
This jeweled compact is designed by an actual jeweler. With a decent-size mirror and small feathered brush, it's completely portable. The lavender, mint, and peach highlighting powders contain two types of pearls. It appears shimmery in the case but softly illuminates without leaving the skin sparkly.
The Best for Dark Skin Tones
Ami Colé's ethos is creating products that celebrate melanin-rich skin, and this highlighter balm does just that. With the sheerest amount of gold shimmer, the glossy balm swipes and blends easily into the skin for a subtle, natural glow over your "no makeup" look.
The Best Color Options
Featuring four shimmering shades that can be used all over the face, this Dior palette takes away the guesswork when it comes to which color will best suit your skin tone.
The High-Impact Highlighter
When you want something between Fenty Beauty's Trophy Wife and Chanel's Baume Essentiel, consider LYS Beauty's liquid highlighter. Available in three shades, the radiant highlighter has an almost foil-like finish — depending on how much you layer on.
The Glossy Highlighter
This highlighter from Refy truly lives up to its name. The ultra-glossy formula is perfect for a natural but high-shine finish. With just a hint of shimmer, the real star here is the cream formula that dries down to a glasslike finish.