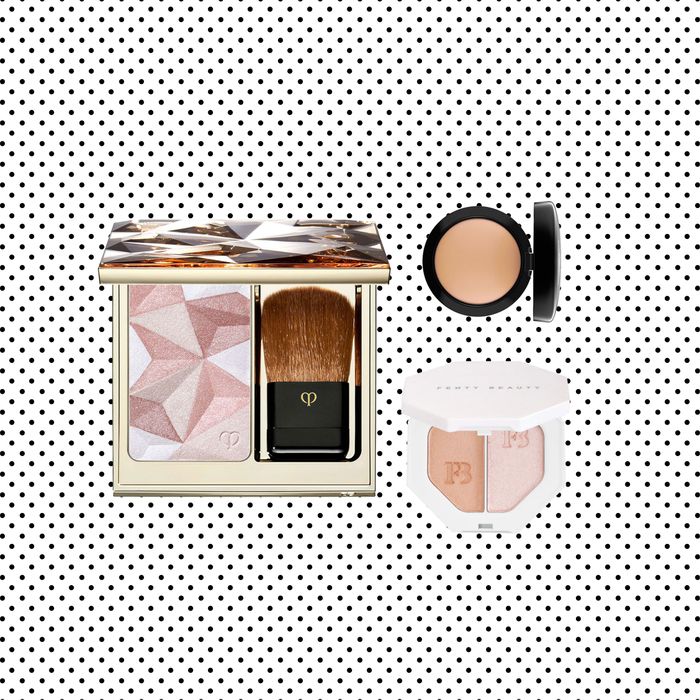 Photo: Courtesy of the Vendors
If you feel like your skin looks a little tired or dull, highlighter can help. Whether it comes in the form of a powder compact, a liquid gel, or a creamy stick, a highlighter's job is to instantly brighten skin by attracting light, creating the illusion of being well-rested.
I tested all of the most popular highlighters on my sluggish-looking face, taking notes on everything from their blending abilities to their texture (no glitter, please). In the end, I found plenty of great options for erasing dark shadows around my eyes and producing an overall lit-from-within glow. Here are the 16 best.
The Best Drugstore Highlighter
Photo: Courtesy of the Vendor
What I liked about this four-piece palette is that it's an all-in-one complexion enhancer. Once you've applied your base, this is all you need. It includes a bronzing shade, a blush shade, and two highlighters to create dimension. The pigment payoff is minimal, but that's not necessarily a bad thing.
The Best Drugstore Highlighter If You Want to Look a Little Extra
Photo: Courtesy of the Vendor
Glossier may be my go-to daytime highlighter, but this NYX stick is one I plan to use for nights out. It goes on with a purple sheen for a holographic effect that's only visible when the light catches your skin. Despite being purple, it's not obvious or gaudy; it just makes you look really, really radiant. Some internet reviewers complained the stick swipes away your foundation. I, too, noticed a little tinted moisturizer residue on the stick, but this wasn't a major issue for me — especially since it costs less than $10.
The Glossier Highlighter
Glossier's highlighter has earned a permanent place in my makeup bag. Like all of the brand's products, it's foolproof to use. Moonstone is an opalescent shade allegedly infused with rose quartz crystals and a moisturizing-oil core. It glided onto my skin for a dewy sheen with a very slight iridescence. Whereas the other sticks tested here were creamy, this one had a wet quality that felt super-hydrating and produced a serious glow.
The Highlighter That Feels More Expensive Than It Is
Photo: Courtesy of the Vendor
This looks like a dupe of Pat McGrath's highlighter. With travel-friendly packaging, a subtle sheen, and a bargain price tag, Avon's cream-to-powder stick checks all the boxes. I swiped it straight from the tube along my cheekbones, eyelids (it also makes for a pretty eye shadow), and Cupid's bow, and my dull complexion looked alive for the remainder of the day. You can build it up, too, and it never feels overdone.
The Best Highlighter for Dry Skin
Photo: Courtesy of the Vendor
My dry complexion tends to favor cream formulas, but I'm happy to report this powdery one had a slight sheen and a silky texture that didn't cling to parched areas. Instead, it melted right in and didn't look the slightest bit frosty. I focused it on my lids as a sheer wash of shadow and dabbed it over my concealer on the inner corners of my eyes. The result: an immediate brightening effect that made me look hours more rested than I actually was.
The Rihanna Highlighter
Rihanna's Fenty Beauty line has been praised for its wide range of shades and tones. Of all the products in the range, the Killawatt highlighter is among the most buzzed about. The shades, which come either as a solo or duos, look more intense and shimmery in the packaging than on your face. This one (called Lightening Dust/Fire Crystal) illuminates the skin with a soft, pearlescent sheen that can be toned down for day or amped up for night.
The No-Makeup-Makeup Highighter
RMS Beauty's little pot of dewy goodness is like the anti-highlighter for the inexperienced and glitter averse. Its effects are significant, but in the subtlest way possible — probably why it's a favorite of the J.Crew catalogue makeup team. I swiped it on my cheeks, down my nose, and on my Cupid's bow. I found the formula so sheer, it required little blending effort. It's not sticky, glittery, or made with a single chemical. Win, win, win.
The Best Highlighter for Oily Skin
Photo: Courtesy of the Vendor
This shimmer-free pressed powder invisibly brightens any area of the face it touches, and the superfine texture is also meant for setting makeup (it's a good dupe for Hourglass's Ambient Lighting Powder). I never found it to be cakey, and it doesn't cling to dry skin or draw attention to fine lines. What's more, if your complexion tends to get shiny, this one also has oil-absorbing abilities. I used it all over: my cheekbones, Cupid's bow, bridge of the nose, eyelids, and brow bones. The compact is also equipped with a great mirror. The only thing that's missing is a brush.
The Best Travel Highlighter
Photo: Courtesy of the Vendor
This champagne cream highlighter is subtle with a mild shimmer, brightening my complexion without a hint of glitz. I applied it on top of tinted moisturizer to the usual spots: my cheekbones, down the nose, Cupid's bow, and the inner corners of my eyes, and found it layered and blended easily. Of all the creamy sticks I tested, this is the only one that's dual-sided with a sponge, so you can buff the highlighter without using your fingers. Don't underestimate this benefit: It's a huge plus for on-the-go touch-ups.
The Best Luxury Highlighter
Photo: Courtesy of the Vendor
I mixed a pump of this gel formula into my face oil and dabbed it over my tinted moisturizer using a damp Beauty Blender. The golden peach color is universally flattering, and I found my fair complexion looked glowy and rested. In fact, I skipped all other makeup for the day because I was so happy with my cheekbones. It's not cheap, but a little goes a long way. Oh, and the light coconut fragrance smells so good.
The Buttery Highlighter
Photo: Courtesy of the Vendor
If you find creams too creamy and powders too powdery, Becca's pressed highlighter falls somewhere in the middle. The formula feels like an ultrafine powder that's almost buttery, lightweight, and does not cake or sink into into the skin. I found it effective for illuminating dark shadows and brightening skin with a hint of shimmer. This shade, Pearl, is a soft white, but there are ten others to choose from.
The Highlighter Kim Kardashian Loves
Brand founder Anastasia Soare's highlighters are a longtime favorite of Kim Kardashian West. They come in various shades of soft, melty champagne, designed to feel luxurious and be very visible on-camera.
The Very Extreme Highlighter
Photo: Courtesy of the Vendor
True to its name, this highlighter was the most extreme (read: sparkly) of the bunch, thanks to reflective microcrystals with a disco-ball shine. The palette is made up of three shades: a golden peach (Gammaray), a metallic opal (Helix), and lavender pink (Roseshock). If you're going for glitz, you'll love this palette. The textures are no doubt high quality, but the intensity was personally a bit too much for me.
The Fashion-y Highlighter
Models like Karlie Kloss are used to hearing fashion's favorite makeup artist, Pat McGrath, command her team to bring her the "shiny stick!" Her supersecret highlighter is a creamy — not shimmery — formula that adds life and glow to skin. Thanks to its double end, you can choose exactly how shiny you want to be. One side contains a clear balm, while the other a champagne pigment. Use both for a true fashion-editorial effect.
The Glowy Setting Powder
This palette is a favorite of makeup artists because it functions as a dewy-looking setting powder. It is meant to be used with a fluffy brush to "set" or perk up areas that need more radiance, such as under the eyes or along the cheeks. Brand founder Carisa Jans created this product to mimic the same soft glow produced by pink-tinged light bulbs. If you want a strong-looking highlighter, many people choose to apply an additional creamy one over this.
The Luxury Highlighter
Photo: Courtesy of the Vendor
This jeweled compact is designed by an actual jeweler. With a decent-size mirror and small feathered brush, it's completely portable. The lavender, mint, and peach highlighting powders contain two types of pearls. I was convinced the combo was too much for a morning play date with 2-year-olds, but it was surprisingly subtle in the sunlight. It appears shimmery in the case, but softly illuminates without leaving the skin sparkly. I focused it on the dark shadows in the corners of my eyes and on my cheekbones. It definitely felt and looked like the most luxurious one of the bunch.
This article was originally published May 11, 2018. It has been updated throughout. If you buy something through our links, New York may earn an affiliate commission.