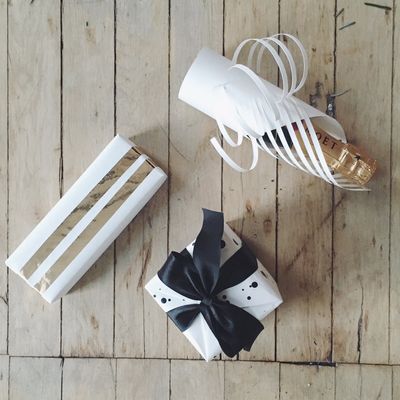 Yes, I really gave these to people.
Photo: Diana Tsui
Whether you spend $10 or $1,000, the perfect gift isn't just about the contents of the box. The way you present it is an experience in itself — just think about the iconic Tiffany blue box with its white ribbon. Among the Cut staffers, I'm known to be incredibly meticulous about wrapping. Come by my desk with your item, and I'll spend the next ten minutes creating razor-sharp creases and fluffy bows. During the holidays, my obsessiveness ramps up tenfold.
Since you're likely to be sitting down with a roll of wrapping paper and some scissors at some point this month, here are a few helpful tips I've picked up. You don't need to be as crazy as me, but you also don't have to resort to a sad Christmas-tree-patterned gift bag, either. Scroll ahead to see what I use to create beautiful presents.
Get the kind that cut through fabric. They'll come in handy for trimming ribbon bows.
The "invisible" kind is a lie — anyone with halfway decent vision can spot it on a box from a mile away. This creates the cleanest edges possible.
White Craft Paper Is Your Best Friend
See the splatter paper above? I dribbled some paint onto white paper and created my own custom wrap. Even if you don't want to spend the time on that, plain craft paper is a cheap and sleek alternative to tacky printed styles.
White can be a little see-through, so if you want to make it easy on yourself, get this instead and plop on a festive red ribbon.
I find that the kind that you can curl with a scissor too stiff and cheap-looking, despite my best attempts at nice ringlets. These are easier to tie and create a more impressive appearance.
Don't want to fuss over a knot? Cut a few strips of these and stick 'em on the white paper for a graphic look.
Should you prefer a pattern, washi tape is another way to dress up plain craft paper.
Craft paper too boring? You'll get year-round use out of sparkly wrapping paper, unlike the holiday-themed stuff. This brand comes in classic gold and silver, but try more fun colors like aqua or pink.
If You Insist on Being Festive
You can't go wrong with a candy-cane stripe.
If You Want Something Unique
Furoshiki is the Japanese art of fabric wrapping — be it gifts, clothes or food. While you can technically do this with any scrap of fabric, Amazon has a really beautiful selection of textiles.
Because Sharp Corners Are Better
Nothing makes me cringe more than a gift with sloppy-looking creases. I love the razor-sharp fold you can achieve by running one of these down an edge. If you're in a pinch, a butter knife can do the job too.
So your lucky recipient won't forget who gave them the most beautifully wrapped gift ever.
If you buy something through our links, New York may earn an affiliate commission.