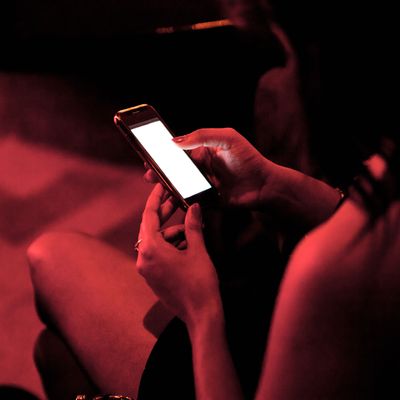 Photo: Assembly/Getty Images
Dating apps love to trumpet the relationships they help create — which is great, if you're actually looking for a relationship. Sometimes, though, you don't want to swipe for a potential soul mate. Luckily, there are plenty of apps that allow you to bypass much of the dating chitchat in favor of a good, easy, no-strings-attached hookup. The Cut asked self-proclaimed serial dater Carolyn Busa, 32, to rank the best of the best hookup apps if you're looking for a little commitment-free fun.
Busa, a 32-year-old comedian living in Crown Heights, says she uses dating apps for casual hookups about once a month. "I'm not really looking for a relationship right now," she explains, and she prefers apps that offer her plenty of potential matches with a similar mindset. Here, in ascending order, are some of her favorites.
4. Happn
Pros: The location-based Happn is kind of like the love child of Tinder and Craiglist Missed Connections. Each time you cross paths with another user IRL, their profile pops up — which, according to Busa, brings an element of logistical ease that the other apps lack. "You don't have to do that first question of where do you live and figure out if you even want to meet," she says, since the only reason you're connected in the first place is because you were already in the same place at some point. If you're not into the idea of spending the better part of an hour in transit for a hookup, Happn helps weed out the far-flung potentials.
Cons: The never-ending influx of possibilities can feel like a bit much: "It almost never stops refreshing, so it was just this constant stream of people," Busa says. "It was just a little overwhelming." Plus, there are some situations where you really just don't want to match with anyone in close proximity, like work or a family gathering (luckily, though, you can turn the location-tracking off and on to avoid any awkward moments).
3. Bumble
Pros: To Busa, the biggest draw of Bumble is its chat expiration feature. With other apps, "so many times, we just sit on matches and nothing happens," she says. By design, that can't happen here: The finite window of time to start up a conversation with a match is a good push to get things rolling.
Cons: There's a lot of overlap with other apps, meaning you're often swiping through the same users repeatedly: "Bumble and Tinder are the same people, the same pictures," Busa says. The only difference is "you having to start the conversation" (in opposite-sex matches, Bumble requires the woman to message first). And in her experience, Bumble tends to involve "too much talking" for someone only looking for something casual.
2. Tinder
Pros: At this point, "Tinder" and "hookup app" are practically synonymous. It's the original, one of the most popular, and the one to go to if you want the widest possible pool of options. Plus, its location-based matching means you can limit yourself to people within easy reach, whether you're looking for someone close to home or a vacation fling.
Cons: Tinder's tried to walk back its hookup-app reputation in recent years by emphasizing its relationship-making powers — and it seems some people are listening. "I think people really take it as a trying-to-find-a-partner app," Busa says. "I went on probably like 10 to 15 dates from Tinder, and they just all always seem like people actually trying to date."
1. Feeld
Pros: Feeld, formerly known as Thrinder, brands itself as a gathering place for people looking for something outside the sexual mainstream, like polyamory, kink, or multiple partners. The app even includes space to list your sexual interests in your profile, which cuts out a lot of awkward introductory conversation, Busa says: "You're meeting this person and you're already like, 'Okay, so we might have sex, let's see if we have a connection.' It's really nice to cut to it and not feel like it's a shameful thing to talk about."
Cons: The less experienced may have to do some googling. "A lot of the profiles have those acronyms for whatever sexual things they're into which I'm really not too familiar with," she says. "I wish I had a little more guidance." Once you've got the terminology down, though, you're well-positioned to scratch pretty much any itch — all you have to do is swipe.